مبابي في قائمة سان جيرمان لمباراة سيتي
تاريخ النشر : Monday, 3 May 2021 - 12:07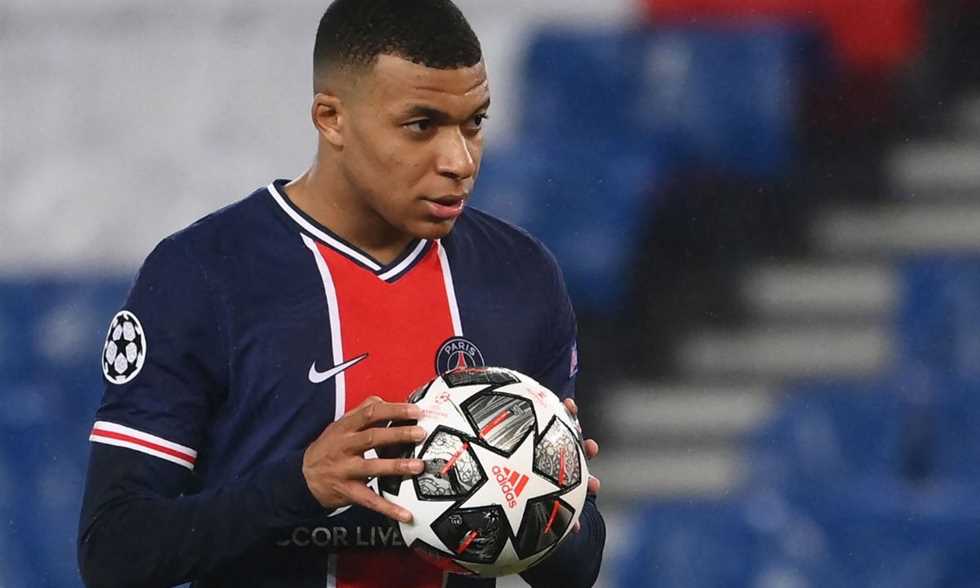 كتب
FilGoal
تواجد اسم كيليان مبابي نجم باريس سان جيرمان في قائمة فريقه المسافرة لملاقاة مانشستر سيتي في دوري أبطال أوروبا.
قبل يومين، أعلن ماوريسيو بوكيتينو مدرب سان جيرمان إصابة مبابي وغيابه عن لقاء السبت ضد لانس في الدوري الفرنسي.
ونشر النادي الباريسي قائمة الفريق للمباراة المرتقبة وتواجد فيها اسم مبابي الذي شعر بآلام في عضلة السمانة بساقه اليمنى بداية الأسبوع.
ويأمل باريس لحاق مبابي (22 عاما) بإياب نصف نهائي دوري أبطال أوروبا يوم الثلاثاء ضد مضيفه مانشستر سيتي.

وهو اللقاء الذي يحتاج فيه باريس للتسجيل مرتين بعدما خسر ذهابا في ملعبه بنتيجة 2-1.
The Parisian squad for the semi-final second leg! 📋🔴🔵@IGanaGueye is suspended but travels with the group for the trip to Manchester 🔴🔵#UCL | #MCIPSG

— Paris Saint-Germain (@PSG_English) May 3, 2021
كما تواجد اسم إدريس جانا جايي في قائمة باريس المسافرة إلى إنجلترا رغم إيقافه، وذلك من أجل دعم الفريق.
أحدث الانتقالات
{ "id": 27498, "age": 32, "career": [ { "dateFrom": "2022-09-29T00:00:00", "dateTo": null, "duration": 1, "id": 422794, "transferType": "إعارة", "renew": false, "position": "مدافع", "price": null, "shirt": null, "teamFrom": { "id": 617, "name": "الجونة", "image": "https://semedia.filgoal.com/Photos/Team/Medium/617.png" }, "teamTo": { "id": 151, "name": "أسـوان", "image": "https://semedia.filgoal.com/Photos/Team/Medium/151.png" }, "wage": null }, { "dateFrom": "2020-12-31T00:00:00", "dateTo": "2022-09-28T00:00:00", "duration": null, "id": 422793, "transferType": "انتقال", "renew": false, "position": "مدافع", "price": null, "shirt": null, "teamFrom": { "id": 13, "name": "الاتحاد السكندري", "image": "https://semedia.filgoal.com/Photos/Team/Medium/13.png" }, "teamTo": { "id": 617, "name": "الجونة", "image": "https://semedia.filgoal.com/Photos/Team/Medium/617.png" }, "wage": null }, { "dateFrom": "2020-11-28T00:00:00", "dateTo": "2020-12-31T00:00:00", "duration": null, "id": 422792, "transferType": "انتقال", "renew": false, "position": "مدافع", "price": null, "shirt": null, "teamFrom": { "id": 1451, "name": "بيراميدز", "image": "https://semedia.filgoal.com/Photos/Team/Medium/1451.png" }, "teamTo": { "id": 13, "name": "الاتحاد السكندري", "image": "https://semedia.filgoal.com/Photos/Team/Medium/13.png" }, "wage": null }, { "dateFrom": "2019-07-27T00:00:00", "dateTo": "2020-11-27T00:00:00", "duration": null, "id": 422791, "transferType": "انتقال", "renew": false, "position": "مدافع", "price": null, "shirt": 20, "teamFrom": { "id": 184, "name": "الرائد", "image": "https://semedia.filgoal.com/Photos/Team/Medium/184.png" }, "teamTo": { "id": 1451, "name": "بيراميدز", "image": "https://semedia.filgoal.com/Photos/Team/Medium/1451.png" }, "wage": null }, { "dateFrom": "2018-01-24T00:00:00", "dateTo": "2019-07-25T00:00:00", "duration": null, "id": 422790, "transferType": "انتقال", "renew": false, "position": "مدافع", "price": null, "shirt": null, "teamFrom": { "id": 13, "name": "الاتحاد السكندري", "image": "https://semedia.filgoal.com/Photos/Team/Medium/13.png" }, "teamTo": { "id": 184, "name": "الرائد", "image": "https://semedia.filgoal.com/Photos/Team/Medium/184.png" }, "wage": null }, { "dateFrom": "2016-07-25T00:00:00", "dateTo": "2018-01-22T00:00:00", "duration": null, "id": 422789, "transferType": "انتقال", "renew": false, "position": "مدافع", "price": null, "shirt": 6, "teamFrom": { "id": 923, "name": "مصر للمقاصة", "image": "https://semedia.filgoal.com/Photos/Team/Medium/923.png" }, "teamTo": { "id": 13, "name": "الاتحاد السكندري", "image": "https://semedia.filgoal.com/Photos/Team/Medium/13.png" }, "wage": null }, { "dateFrom": "2015-07-28T00:00:00", "dateTo": "2016-07-24T00:00:00", "duration": null, "id": 422788, "transferType": "انتقال حر", "renew": false, "position": "مدافع", "price": null, "shirt": null, "teamFrom": null, "teamTo": { "id": 923, "name": "مصر للمقاصة", "image": "https://semedia.filgoal.com/Photos/Team/Medium/923.png" }, "wage": null } ], "dateOfBirth": "1990-07-15T00:00:00", "image": "https://semedia.filgoal.com/Photos/Person/medium/27498.png", "name": "محمد عطوة", "nationality": "مصر", "position": "مدافع", "shirt": null, "statistics": { "goals": 0, "yellowCards": 0, "redCards": 0, "played": 0, "minutesPlayed": 0, "playerChampionshipStatistics": [] }, "type": "لاعب", "team": { "id": 151, "name": "أسـوان", "image": "https://semedia.filgoal.com/Photos/Team/Medium/151.png" } }

محمد عطوة

32 عاما

إعارة

الجونةأسـوان

2023

تعليقات

{ "id": 220515, "age": 23, "career": [ { "dateFrom": "2022-09-27T00:00:00", "dateTo": null, "duration": 2, "id": 422869, "transferType": "انتقال", "renew": false, "position": "مهاجم", "price": null, "shirt": null, "teamFrom": { "id": 1451, "name": "بيراميدز", "image": "https://semedia.filgoal.com/Photos/Team/Medium/1451.png" }, "teamTo": { "id": 904, "name": "الداخلية", "image": "https://semedia.filgoal.com/Photos/Team/Medium/904.png" }, "wage": null }, { "dateFrom": "2022-08-28T00:00:00", "dateTo": "2022-09-25T00:00:00", "duration": null, "id": 422868, "transferType": "انتهاء إعارة", "renew": false, "position": "مهاجم", "price": null, "shirt": null, "teamFrom": { "id": 151, "name": "أسـوان", "image": "https://semedia.filgoal.com/Photos/Team/Medium/151.png" }, "teamTo": { "id": 1451, "name": "بيراميدز", "image": "https://semedia.filgoal.com/Photos/Team/Medium/1451.png" }, "wage": null }, { "dateFrom": "2020-12-29T00:00:00", "dateTo": "2022-08-28T00:00:00", "duration": null, "id": 422867, "transferType": "إعارة", "renew": false, "position": "مهاجم", "price": null, "shirt": 37, "teamFrom": { "id": 1451, "name": "بيراميدز", "image": "https://semedia.filgoal.com/Photos/Team/Medium/1451.png" }, "teamTo": { "id": 151, "name": "أسـوان", "image": "https://semedia.filgoal.com/Photos/Team/Medium/151.png" }, "wage": null }, { "dateFrom": "2019-12-29T00:00:00", "dateTo": "2020-12-29T00:00:00", "duration": null, "id": 422866, "transferType": "انتقال حر", "renew": false, "position": "مهاجم", "price": null, "shirt": null, "teamFrom": null, "teamTo": { "id": 1451, "name": "بيراميدز", "image": "https://semedia.filgoal.com/Photos/Team/Medium/1451.png" }, "wage": null } ], "dateOfBirth": "1999-01-01T00:00:00", "image": "https://semedia.filgoal.com/Photos/Person/medium/220515.png", "name": "صلاح يحيى", "nationality": "مصر", "position": "مهاجم", "shirt": null, "statistics": { "goals": 0, "yellowCards": 0, "redCards": 0, "played": 0, "minutesPlayed": 0, "playerChampionshipStatistics": [] }, "type": "لاعب", "team": { "id": 904, "name": "الداخلية", "image": "https://semedia.filgoal.com/Photos/Team/Medium/904.png" } }

صلاح يحيى

23 عاما

انتقال

بيراميدزالداخلية

2024

تعليقات

{ "id": 18103, "age": 29, "career": [ { "dateFrom": "2022-09-28T00:00:00", "dateTo": null, "duration": 2, "id": 422745, "transferType": "انتقال", "renew": false, "position": "حارس مرمى", "price": null, "shirt": null, "teamFrom": { "id": 13013, "name": "لاعب حر", "image": "https://semedia.filgoal.com/Photos/Team/Medium/13013.png" }, "teamTo": { "id": 1075, "name": "إيسترن كومباني", "image": "https://semedia.filgoal.com/Photos/Team/Medium/1075.png" }, "wage": null }, { "dateFrom": "2022-09-01T00:00:00", "dateTo": "2022-09-27T00:00:00", "duration": null, "id": 422744, "transferType": "انتقال", "renew": false, "position": "حارس مرمى", "price": null, "shirt": null, "teamFrom": { "id": 1016, "name": "وادي دجلة", "image": "https://semedia.filgoal.com/Photos/Team/Medium/1016.png" }, "teamTo": { "id": 13013, "name": "لاعب حر", "image": "https://semedia.filgoal.com/Photos/Team/Medium/13013.png" }, "wage": null }, { "dateFrom": "2020-10-27T00:00:00", "dateTo": "2022-08-30T00:00:00", "duration": null, "id": 422743, "transferType": "انتقال", "renew": false, "position": "حارس مرمى", "price": null, "shirt": null, "teamFrom": { "id": 151, "name": "أسـوان", "image": "https://semedia.filgoal.com/Photos/Team/Medium/151.png" }, "teamTo": { "id": 1016, "name": "وادي دجلة", "image": "https://semedia.filgoal.com/Photos/Team/Medium/1016.png" }, "wage": null }, { "dateFrom": "2019-07-26T00:00:00", "dateTo": "2020-10-26T00:00:00", "duration": null, "id": 422742, "transferType": "انتقال", "renew": false, "position": "حارس مرمى", "price": null, "shirt": 29, "teamFrom": { "id": 149, "name": "حرس الحدود", "image": "https://semedia.filgoal.com/Photos/Team/Medium/149.png" }, "teamTo": { "id": 151, "name": "أسـوان", "image": "https://semedia.filgoal.com/Photos/Team/Medium/151.png" }, "wage": null }, { "dateFrom": "2018-07-16T00:00:00", "dateTo": "2019-07-24T00:00:00", "duration": null, "id": 422741, "transferType": "انتقال", "renew": false, "position": "حارس مرمى", "price": null, "shirt": null, "teamFrom": { "id": 860, "name": "سموحة", "image": "https://semedia.filgoal.com/Photos/Team/Medium/860.png" }, "teamTo": { "id": 149, "name": "حرس الحدود", "image": "https://semedia.filgoal.com/Photos/Team/Medium/149.png" }, "wage": null }, { "dateFrom": "2018-06-21T00:00:00", "dateTo": "2018-07-15T00:00:00", "duration": null, "id": 422740, "transferType": "انتهاء إعارة", "renew": false, "position": "حارس مرمى", "price": null, "shirt": null, "teamFrom": { "id": 304, "name": "طلائع الجيش", "image": "https://semedia.filgoal.com/Photos/Team/Medium/304.png" }, "teamTo": { "id": 860, "name": "سموحة", "image": "https://semedia.filgoal.com/Photos/Team/Medium/860.png" }, "wage": null }, { "dateFrom": "2018-01-03T00:00:00", "dateTo": "2018-06-21T00:00:00", "duration": null, "id": 422739, "transferType": "إعارة", "renew": false, "position": "حارس مرمى", "price": null, "shirt": 1, "teamFrom": { "id": 860, "name": "سموحة", "image": "https://semedia.filgoal.com/Photos/Team/Medium/860.png" }, "teamTo": { "id": 304, "name": "طلائع الجيش", "image": "https://semedia.filgoal.com/Photos/Team/Medium/304.png" }, "wage": null }, { "dateFrom": "2017-07-08T00:00:00", "dateTo": "2018-01-03T00:00:00", "duration": null, "id": 422738, "transferType": "انتقال", "renew": false, "position": "حارس مرمى", "price": null, "shirt": 16, "teamFrom": { "id": 1, "name": "الأهلي", "image": "https://semedia.filgoal.com/Photos/Team/Medium/1.png" }, "teamTo": { "id": 860, "name": "سموحة", "image": "https://semedia.filgoal.com/Photos/Team/Medium/860.png" }, "wage": null }, { "dateFrom": "2013-06-22T00:00:00", "dateTo": "2017-07-08T00:00:00", "duration": null, "id": 422737, "transferType": "انتقال", "renew": false, "position": "حارس مرمى", "price": null, "shirt": null, "teamFrom": { "id": 5, "name": "الإسماعيلي", "image": "https://semedia.filgoal.com/Photos/Team/Medium/5.png" }, "teamTo": { "id": 1, "name": "الأهلي", "image": "https://semedia.filgoal.com/Photos/Team/Medium/1.png" }, "wage": null }, { "dateFrom": "2012-06-23T00:00:00", "dateTo": "2013-06-23T00:00:00", "duration": null, "id": 422736, "transferType": "انتقال حر", "renew": false, "position": "حارس مرمى", "price": null, "shirt": null, "teamFrom": null, "teamTo": { "id": 5, "name": "الإسماعيلي", "image": "https://semedia.filgoal.com/Photos/Team/Medium/5.png" }, "wage": null } ], "dateOfBirth": "1993-01-15T00:00:00", "image": "https://semedia.filgoal.com/Photos/Person/medium/18103.png", "name": "مسعد عوض", "nationality": "مصر", "position": "حارس مرمى", "shirt": null, "statistics": { "goals": 0, "yellowCards": 0, "redCards": 0, "played": 0, "minutesPlayed": 0, "playerChampionshipStatistics": [] }, "type": "لاعب", "team": { "id": 1075, "name": "إيسترن كومباني", "image": "https://semedia.filgoal.com/Photos/Team/Medium/1075.png" } }

مسعد عوض

29 عاما

انتقال

لاعب حرإيسترن كومباني

2024

تعليقات

{ "id": 26904, "age": 27, "career": [ { "dateFrom": "2022-09-28T00:00:00", "dateTo": null, "duration": 2, "id": 422735, "transferType": "انتقال", "renew": false, "position": "مدافع", "price": null, "shirt": null, "teamFrom": { "id": 13013, "name": "لاعب حر", "image": "https://semedia.filgoal.com/Photos/Team/Medium/13013.png" }, "teamTo": { "id": 2025, "name": "شباب الأهلي دبي", "image": "https://semedia.filgoal.com/Photos/Team/Medium/2025.png" }, "wage": null }, { "dateFrom": "2022-06-28T00:00:00", "dateTo": "2022-09-27T00:00:00", "duration": null, "id": 422734, "transferType": "انتقال", "renew": false, "position": "مدافع", "price": null, "shirt": null, "teamFrom": { "id": 211, "name": "أولمبيك ليون", "image": "https://semedia.filgoal.com/Photos/Team/Medium/211.png" }, "teamTo": { "id": 13013, "name": "لاعب حر", "image": "https://semedia.filgoal.com/Photos/Team/Medium/13013.png" }, "wage": null }, { "dateFrom": "2018-06-25T00:00:00", "dateTo": "2022-06-27T00:00:00", "duration": null, "id": 422733, "transferType": "انتقال", "renew": false, "position": "مدافع", "price": 11, "shirt": 5, "teamFrom": { "id": 94, "name": "مانشستر سيتي", "image": "https://semedia.filgoal.com/Photos/Team/Medium/94.png" }, "teamTo": { "id": 211, "name": "أولمبيك ليون", "image": "https://semedia.filgoal.com/Photos/Team/Medium/211.png" }, "wage": null }, { "dateFrom": "2018-06-23T00:00:00", "dateTo": "2018-06-25T00:00:00", "duration": null, "id": 422732, "transferType": "انتقال", "renew": false, "position": "مدافع", "price": null, "shirt": 28, "teamFrom": { "id": 100, "name": "سندرلاند", "image": "https://semedia.filgoal.com/Photos/Team/Medium/100.png" }, "teamTo": { "id": 94, "name": "مانشستر سيتي", "image": "https://semedia.filgoal.com/Photos/Team/Medium/94.png" }, "wage": null }, { "dateFrom": "2016-07-19T00:00:00", "dateTo": "2018-06-19T00:00:00", "duration": null, "id": 422731, "transferType": "انتهاء إعارة", "renew": false, "position": "مدافع", "price": null, "shirt": 28, "teamFrom": { "id": 217, "name": "جالاتا سراي", "image": "https://semedia.filgoal.com/Photos/Team/Medium/217.png" }, "teamTo": { "id": 100, "name": "سندرلاند", "image": "https://semedia.filgoal.com/Photos/Team/Medium/100.png" }, "wage": null }, { "dateFrom": "2013-12-19T00:00:00", "dateTo": "2015-12-19T00:00:00", "duration": 2, "id": 422730, "transferType": "إعارة", "renew": false, "position": "مدافع", "price": 0.55, "shirt": 64, "teamFrom": { "id": 94, "name": "مانشستر سيتي", "image": "https://semedia.filgoal.com/Photos/Team/Medium/94.png" }, "teamTo": { "id": 217, "name": "جالاتا سراي", "image": "https://semedia.filgoal.com/Photos/Team/Medium/217.png" }, "wage": null }, { "dateFrom": "1999-12-18T00:00:00", "dateTo": "2011-08-17T00:00:00", "duration": null, "id": 422729, "transferType": "انتقال حر", "renew": false, "position": "مدافع", "price": null, "shirt": 28, "teamFrom": null, "teamTo": { "id": 94, "name": "مانشستر سيتي", "image": "https://semedia.filgoal.com/Photos/Team/Medium/94.png" }, "wage": null } ], "dateOfBirth": "1995-06-28T00:00:00", "image": "https://semedia.filgoal.com/Photos/Person/medium/26904.png", "name": "جايسون ديناير", "nationality": "بلجيكا", "position": "مدافع", "shirt": null, "statistics": { "goals": 0, "yellowCards": 0, "redCards": 0, "played": 0, "minutesPlayed": 0, "playerChampionshipStatistics": [] }, "type": "لاعب", "team": { "id": 2025, "name": "شباب الأهلي دبي", "image": "https://semedia.filgoal.com/Photos/Team/Medium/2025.png" } }

جايسون ديناير

27 عاما

انتقال

لاعب حرشباب الأهلي دبي

2024

تعليقات

{ "id": 221860, "age": 23, "career": [ { "dateFrom": "2022-09-27T00:00:00", "dateTo": null, "duration": 2, "id": 422800, "transferType": "انتقال", "renew": false, "position": "وسط", "price": null, "shirt": null, "teamFrom": { "id": 13013, "name": "لاعب حر", "image": "https://semedia.filgoal.com/Photos/Team/Medium/13013.png" }, "teamTo": { "id": 904, "name": "الداخلية", "image": "https://semedia.filgoal.com/Photos/Team/Medium/904.png" }, "wage": null }, { "dateFrom": "2022-08-31T00:00:00", "dateTo": "2022-09-26T00:00:00", "duration": null, "id": 422799, "transferType": "انتقال", "renew": false, "position": null, "price": null, "shirt": null, "teamFrom": { "id": 923, "name": "مصر للمقاصة", "image": "https://semedia.filgoal.com/Photos/Team/Medium/923.png" }, "teamTo": { "id": 13013, "name": "لاعب حر", "image": "https://semedia.filgoal.com/Photos/Team/Medium/13013.png" }, "wage": null }, { "dateFrom": "2021-09-18T00:00:00", "dateTo": "2022-08-30T00:00:00", "duration": null, "id": 422798, "transferType": "انتقال حر", "renew": false, "position": "وسط", "price": null, "shirt": null, "teamFrom": null, "teamTo": { "id": 923, "name": "مصر للمقاصة", "image": "https://semedia.filgoal.com/Photos/Team/Medium/923.png" }, "wage": null } ], "dateOfBirth": "1999-01-01T00:00:00", "image": "https://semedia.filgoal.com/Photos/Person/medium/221860.png", "name": "إريك سيرجي", "nationality": "كوت ديفوار", "position": "وسط", "shirt": null, "statistics": { "goals": 0, "yellowCards": 0, "redCards": 0, "played": 0, "minutesPlayed": 0, "playerChampionshipStatistics": [] }, "type": "لاعب", "team": { "id": 904, "name": "الداخلية", "image": "https://semedia.filgoal.com/Photos/Team/Medium/904.png" } }

إريك سيرجي

23 عاما

انتقال

لاعب حرالداخلية

2024

تعليقات

{ "id": 113269, "age": 23, "career": [ { "dateFrom": "2022-09-26T00:00:00", "dateTo": null, "duration": 3, "id": 422639, "transferType": "انتقال", "renew": false, "position": "وسط", "price": 0, "shirt": null, "teamFrom": { "id": 13013, "name": "لاعب حر", "image": "https://semedia.filgoal.com/Photos/Team/Medium/13013.png" }, "teamTo": { "id": 2188, "name": "البنك الأهلي", "image": "https://semedia.filgoal.com/Photos/Team/Medium/2188.png" }, "wage": null }, { "dateFrom": "2022-07-30T00:00:00", "dateTo": "2022-09-25T00:00:00", "duration": null, "id": 422638, "transferType": "انتقال", "renew": false, "position": "وسط", "price": null, "shirt": null, "teamFrom": { "id": 2, "name": "الزمالك", "image": "https://semedia.filgoal.com/Photos/Team/Medium/2.png" }, "teamTo": { "id": 13013, "name": "لاعب حر", "image": "https://semedia.filgoal.com/Photos/Team/Medium/13013.png" }, "wage": null }, { "dateFrom": "2021-08-27T00:00:00", "dateTo": "2022-07-27T00:00:00", "duration": null, "id": 422637, "transferType": "انتهاء إعارة", "renew": false, "position": "وسط", "price": null, "shirt": null, "teamFrom": { "id": 13, "name": "الاتحاد السكندري", "image": "https://semedia.filgoal.com/Photos/Team/Medium/13.png" }, "teamTo": { "id": 2, "name": "الزمالك", "image": "https://semedia.filgoal.com/Photos/Team/Medium/2.png" }, "wage": null }, { "dateFrom": "2018-06-22T00:00:00", "dateTo": "2021-08-26T00:00:00", "duration": null, "id": 422636, "transferType": "إعارة", "renew": false, "position": "وسط", "price": null, "shirt": 20, "teamFrom": { "id": 2, "name": "الزمالك", "image": "https://semedia.filgoal.com/Photos/Team/Medium/2.png" }, "teamTo": { "id": 13, "name": "الاتحاد السكندري", "image": "https://semedia.filgoal.com/Photos/Team/Medium/13.png" }, "wage": null }, { "dateFrom": "2018-06-19T00:00:00", "dateTo": "2018-06-20T00:00:00", "duration": null, "id": 422635, "transferType": "انتقال", "renew": false, "position": "وسط", "price": null, "shirt": null, "teamFrom": { "id": 13, "name": "الاتحاد السكندري", "image": "https://semedia.filgoal.com/Photos/Team/Medium/13.png" }, "teamTo": { "id": 2, "name": "الزمالك", "image": "https://semedia.filgoal.com/Photos/Team/Medium/2.png" }, "wage": null }, { "dateFrom": "2017-12-21T00:00:00", "dateTo": "2018-06-19T00:00:00", "duration": null, "id": 422634, "transferType": "انتقال", "renew": false, "position": "وسط", "price": null, "shirt": null, "teamFrom": { "id": 2, "name": "الزمالك", "image": "https://semedia.filgoal.com/Photos/Team/Medium/2.png" }, "teamTo": { "id": 13, "name": "الاتحاد السكندري", "image": "https://semedia.filgoal.com/Photos/Team/Medium/13.png" }, "wage": null }, { "dateFrom": "2017-07-21T00:00:00", "dateTo": "2017-12-21T00:00:00", "duration": null, "id": 422633, "transferType": "انتقال", "renew": false, "position": "وسط", "price": null, "shirt": 24, "teamFrom": { "id": 151, "name": "أسـوان", "image": "https://semedia.filgoal.com/Photos/Team/Medium/151.png" }, "teamTo": { "id": 2, "name": "الزمالك", "image": "https://semedia.filgoal.com/Photos/Team/Medium/2.png" }, "wage": null }, { "dateFrom": "2017-01-21T00:00:00", "dateTo": "2017-07-21T00:00:00", "duration": null, "id": 422632, "transferType": "انتقال حر", "renew": false, "position": "وسط", "price": null, "shirt": null, "teamFrom": null, "teamTo": { "id": 151, "name": "أسـوان", "image": "https://semedia.filgoal.com/Photos/Team/Medium/151.png" }, "wage": null } ], "dateOfBirth": "1998-12-30T00:00:00", "image": "https://semedia.filgoal.com/Photos/Person/medium/113269.png", "name": "رزاق سيسيه", "nationality": "كوت ديفوار", "position": "وسط", "shirt": null, "statistics": { "goals": 0, "yellowCards": 0, "redCards": 0, "played": 0, "minutesPlayed": 0, "playerChampionshipStatistics": [] }, "type": "لاعب", "team": { "id": 2188, "name": "البنك الأهلي", "image": "https://semedia.filgoal.com/Photos/Team/Medium/2188.png" } }

رزاق سيسيه

23 عاما

انتقال

لاعب حرالبنك الأهلي

2025

تعليقات

{ "id": 133821, "age": 26, "career": [ { "dateFrom": "2022-09-27T00:00:00", "dateTo": null, "duration": 2, "id": 422631, "transferType": "انتقال", "renew": false, "position": "مدافع", "price": 0, "shirt": null, "teamFrom": { "id": 617, "name": "الجونة", "image": "https://semedia.filgoal.com/Photos/Team/Medium/617.png" }, "teamTo": { "id": 904, "name": "الداخلية", "image": "https://semedia.filgoal.com/Photos/Team/Medium/904.png" }, "wage": null }, { "dateFrom": "2019-08-08T00:00:00", "dateTo": "2022-09-26T00:00:00", "duration": null, "id": 422630, "transferType": "انتقال حر", "renew": false, "position": "وسط", "price": null, "shirt": 20, "teamFrom": null, "teamTo": { "id": 617, "name": "الجونة", "image": "https://semedia.filgoal.com/Photos/Team/Medium/617.png" }, "wage": null } ], "dateOfBirth": "1996-01-15T00:00:00", "image": "https://semedia.filgoal.com/Photos/Person/medium/133821.png", "name": "ألان تشامبادي", "nationality": "اوغندا", "position": "مدافع", "shirt": null, "statistics": { "goals": 0, "yellowCards": 0, "redCards": 0, "played": 0, "minutesPlayed": 0, "playerChampionshipStatistics": [] }, "type": "لاعب", "team": { "id": 904, "name": "الداخلية", "image": "https://semedia.filgoal.com/Photos/Team/Medium/904.png" } }

ألان تشامبادي

26 عاما

انتقال

الجونةالداخلية

2024

تعليقات

{ "id": 19254, "age": 31, "career": [ { "dateFrom": "2022-09-25T00:00:00", "dateTo": null, "duration": 2, "id": 421609, "transferType": "انتقال", "renew": false, "position": "وسط", "price": null, "shirt": null, "teamFrom": { "id": 90, "name": "إيفرتون", "image": "https://semedia.filgoal.com/Photos/Team/Medium/90.png" }, "teamTo": { "id": 876, "name": "الوحدة", "image": "https://semedia.filgoal.com/Photos/Team/Medium/876.png" }, "wage": null }, { "dateFrom": "2020-09-03T00:00:00", "dateTo": "2022-09-24T00:00:00", "duration": null, "id": 421608, "transferType": "انتقال", "renew": false, "position": "وسط", "price": null, "shirt": 6, "teamFrom": { "id": 757, "name": "نابولي", "image": "https://semedia.filgoal.com/Photos/Team/Medium/757.png" }, "teamTo": { "id": 90, "name": "إيفرتون", "image": "https://semedia.filgoal.com/Photos/Team/Medium/90.png" }, "wage": null }, { "dateFrom": "2015-07-13T00:00:00", "dateTo": "2020-09-01T00:00:00", "duration": null, "id": 421607, "transferType": "انتقال", "renew": false, "position": "وسط", "price": null, "shirt": 5, "teamFrom": { "id": 145, "name": "أودينيزي", "image": "https://semedia.filgoal.com/Photos/Team/Medium/145.png" }, "teamTo": { "id": 757, "name": "نابولي", "image": "https://semedia.filgoal.com/Photos/Team/Medium/757.png" }, "wage": null }, { "dateFrom": "2012-06-23T00:00:00", "dateTo": "2015-07-11T00:00:00", "duration": null, "id": 421606, "transferType": "انتقال حر", "renew": false, "position": "وسط", "price": null, "shirt": 5, "teamFrom": null, "teamTo": { "id": 145, "name": "أودينيزي", "image": "https://semedia.filgoal.com/Photos/Team/Medium/145.png" }, "wage": null } ], "dateOfBirth": "1991-01-08T00:00:00", "image": "https://semedia.filgoal.com/Photos/Person/medium/19254.png", "name": "آلان", "nationality": "البرازيل", "position": "وسط", "shirt": null, "statistics": { "goals": 0, "yellowCards": 0, "redCards": 0, "played": 0, "minutesPlayed": 0, "playerChampionshipStatistics": [] }, "type": "لاعب", "team": { "id": 876, "name": "الوحدة", "image": "https://semedia.filgoal.com/Photos/Team/Medium/876.png" } }

آلان

31 عاما

انتقال

إيفرتونالوحدة

2024

تعليقات

{ "id": 22447, "age": 30, "career": [ { "dateFrom": "2022-09-27T00:00:00", "dateTo": null, "duration": 3, "id": 422679, "transferType": "انتقال", "renew": false, "position": "مدافع", "price": null, "shirt": null, "teamFrom": { "id": 617, "name": "الجونة", "image": "https://semedia.filgoal.com/Photos/Team/Medium/617.png" }, "teamTo": { "id": 8, "name": "المصري", "image": "https://semedia.filgoal.com/Photos/Team/Medium/8.png" }, "wage": null }, { "dateFrom": "2021-09-09T00:00:00", "dateTo": "2022-09-26T00:00:00", "duration": null, "id": 422678, "transferType": "انتقال", "renew": false, "position": "مدافع", "price": null, "shirt": null, "teamFrom": { "id": 1512, "name": "نيو يورك ريد بولز", "image": "https://semedia.filgoal.com/Photos/Team/Medium/1512.png" }, "teamTo": { "id": 617, "name": "الجونة", "image": "https://semedia.filgoal.com/Photos/Team/Medium/617.png" }, "wage": null }, { "dateFrom": "2019-01-31T00:00:00", "dateTo": "2021-09-08T00:00:00", "duration": null, "id": 422677, "transferType": "انتقال", "renew": false, "position": "مدافع", "price": null, "shirt": null, "teamFrom": { "id": 1615, "name": "أورلاندو سيتي", "image": "https://semedia.filgoal.com/Photos/Team/Medium/1615.png" }, "teamTo": { "id": 1512, "name": "نيو يورك ريد بولز", "image": "https://semedia.filgoal.com/Photos/Team/Medium/1512.png" }, "wage": null }, { "dateFrom": "2018-01-31T00:00:00", "dateTo": "2019-01-30T00:00:00", "duration": null, "id": 422676, "transferType": "انتقال", "renew": false, "position": "مدافع", "price": null, "shirt": 5, "teamFrom": { "id": 1016, "name": "وادي دجلة", "image": "https://semedia.filgoal.com/Photos/Team/Medium/1016.png" }, "teamTo": { "id": 1615, "name": "أورلاندو سيتي", "image": "https://semedia.filgoal.com/Photos/Team/Medium/1615.png" }, "wage": null }, { "dateFrom": "2017-08-04T00:00:00", "dateTo": "2017-12-29T00:00:00", "duration": null, "id": 422675, "transferType": "انتقال", "renew": false, "position": "مدافع", "price": null, "shirt": 3, "teamFrom": { "id": 150, "name": "إنبـي", "image": "https://semedia.filgoal.com/Photos/Team/Medium/150.png" }, "teamTo": { "id": 1016, "name": "وادي دجلة", "image": "https://semedia.filgoal.com/Photos/Team/Medium/1016.png" }, "wage": null }, { "dateFrom": "2016-07-15T00:00:00", "dateTo": "2017-08-03T00:00:00", "duration": null, "id": 422674, "transferType": "انتقال", "renew": false, "position": "مدافع", "price": null, "shirt": null, "teamFrom": { "id": 123, "name": "ريال بيتيس", "image": "https://semedia.filgoal.com/Photos/Team/Medium/123.png" }, "teamTo": { "id": 150, "name": "إنبـي", "image": "https://semedia.filgoal.com/Photos/Team/Medium/150.png" }, "wage": null }, { "dateFrom": "2016-05-01T00:00:00", "dateTo": "2016-07-15T00:00:00", "duration": null, "id": 422673, "transferType": "انتقال", "renew": false, "position": "مدافع", "price": null, "shirt": null, "teamFrom": { "id": 1620, "name": "كولومبوس كرو", "image": "https://semedia.filgoal.com/Photos/Team/Medium/1620.png" }, "teamTo": { "id": 123, "name": "ريال بيتيس", "image": "https://semedia.filgoal.com/Photos/Team/Medium/123.png" }, "wage": null }, { "dateFrom": "2016-01-29T00:00:00", "dateTo": "2016-05-01T00:00:00", "duration": null, "id": 422672, "transferType": "انتقال", "renew": false, "position": "مدافع", "price": null, "shirt": null, "teamFrom": { "id": 123, "name": "ريال بيتيس", "image": "https://semedia.filgoal.com/Photos/Team/Medium/123.png" }, "teamTo": { "id": 1620, "name": "كولومبوس كرو", "image": "https://semedia.filgoal.com/Photos/Team/Medium/1620.png" }, "wage": null }, { "dateFrom": "2015-07-02T00:00:00", "dateTo": "2016-01-29T00:00:00", "duration": null, "id": 422671, "transferType": "انتقال", "renew": false, "position": "مدافع", "price": null, "shirt": null, "teamFrom": { "id": 617, "name": "الجونة", "image": "https://semedia.filgoal.com/Photos/Team/Medium/617.png" }, "teamTo": { "id": 123, "name": "ريال بيتيس", "image": "https://semedia.filgoal.com/Photos/Team/Medium/123.png" }, "wage": null }, { "dateFrom": "2013-08-03T00:00:00", "dateTo": "2015-07-02T00:00:00", "duration": null, "id": 422670, "transferType": "انتقال", "renew": false, "position": "مدافع", "price": null, "shirt": null, "teamFrom": { "id": 150, "name": "إنبـي", "image": "https://semedia.filgoal.com/Photos/Team/Medium/150.png" }, "teamTo": { "id": 617, "name": "الجونة", "image": "https://semedia.filgoal.com/Photos/Team/Medium/617.png" }, "wage": null }, { "dateFrom": "2009-06-27T00:00:00", "dateTo": "2010-04-27T00:00:00", "duration": null, "id": 422669, "transferType": "انتقال حر", "renew": false, "position": "مدافع", "price": null, "shirt": null, "teamFrom": null, "teamTo": { "id": 150, "name": "إنبـي", "image": "https://semedia.filgoal.com/Photos/Team/Medium/150.png" }, "wage": null } ], "dateOfBirth": "1992-05-17T00:00:00", "image": "https://semedia.filgoal.com/Photos/Person/medium/22447.png", "name": "عمرو طارق", "nationality": "مصر", "position": "مدافع", "shirt": null, "statistics": { "goals": 0, "yellowCards": 0, "redCards": 0, "played": 0, "minutesPlayed": 0, "playerChampionshipStatistics": [] }, "type": "لاعب", "team": { "id": 8, "name": "المصري", "image": "https://semedia.filgoal.com/Photos/Team/Medium/8.png" } }

عمرو طارق

30 عاما

انتقال

الجونةالمصري

2025

تعليقات
استطلاع رأي
أفضل فريق أبرم صفقات للموسم المقبل هو؟