تمت الصفقة الثالثة.. بيسوما ينضم إلى توتنام
مصدر الخبر: النادي
تاريخ النشر : Friday, 17 June 2022 - 04:53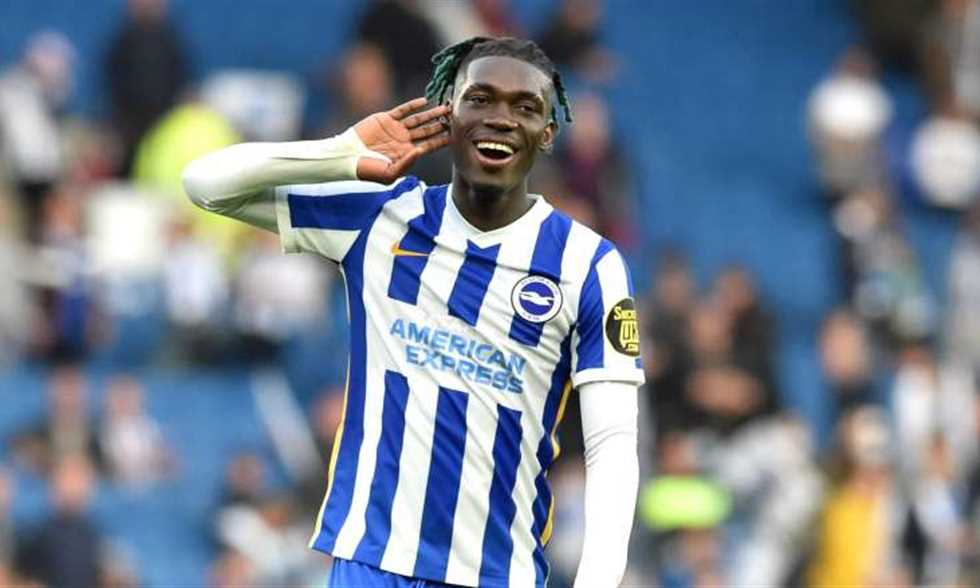 كتب
FilGoal
أعلن توتنام ضم يفيس بيسوما بشكل رسمي إلى صفوفه قادما من برايتون خلال سوق الانتقالات الحالية.
ووقع اللاعب البالغ من العمر 25 عاما عقدا لمدة 4 سنوات أي حتى 2026.
✍️ We are pleased to announce the transfer of Yves Bissouma.

Welcome to Spurs, Yves! 💙

— Tottenham Hotspur (@SpursOfficial) June 17, 2022
وحسبما أفاد فابرزيو رومانو الصحفي في "سكاي" في وقت سابق أن الاتفاق قد أتم على انضمام اللاعب مقابل 25 مليون جنيه إسترليني.
بيسوما هو الصفقة الثالثة لتوتنام للموسم المقبل بعد التعاقد مع كل من إيفان بيريزيتش وفريسر فورستر.
وشارك الدولي المالي مع برايتون خلال الموسم الماضي في 28 مباراة وتمكن خلالهم من تسجيل هدفين وصناعة آخرين.
من هو بيسوما؟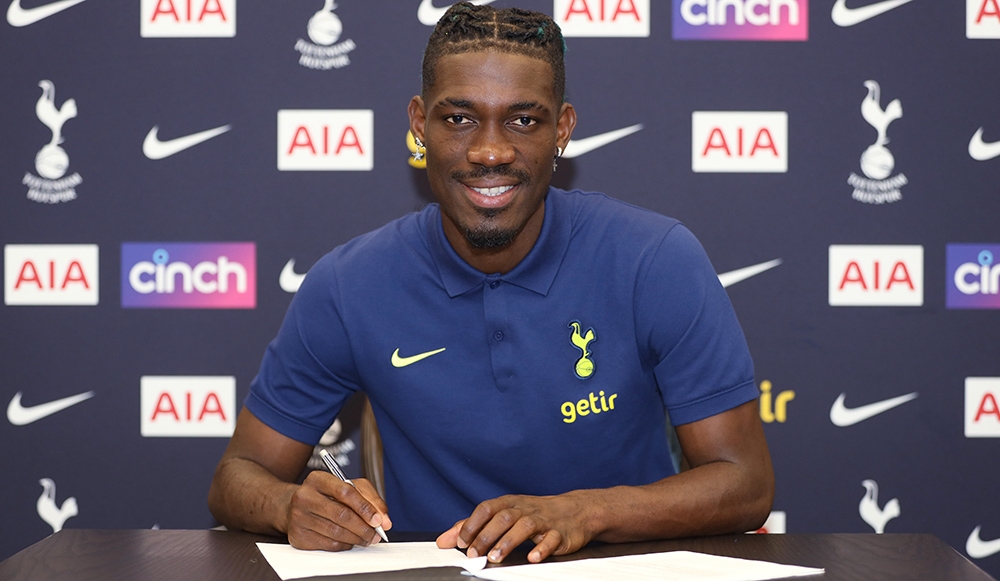 بدأ يفيس مسيرته الكروية مع نادي ماجستيك في بوركينا فاسو قبل أن ينضم إلى الفريق المالي ريال باماكو، وفي مارس 2016 انتقل إلى الدوري الفرنسيمن بوابة ليل وشارك معهم في 55 مباراة وسجل أربعة أهداف.
في يوليو 2018، وقع مع برايتون وظهر لأول مرة في الشهر التالي، سجل هدفه الأول في الدوري يوليو 2020، ورشح لجائزة هدف الشهر في الدوري الإنجليزي الممتاز.
وعلى مدار أربعة مواسم رفقة برايتون شارك بيسوما في 123 مباراة في جميع المسابقات، سجل ستة أهداف وفي موسم 2021/22 ساعدهم على احتلال المركز التاسع في الدوري الإنجليزي الممتاز، وهو أكبر إنجاز في تاريخ النادي.
طالع أيضا
الكشف عما قاله مودريتش لصلاح بعد نهائي أوروبا
هجوم من حمد إبراهيم على اتحاد الكرة بسبب إيهاب جلال
رحلة الفراعنة من الثلاثية التاريخية حتى اللحظة
أقصر المدد التدريبية لمدربي مصر
من "الرجاء التنازل" إلى "ناخد قرار يا جدعان".. كيف بدأ اتحاد الكرة
أحدث الانتقالات
{ "id": 27498, "age": 32, "career": [ { "dateFrom": "2022-09-29T00:00:00", "dateTo": null, "duration": 1, "id": 422794, "transferType": "إعارة", "renew": false, "position": "مدافع", "price": null, "shirt": null, "teamFrom": { "id": 617, "name": "الجونة", "image": "https://semedia.filgoal.com/Photos/Team/Medium/617.png" }, "teamTo": { "id": 151, "name": "أسـوان", "image": "https://semedia.filgoal.com/Photos/Team/Medium/151.png" }, "wage": null }, { "dateFrom": "2020-12-31T00:00:00", "dateTo": "2022-09-28T00:00:00", "duration": null, "id": 422793, "transferType": "انتقال", "renew": false, "position": "مدافع", "price": null, "shirt": null, "teamFrom": { "id": 13, "name": "الاتحاد السكندري", "image": "https://semedia.filgoal.com/Photos/Team/Medium/13.png" }, "teamTo": { "id": 617, "name": "الجونة", "image": "https://semedia.filgoal.com/Photos/Team/Medium/617.png" }, "wage": null }, { "dateFrom": "2020-11-28T00:00:00", "dateTo": "2020-12-31T00:00:00", "duration": null, "id": 422792, "transferType": "انتقال", "renew": false, "position": "مدافع", "price": null, "shirt": null, "teamFrom": { "id": 1451, "name": "بيراميدز", "image": "https://semedia.filgoal.com/Photos/Team/Medium/1451.png" }, "teamTo": { "id": 13, "name": "الاتحاد السكندري", "image": "https://semedia.filgoal.com/Photos/Team/Medium/13.png" }, "wage": null }, { "dateFrom": "2019-07-27T00:00:00", "dateTo": "2020-11-27T00:00:00", "duration": null, "id": 422791, "transferType": "انتقال", "renew": false, "position": "مدافع", "price": null, "shirt": 20, "teamFrom": { "id": 184, "name": "الرائد", "image": "https://semedia.filgoal.com/Photos/Team/Medium/184.png" }, "teamTo": { "id": 1451, "name": "بيراميدز", "image": "https://semedia.filgoal.com/Photos/Team/Medium/1451.png" }, "wage": null }, { "dateFrom": "2018-01-24T00:00:00", "dateTo": "2019-07-25T00:00:00", "duration": null, "id": 422790, "transferType": "انتقال", "renew": false, "position": "مدافع", "price": null, "shirt": null, "teamFrom": { "id": 13, "name": "الاتحاد السكندري", "image": "https://semedia.filgoal.com/Photos/Team/Medium/13.png" }, "teamTo": { "id": 184, "name": "الرائد", "image": "https://semedia.filgoal.com/Photos/Team/Medium/184.png" }, "wage": null }, { "dateFrom": "2016-07-25T00:00:00", "dateTo": "2018-01-22T00:00:00", "duration": null, "id": 422789, "transferType": "انتقال", "renew": false, "position": "مدافع", "price": null, "shirt": 6, "teamFrom": { "id": 923, "name": "مصر للمقاصة", "image": "https://semedia.filgoal.com/Photos/Team/Medium/923.png" }, "teamTo": { "id": 13, "name": "الاتحاد السكندري", "image": "https://semedia.filgoal.com/Photos/Team/Medium/13.png" }, "wage": null }, { "dateFrom": "2015-07-28T00:00:00", "dateTo": "2016-07-24T00:00:00", "duration": null, "id": 422788, "transferType": "انتقال حر", "renew": false, "position": "مدافع", "price": null, "shirt": null, "teamFrom": null, "teamTo": { "id": 923, "name": "مصر للمقاصة", "image": "https://semedia.filgoal.com/Photos/Team/Medium/923.png" }, "wage": null } ], "dateOfBirth": "1990-07-15T00:00:00", "image": "https://semedia.filgoal.com/Photos/Person/medium/27498.png", "name": "محمد عطوة", "nationality": "مصر", "position": "مدافع", "shirt": null, "statistics": { "goals": 0, "yellowCards": 0, "redCards": 0, "played": 0, "minutesPlayed": 0, "playerChampionshipStatistics": [] }, "type": "لاعب", "team": { "id": 151, "name": "أسـوان", "image": "https://semedia.filgoal.com/Photos/Team/Medium/151.png" } }

محمد عطوة

32 عاما

إعارة

الجونةأسـوان

2023

تعليقات

{ "id": 220515, "age": 23, "career": [ { "dateFrom": "2022-09-27T00:00:00", "dateTo": null, "duration": 2, "id": 422869, "transferType": "انتقال", "renew": false, "position": "مهاجم", "price": null, "shirt": null, "teamFrom": { "id": 1451, "name": "بيراميدز", "image": "https://semedia.filgoal.com/Photos/Team/Medium/1451.png" }, "teamTo": { "id": 904, "name": "الداخلية", "image": "https://semedia.filgoal.com/Photos/Team/Medium/904.png" }, "wage": null }, { "dateFrom": "2022-08-28T00:00:00", "dateTo": "2022-09-25T00:00:00", "duration": null, "id": 422868, "transferType": "انتهاء إعارة", "renew": false, "position": "مهاجم", "price": null, "shirt": null, "teamFrom": { "id": 151, "name": "أسـوان", "image": "https://semedia.filgoal.com/Photos/Team/Medium/151.png" }, "teamTo": { "id": 1451, "name": "بيراميدز", "image": "https://semedia.filgoal.com/Photos/Team/Medium/1451.png" }, "wage": null }, { "dateFrom": "2020-12-29T00:00:00", "dateTo": "2022-08-28T00:00:00", "duration": null, "id": 422867, "transferType": "إعارة", "renew": false, "position": "مهاجم", "price": null, "shirt": 37, "teamFrom": { "id": 1451, "name": "بيراميدز", "image": "https://semedia.filgoal.com/Photos/Team/Medium/1451.png" }, "teamTo": { "id": 151, "name": "أسـوان", "image": "https://semedia.filgoal.com/Photos/Team/Medium/151.png" }, "wage": null }, { "dateFrom": "2019-12-29T00:00:00", "dateTo": "2020-12-29T00:00:00", "duration": null, "id": 422866, "transferType": "انتقال حر", "renew": false, "position": "مهاجم", "price": null, "shirt": null, "teamFrom": null, "teamTo": { "id": 1451, "name": "بيراميدز", "image": "https://semedia.filgoal.com/Photos/Team/Medium/1451.png" }, "wage": null } ], "dateOfBirth": "1999-01-01T00:00:00", "image": "https://semedia.filgoal.com/Photos/Person/medium/220515.png", "name": "صلاح يحيى", "nationality": "مصر", "position": "مهاجم", "shirt": null, "statistics": { "goals": 0, "yellowCards": 0, "redCards": 0, "played": 0, "minutesPlayed": 0, "playerChampionshipStatistics": [] }, "type": "لاعب", "team": { "id": 904, "name": "الداخلية", "image": "https://semedia.filgoal.com/Photos/Team/Medium/904.png" } }

صلاح يحيى

23 عاما

انتقال

بيراميدزالداخلية

2024

تعليقات

{ "id": 18103, "age": 29, "career": [ { "dateFrom": "2022-09-28T00:00:00", "dateTo": null, "duration": 2, "id": 422745, "transferType": "انتقال", "renew": false, "position": "حارس مرمى", "price": null, "shirt": null, "teamFrom": { "id": 13013, "name": "لاعب حر", "image": "https://semedia.filgoal.com/Photos/Team/Medium/13013.png" }, "teamTo": { "id": 1075, "name": "إيسترن كومباني", "image": "https://semedia.filgoal.com/Photos/Team/Medium/1075.png" }, "wage": null }, { "dateFrom": "2022-09-01T00:00:00", "dateTo": "2022-09-27T00:00:00", "duration": null, "id": 422744, "transferType": "انتقال", "renew": false, "position": "حارس مرمى", "price": null, "shirt": null, "teamFrom": { "id": 1016, "name": "وادي دجلة", "image": "https://semedia.filgoal.com/Photos/Team/Medium/1016.png" }, "teamTo": { "id": 13013, "name": "لاعب حر", "image": "https://semedia.filgoal.com/Photos/Team/Medium/13013.png" }, "wage": null }, { "dateFrom": "2020-10-27T00:00:00", "dateTo": "2022-08-30T00:00:00", "duration": null, "id": 422743, "transferType": "انتقال", "renew": false, "position": "حارس مرمى", "price": null, "shirt": null, "teamFrom": { "id": 151, "name": "أسـوان", "image": "https://semedia.filgoal.com/Photos/Team/Medium/151.png" }, "teamTo": { "id": 1016, "name": "وادي دجلة", "image": "https://semedia.filgoal.com/Photos/Team/Medium/1016.png" }, "wage": null }, { "dateFrom": "2019-07-26T00:00:00", "dateTo": "2020-10-26T00:00:00", "duration": null, "id": 422742, "transferType": "انتقال", "renew": false, "position": "حارس مرمى", "price": null, "shirt": 29, "teamFrom": { "id": 149, "name": "حرس الحدود", "image": "https://semedia.filgoal.com/Photos/Team/Medium/149.png" }, "teamTo": { "id": 151, "name": "أسـوان", "image": "https://semedia.filgoal.com/Photos/Team/Medium/151.png" }, "wage": null }, { "dateFrom": "2018-07-16T00:00:00", "dateTo": "2019-07-24T00:00:00", "duration": null, "id": 422741, "transferType": "انتقال", "renew": false, "position": "حارس مرمى", "price": null, "shirt": null, "teamFrom": { "id": 860, "name": "سموحة", "image": "https://semedia.filgoal.com/Photos/Team/Medium/860.png" }, "teamTo": { "id": 149, "name": "حرس الحدود", "image": "https://semedia.filgoal.com/Photos/Team/Medium/149.png" }, "wage": null }, { "dateFrom": "2018-06-21T00:00:00", "dateTo": "2018-07-15T00:00:00", "duration": null, "id": 422740, "transferType": "انتهاء إعارة", "renew": false, "position": "حارس مرمى", "price": null, "shirt": null, "teamFrom": { "id": 304, "name": "طلائع الجيش", "image": "https://semedia.filgoal.com/Photos/Team/Medium/304.png" }, "teamTo": { "id": 860, "name": "سموحة", "image": "https://semedia.filgoal.com/Photos/Team/Medium/860.png" }, "wage": null }, { "dateFrom": "2018-01-03T00:00:00", "dateTo": "2018-06-21T00:00:00", "duration": null, "id": 422739, "transferType": "إعارة", "renew": false, "position": "حارس مرمى", "price": null, "shirt": 1, "teamFrom": { "id": 860, "name": "سموحة", "image": "https://semedia.filgoal.com/Photos/Team/Medium/860.png" }, "teamTo": { "id": 304, "name": "طلائع الجيش", "image": "https://semedia.filgoal.com/Photos/Team/Medium/304.png" }, "wage": null }, { "dateFrom": "2017-07-08T00:00:00", "dateTo": "2018-01-03T00:00:00", "duration": null, "id": 422738, "transferType": "انتقال", "renew": false, "position": "حارس مرمى", "price": null, "shirt": 16, "teamFrom": { "id": 1, "name": "الأهلي", "image": "https://semedia.filgoal.com/Photos/Team/Medium/1.png" }, "teamTo": { "id": 860, "name": "سموحة", "image": "https://semedia.filgoal.com/Photos/Team/Medium/860.png" }, "wage": null }, { "dateFrom": "2013-06-22T00:00:00", "dateTo": "2017-07-08T00:00:00", "duration": null, "id": 422737, "transferType": "انتقال", "renew": false, "position": "حارس مرمى", "price": null, "shirt": null, "teamFrom": { "id": 5, "name": "الإسماعيلي", "image": "https://semedia.filgoal.com/Photos/Team/Medium/5.png" }, "teamTo": { "id": 1, "name": "الأهلي", "image": "https://semedia.filgoal.com/Photos/Team/Medium/1.png" }, "wage": null }, { "dateFrom": "2012-06-23T00:00:00", "dateTo": "2013-06-23T00:00:00", "duration": null, "id": 422736, "transferType": "انتقال حر", "renew": false, "position": "حارس مرمى", "price": null, "shirt": null, "teamFrom": null, "teamTo": { "id": 5, "name": "الإسماعيلي", "image": "https://semedia.filgoal.com/Photos/Team/Medium/5.png" }, "wage": null } ], "dateOfBirth": "1993-01-15T00:00:00", "image": "https://semedia.filgoal.com/Photos/Person/medium/18103.png", "name": "مسعد عوض", "nationality": "مصر", "position": "حارس مرمى", "shirt": null, "statistics": { "goals": 0, "yellowCards": 0, "redCards": 0, "played": 0, "minutesPlayed": 0, "playerChampionshipStatistics": [] }, "type": "لاعب", "team": { "id": 1075, "name": "إيسترن كومباني", "image": "https://semedia.filgoal.com/Photos/Team/Medium/1075.png" } }

مسعد عوض

29 عاما

انتقال

لاعب حرإيسترن كومباني

2024

تعليقات

{ "id": 26904, "age": 27, "career": [ { "dateFrom": "2022-09-28T00:00:00", "dateTo": null, "duration": 2, "id": 422735, "transferType": "انتقال", "renew": false, "position": "مدافع", "price": null, "shirt": null, "teamFrom": { "id": 13013, "name": "لاعب حر", "image": "https://semedia.filgoal.com/Photos/Team/Medium/13013.png" }, "teamTo": { "id": 2025, "name": "شباب الأهلي دبي", "image": "https://semedia.filgoal.com/Photos/Team/Medium/2025.png" }, "wage": null }, { "dateFrom": "2022-06-28T00:00:00", "dateTo": "2022-09-27T00:00:00", "duration": null, "id": 422734, "transferType": "انتقال", "renew": false, "position": "مدافع", "price": null, "shirt": null, "teamFrom": { "id": 211, "name": "أولمبيك ليون", "image": "https://semedia.filgoal.com/Photos/Team/Medium/211.png" }, "teamTo": { "id": 13013, "name": "لاعب حر", "image": "https://semedia.filgoal.com/Photos/Team/Medium/13013.png" }, "wage": null }, { "dateFrom": "2018-06-25T00:00:00", "dateTo": "2022-06-27T00:00:00", "duration": null, "id": 422733, "transferType": "انتقال", "renew": false, "position": "مدافع", "price": 11, "shirt": 5, "teamFrom": { "id": 94, "name": "مانشستر سيتي", "image": "https://semedia.filgoal.com/Photos/Team/Medium/94.png" }, "teamTo": { "id": 211, "name": "أولمبيك ليون", "image": "https://semedia.filgoal.com/Photos/Team/Medium/211.png" }, "wage": null }, { "dateFrom": "2018-06-23T00:00:00", "dateTo": "2018-06-25T00:00:00", "duration": null, "id": 422732, "transferType": "انتقال", "renew": false, "position": "مدافع", "price": null, "shirt": 28, "teamFrom": { "id": 100, "name": "سندرلاند", "image": "https://semedia.filgoal.com/Photos/Team/Medium/100.png" }, "teamTo": { "id": 94, "name": "مانشستر سيتي", "image": "https://semedia.filgoal.com/Photos/Team/Medium/94.png" }, "wage": null }, { "dateFrom": "2016-07-19T00:00:00", "dateTo": "2018-06-19T00:00:00", "duration": null, "id": 422731, "transferType": "انتهاء إعارة", "renew": false, "position": "مدافع", "price": null, "shirt": 28, "teamFrom": { "id": 217, "name": "جالاتا سراي", "image": "https://semedia.filgoal.com/Photos/Team/Medium/217.png" }, "teamTo": { "id": 100, "name": "سندرلاند", "image": "https://semedia.filgoal.com/Photos/Team/Medium/100.png" }, "wage": null }, { "dateFrom": "2013-12-19T00:00:00", "dateTo": "2015-12-19T00:00:00", "duration": 2, "id": 422730, "transferType": "إعارة", "renew": false, "position": "مدافع", "price": 0.55, "shirt": 64, "teamFrom": { "id": 94, "name": "مانشستر سيتي", "image": "https://semedia.filgoal.com/Photos/Team/Medium/94.png" }, "teamTo": { "id": 217, "name": "جالاتا سراي", "image": "https://semedia.filgoal.com/Photos/Team/Medium/217.png" }, "wage": null }, { "dateFrom": "1999-12-18T00:00:00", "dateTo": "2011-08-17T00:00:00", "duration": null, "id": 422729, "transferType": "انتقال حر", "renew": false, "position": "مدافع", "price": null, "shirt": 28, "teamFrom": null, "teamTo": { "id": 94, "name": "مانشستر سيتي", "image": "https://semedia.filgoal.com/Photos/Team/Medium/94.png" }, "wage": null } ], "dateOfBirth": "1995-06-28T00:00:00", "image": "https://semedia.filgoal.com/Photos/Person/medium/26904.png", "name": "جايسون ديناير", "nationality": "بلجيكا", "position": "مدافع", "shirt": null, "statistics": { "goals": 0, "yellowCards": 0, "redCards": 0, "played": 0, "minutesPlayed": 0, "playerChampionshipStatistics": [] }, "type": "لاعب", "team": { "id": 2025, "name": "شباب الأهلي دبي", "image": "https://semedia.filgoal.com/Photos/Team/Medium/2025.png" } }

جايسون ديناير

27 عاما

انتقال

لاعب حرشباب الأهلي دبي

2024

تعليقات

{ "id": 221860, "age": 23, "career": [ { "dateFrom": "2022-09-27T00:00:00", "dateTo": null, "duration": 2, "id": 422800, "transferType": "انتقال", "renew": false, "position": "وسط", "price": null, "shirt": null, "teamFrom": { "id": 13013, "name": "لاعب حر", "image": "https://semedia.filgoal.com/Photos/Team/Medium/13013.png" }, "teamTo": { "id": 904, "name": "الداخلية", "image": "https://semedia.filgoal.com/Photos/Team/Medium/904.png" }, "wage": null }, { "dateFrom": "2022-08-31T00:00:00", "dateTo": "2022-09-26T00:00:00", "duration": null, "id": 422799, "transferType": "انتقال", "renew": false, "position": null, "price": null, "shirt": null, "teamFrom": { "id": 923, "name": "مصر للمقاصة", "image": "https://semedia.filgoal.com/Photos/Team/Medium/923.png" }, "teamTo": { "id": 13013, "name": "لاعب حر", "image": "https://semedia.filgoal.com/Photos/Team/Medium/13013.png" }, "wage": null }, { "dateFrom": "2021-09-18T00:00:00", "dateTo": "2022-08-30T00:00:00", "duration": null, "id": 422798, "transferType": "انتقال حر", "renew": false, "position": "وسط", "price": null, "shirt": null, "teamFrom": null, "teamTo": { "id": 923, "name": "مصر للمقاصة", "image": "https://semedia.filgoal.com/Photos/Team/Medium/923.png" }, "wage": null } ], "dateOfBirth": "1999-01-01T00:00:00", "image": "https://semedia.filgoal.com/Photos/Person/medium/221860.png", "name": "إريك سيرجي", "nationality": "كوت ديفوار", "position": "وسط", "shirt": null, "statistics": { "goals": 0, "yellowCards": 0, "redCards": 0, "played": 0, "minutesPlayed": 0, "playerChampionshipStatistics": [] }, "type": "لاعب", "team": { "id": 904, "name": "الداخلية", "image": "https://semedia.filgoal.com/Photos/Team/Medium/904.png" } }

إريك سيرجي

23 عاما

انتقال

لاعب حرالداخلية

2024

تعليقات

{ "id": 113269, "age": 23, "career": [ { "dateFrom": "2022-09-26T00:00:00", "dateTo": null, "duration": 3, "id": 422639, "transferType": "انتقال", "renew": false, "position": "وسط", "price": 0, "shirt": null, "teamFrom": { "id": 13013, "name": "لاعب حر", "image": "https://semedia.filgoal.com/Photos/Team/Medium/13013.png" }, "teamTo": { "id": 2188, "name": "البنك الأهلي", "image": "https://semedia.filgoal.com/Photos/Team/Medium/2188.png" }, "wage": null }, { "dateFrom": "2022-07-30T00:00:00", "dateTo": "2022-09-25T00:00:00", "duration": null, "id": 422638, "transferType": "انتقال", "renew": false, "position": "وسط", "price": null, "shirt": null, "teamFrom": { "id": 2, "name": "الزمالك", "image": "https://semedia.filgoal.com/Photos/Team/Medium/2.png" }, "teamTo": { "id": 13013, "name": "لاعب حر", "image": "https://semedia.filgoal.com/Photos/Team/Medium/13013.png" }, "wage": null }, { "dateFrom": "2021-08-27T00:00:00", "dateTo": "2022-07-27T00:00:00", "duration": null, "id": 422637, "transferType": "انتهاء إعارة", "renew": false, "position": "وسط", "price": null, "shirt": null, "teamFrom": { "id": 13, "name": "الاتحاد السكندري", "image": "https://semedia.filgoal.com/Photos/Team/Medium/13.png" }, "teamTo": { "id": 2, "name": "الزمالك", "image": "https://semedia.filgoal.com/Photos/Team/Medium/2.png" }, "wage": null }, { "dateFrom": "2018-06-22T00:00:00", "dateTo": "2021-08-26T00:00:00", "duration": null, "id": 422636, "transferType": "إعارة", "renew": false, "position": "وسط", "price": null, "shirt": 20, "teamFrom": { "id": 2, "name": "الزمالك", "image": "https://semedia.filgoal.com/Photos/Team/Medium/2.png" }, "teamTo": { "id": 13, "name": "الاتحاد السكندري", "image": "https://semedia.filgoal.com/Photos/Team/Medium/13.png" }, "wage": null }, { "dateFrom": "2018-06-19T00:00:00", "dateTo": "2018-06-20T00:00:00", "duration": null, "id": 422635, "transferType": "انتقال", "renew": false, "position": "وسط", "price": null, "shirt": null, "teamFrom": { "id": 13, "name": "الاتحاد السكندري", "image": "https://semedia.filgoal.com/Photos/Team/Medium/13.png" }, "teamTo": { "id": 2, "name": "الزمالك", "image": "https://semedia.filgoal.com/Photos/Team/Medium/2.png" }, "wage": null }, { "dateFrom": "2017-12-21T00:00:00", "dateTo": "2018-06-19T00:00:00", "duration": null, "id": 422634, "transferType": "انتقال", "renew": false, "position": "وسط", "price": null, "shirt": null, "teamFrom": { "id": 2, "name": "الزمالك", "image": "https://semedia.filgoal.com/Photos/Team/Medium/2.png" }, "teamTo": { "id": 13, "name": "الاتحاد السكندري", "image": "https://semedia.filgoal.com/Photos/Team/Medium/13.png" }, "wage": null }, { "dateFrom": "2017-07-21T00:00:00", "dateTo": "2017-12-21T00:00:00", "duration": null, "id": 422633, "transferType": "انتقال", "renew": false, "position": "وسط", "price": null, "shirt": 24, "teamFrom": { "id": 151, "name": "أسـوان", "image": "https://semedia.filgoal.com/Photos/Team/Medium/151.png" }, "teamTo": { "id": 2, "name": "الزمالك", "image": "https://semedia.filgoal.com/Photos/Team/Medium/2.png" }, "wage": null }, { "dateFrom": "2017-01-21T00:00:00", "dateTo": "2017-07-21T00:00:00", "duration": null, "id": 422632, "transferType": "انتقال حر", "renew": false, "position": "وسط", "price": null, "shirt": null, "teamFrom": null, "teamTo": { "id": 151, "name": "أسـوان", "image": "https://semedia.filgoal.com/Photos/Team/Medium/151.png" }, "wage": null } ], "dateOfBirth": "1998-12-30T00:00:00", "image": "https://semedia.filgoal.com/Photos/Person/medium/113269.png", "name": "رزاق سيسيه", "nationality": "كوت ديفوار", "position": "وسط", "shirt": null, "statistics": { "goals": 0, "yellowCards": 0, "redCards": 0, "played": 0, "minutesPlayed": 0, "playerChampionshipStatistics": [] }, "type": "لاعب", "team": { "id": 2188, "name": "البنك الأهلي", "image": "https://semedia.filgoal.com/Photos/Team/Medium/2188.png" } }

رزاق سيسيه

23 عاما

انتقال

لاعب حرالبنك الأهلي

2025

تعليقات

{ "id": 133821, "age": 26, "career": [ { "dateFrom": "2022-09-27T00:00:00", "dateTo": null, "duration": 2, "id": 422631, "transferType": "انتقال", "renew": false, "position": "مدافع", "price": 0, "shirt": null, "teamFrom": { "id": 617, "name": "الجونة", "image": "https://semedia.filgoal.com/Photos/Team/Medium/617.png" }, "teamTo": { "id": 904, "name": "الداخلية", "image": "https://semedia.filgoal.com/Photos/Team/Medium/904.png" }, "wage": null }, { "dateFrom": "2019-08-08T00:00:00", "dateTo": "2022-09-26T00:00:00", "duration": null, "id": 422630, "transferType": "انتقال حر", "renew": false, "position": "وسط", "price": null, "shirt": 20, "teamFrom": null, "teamTo": { "id": 617, "name": "الجونة", "image": "https://semedia.filgoal.com/Photos/Team/Medium/617.png" }, "wage": null } ], "dateOfBirth": "1996-01-15T00:00:00", "image": "https://semedia.filgoal.com/Photos/Person/medium/133821.png", "name": "ألان تشامبادي", "nationality": "اوغندا", "position": "مدافع", "shirt": null, "statistics": { "goals": 0, "yellowCards": 0, "redCards": 0, "played": 0, "minutesPlayed": 0, "playerChampionshipStatistics": [] }, "type": "لاعب", "team": { "id": 904, "name": "الداخلية", "image": "https://semedia.filgoal.com/Photos/Team/Medium/904.png" } }

ألان تشامبادي

26 عاما

انتقال

الجونةالداخلية

2024

تعليقات

{ "id": 19254, "age": 31, "career": [ { "dateFrom": "2022-09-25T00:00:00", "dateTo": null, "duration": 2, "id": 421609, "transferType": "انتقال", "renew": false, "position": "وسط", "price": null, "shirt": null, "teamFrom": { "id": 90, "name": "إيفرتون", "image": "https://semedia.filgoal.com/Photos/Team/Medium/90.png" }, "teamTo": { "id": 876, "name": "الوحدة", "image": "https://semedia.filgoal.com/Photos/Team/Medium/876.png" }, "wage": null }, { "dateFrom": "2020-09-03T00:00:00", "dateTo": "2022-09-24T00:00:00", "duration": null, "id": 421608, "transferType": "انتقال", "renew": false, "position": "وسط", "price": null, "shirt": 6, "teamFrom": { "id": 757, "name": "نابولي", "image": "https://semedia.filgoal.com/Photos/Team/Medium/757.png" }, "teamTo": { "id": 90, "name": "إيفرتون", "image": "https://semedia.filgoal.com/Photos/Team/Medium/90.png" }, "wage": null }, { "dateFrom": "2015-07-13T00:00:00", "dateTo": "2020-09-01T00:00:00", "duration": null, "id": 421607, "transferType": "انتقال", "renew": false, "position": "وسط", "price": null, "shirt": 5, "teamFrom": { "id": 145, "name": "أودينيزي", "image": "https://semedia.filgoal.com/Photos/Team/Medium/145.png" }, "teamTo": { "id": 757, "name": "نابولي", "image": "https://semedia.filgoal.com/Photos/Team/Medium/757.png" }, "wage": null }, { "dateFrom": "2012-06-23T00:00:00", "dateTo": "2015-07-11T00:00:00", "duration": null, "id": 421606, "transferType": "انتقال حر", "renew": false, "position": "وسط", "price": null, "shirt": 5, "teamFrom": null, "teamTo": { "id": 145, "name": "أودينيزي", "image": "https://semedia.filgoal.com/Photos/Team/Medium/145.png" }, "wage": null } ], "dateOfBirth": "1991-01-08T00:00:00", "image": "https://semedia.filgoal.com/Photos/Person/medium/19254.png", "name": "آلان", "nationality": "البرازيل", "position": "وسط", "shirt": null, "statistics": { "goals": 0, "yellowCards": 0, "redCards": 0, "played": 0, "minutesPlayed": 0, "playerChampionshipStatistics": [] }, "type": "لاعب", "team": { "id": 876, "name": "الوحدة", "image": "https://semedia.filgoal.com/Photos/Team/Medium/876.png" } }

آلان

31 عاما

انتقال

إيفرتونالوحدة

2024

تعليقات

{ "id": 22447, "age": 30, "career": [ { "dateFrom": "2022-09-27T00:00:00", "dateTo": null, "duration": 3, "id": 422679, "transferType": "انتقال", "renew": false, "position": "مدافع", "price": null, "shirt": null, "teamFrom": { "id": 617, "name": "الجونة", "image": "https://semedia.filgoal.com/Photos/Team/Medium/617.png" }, "teamTo": { "id": 8, "name": "المصري", "image": "https://semedia.filgoal.com/Photos/Team/Medium/8.png" }, "wage": null }, { "dateFrom": "2021-09-09T00:00:00", "dateTo": "2022-09-26T00:00:00", "duration": null, "id": 422678, "transferType": "انتقال", "renew": false, "position": "مدافع", "price": null, "shirt": null, "teamFrom": { "id": 1512, "name": "نيو يورك ريد بولز", "image": "https://semedia.filgoal.com/Photos/Team/Medium/1512.png" }, "teamTo": { "id": 617, "name": "الجونة", "image": "https://semedia.filgoal.com/Photos/Team/Medium/617.png" }, "wage": null }, { "dateFrom": "2019-01-31T00:00:00", "dateTo": "2021-09-08T00:00:00", "duration": null, "id": 422677, "transferType": "انتقال", "renew": false, "position": "مدافع", "price": null, "shirt": null, "teamFrom": { "id": 1615, "name": "أورلاندو سيتي", "image": "https://semedia.filgoal.com/Photos/Team/Medium/1615.png" }, "teamTo": { "id": 1512, "name": "نيو يورك ريد بولز", "image": "https://semedia.filgoal.com/Photos/Team/Medium/1512.png" }, "wage": null }, { "dateFrom": "2018-01-31T00:00:00", "dateTo": "2019-01-30T00:00:00", "duration": null, "id": 422676, "transferType": "انتقال", "renew": false, "position": "مدافع", "price": null, "shirt": 5, "teamFrom": { "id": 1016, "name": "وادي دجلة", "image": "https://semedia.filgoal.com/Photos/Team/Medium/1016.png" }, "teamTo": { "id": 1615, "name": "أورلاندو سيتي", "image": "https://semedia.filgoal.com/Photos/Team/Medium/1615.png" }, "wage": null }, { "dateFrom": "2017-08-04T00:00:00", "dateTo": "2017-12-29T00:00:00", "duration": null, "id": 422675, "transferType": "انتقال", "renew": false, "position": "مدافع", "price": null, "shirt": 3, "teamFrom": { "id": 150, "name": "إنبـي", "image": "https://semedia.filgoal.com/Photos/Team/Medium/150.png" }, "teamTo": { "id": 1016, "name": "وادي دجلة", "image": "https://semedia.filgoal.com/Photos/Team/Medium/1016.png" }, "wage": null }, { "dateFrom": "2016-07-15T00:00:00", "dateTo": "2017-08-03T00:00:00", "duration": null, "id": 422674, "transferType": "انتقال", "renew": false, "position": "مدافع", "price": null, "shirt": null, "teamFrom": { "id": 123, "name": "ريال بيتيس", "image": "https://semedia.filgoal.com/Photos/Team/Medium/123.png" }, "teamTo": { "id": 150, "name": "إنبـي", "image": "https://semedia.filgoal.com/Photos/Team/Medium/150.png" }, "wage": null }, { "dateFrom": "2016-05-01T00:00:00", "dateTo": "2016-07-15T00:00:00", "duration": null, "id": 422673, "transferType": "انتقال", "renew": false, "position": "مدافع", "price": null, "shirt": null, "teamFrom": { "id": 1620, "name": "كولومبوس كرو", "image": "https://semedia.filgoal.com/Photos/Team/Medium/1620.png" }, "teamTo": { "id": 123, "name": "ريال بيتيس", "image": "https://semedia.filgoal.com/Photos/Team/Medium/123.png" }, "wage": null }, { "dateFrom": "2016-01-29T00:00:00", "dateTo": "2016-05-01T00:00:00", "duration": null, "id": 422672, "transferType": "انتقال", "renew": false, "position": "مدافع", "price": null, "shirt": null, "teamFrom": { "id": 123, "name": "ريال بيتيس", "image": "https://semedia.filgoal.com/Photos/Team/Medium/123.png" }, "teamTo": { "id": 1620, "name": "كولومبوس كرو", "image": "https://semedia.filgoal.com/Photos/Team/Medium/1620.png" }, "wage": null }, { "dateFrom": "2015-07-02T00:00:00", "dateTo": "2016-01-29T00:00:00", "duration": null, "id": 422671, "transferType": "انتقال", "renew": false, "position": "مدافع", "price": null, "shirt": null, "teamFrom": { "id": 617, "name": "الجونة", "image": "https://semedia.filgoal.com/Photos/Team/Medium/617.png" }, "teamTo": { "id": 123, "name": "ريال بيتيس", "image": "https://semedia.filgoal.com/Photos/Team/Medium/123.png" }, "wage": null }, { "dateFrom": "2013-08-03T00:00:00", "dateTo": "2015-07-02T00:00:00", "duration": null, "id": 422670, "transferType": "انتقال", "renew": false, "position": "مدافع", "price": null, "shirt": null, "teamFrom": { "id": 150, "name": "إنبـي", "image": "https://semedia.filgoal.com/Photos/Team/Medium/150.png" }, "teamTo": { "id": 617, "name": "الجونة", "image": "https://semedia.filgoal.com/Photos/Team/Medium/617.png" }, "wage": null }, { "dateFrom": "2009-06-27T00:00:00", "dateTo": "2010-04-27T00:00:00", "duration": null, "id": 422669, "transferType": "انتقال حر", "renew": false, "position": "مدافع", "price": null, "shirt": null, "teamFrom": null, "teamTo": { "id": 150, "name": "إنبـي", "image": "https://semedia.filgoal.com/Photos/Team/Medium/150.png" }, "wage": null } ], "dateOfBirth": "1992-05-17T00:00:00", "image": "https://semedia.filgoal.com/Photos/Person/medium/22447.png", "name": "عمرو طارق", "nationality": "مصر", "position": "مدافع", "shirt": null, "statistics": { "goals": 0, "yellowCards": 0, "redCards": 0, "played": 0, "minutesPlayed": 0, "playerChampionshipStatistics": [] }, "type": "لاعب", "team": { "id": 8, "name": "المصري", "image": "https://semedia.filgoal.com/Photos/Team/Medium/8.png" } }

عمرو طارق

30 عاما

انتقال

الجونةالمصري

2025

تعليقات
استطلاع رأي
أفضل فريق أبرم صفقات للموسم المقبل هو؟