تشيلسي يعلن ضم كوكوريا من برايتون
مصدر الخبر: النادي
تاريخ النشر : Friday, 5 August 2022 - 01:25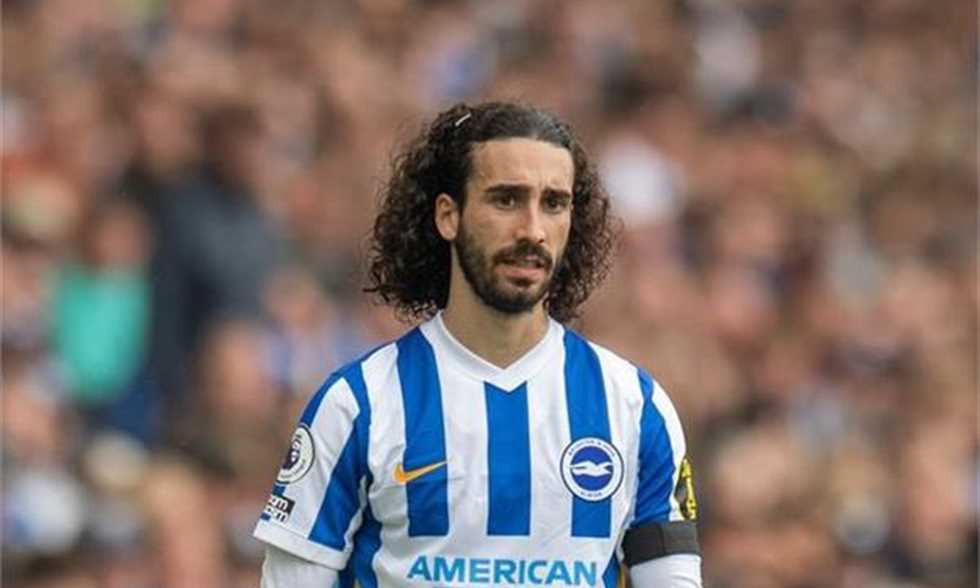 كتب
FilGoal
أعلن تشيلسي ضمه لمارك كوكوريا الظهير الأيسر لبرايتون رسميا خلال الانتقالات الصيفية الجارية.
ونشر تشيلسي بيانا مقتضبا عبر حسابه الرسمي بموقع التواصل الاجتماعي "تويتر" اليوم الجمعة قال فيه: "بعد العديد من التقارير من وسائل الإعلام خلال الأسبوع الجاري، يمكننا أن نؤكد توصلنا لاتفاق مع برايتون لضم مارك كوكوريا".
وكانت التقارير الصحفية ذكرت أن اللاعب الإسباني سيوقع على عقد مع تشيلسي لمدة ست سنوات.
وأوضحت التقارير أن الصفقة ستكلف خزائن النادي اللندني 52 مليون يورو.
CLUB STATEMENT: MARC CUCURELLA.

Following reports from numerous media outlets this week, we can confirm an agreement has been reached with Brighton and Hove Albion for the signing of Marc Cucurella.

— Chelsea FC (@ChelseaFC) August 5, 2022
وكان كوكوريا صاحب الـ24 عاما هدفا لفريق مانشستر سيتي حامل لقب الدوري الإنجليزي خلال هذا الصيف.
لكن عدم التوصل لاتفاق مع برايتون حول قيمة الصفقة أوقفها ليدخل تشيلسي في المفاوضات ويضم اللاعب.
ويعد كوكوريا أحد خريجي أكاديمية لاماسيا في برشلونة والتي نجح بيب جوارديولا مدرب مانشستر سيتي الحالي في إخراج العديد من اللاعبين من خلالها والذين أصبحوا نجوما خلال فترة تدريبه للفريق الإسباني.
وشارك كوكوريا خلال الموسم المنصرم مع برايتون في 38 مباراة وتمكن خلالها من تسجيل هدف وحيد وصناعة هدفين.
وبذلك سيكون كوكوريا هو رابع صفقات تشيلسي خلال الصيف الجاري بعد رحيم سترلينج وكاليدو كوليبالي والحارس جابرييل سلونينا وكارني تشوكويميكا.
طالع أيضا
تعرف على قرارات مجلس إدارة الأهلي
ماذا تقول لائحة اتحاد الكرة إذا لم تشارك في كأس مصر والسوبر
تعرف على مواجهات المصريين في الدوري السعودي
أحدث الانتقالات
{ "id": 31817, "age": 42, "career": [ { "dateFrom": "2023-09-01T00:00:00", "dateTo": null, "duration": 2, "id": 459132, "transferType": "انتقال", "renew": false, "position": "وسط", "price": null, "shirt": null, "teamFrom": { "id": 646, "name": "السد", "image": "https://semedia.filgoal.com/Photos/Team/Medium/646.png" }, "teamTo": { "id": 1138, "name": "الريان", "image": "https://semedia.filgoal.com/Photos/Team/Medium/1138.png" }, "wage": null }, { "dateFrom": "2019-12-31T00:00:00", "dateTo": "2023-09-01T00:00:00", "duration": null, "id": 459131, "transferType": "انتقال", "renew": false, "position": "وسط", "price": null, "shirt": 12, "teamFrom": { "id": 1138, "name": "الريان", "image": "https://semedia.filgoal.com/Photos/Team/Medium/1138.png" }, "teamTo": { "id": 646, "name": "السد", "image": "https://semedia.filgoal.com/Photos/Team/Medium/646.png" }, "wage": null }, { "dateFrom": "2016-12-29T00:00:00", "dateTo": "2019-12-30T00:00:00", "duration": null, "id": 459130, "transferType": "انتقال حر", "renew": false, "position": "وسط", "price": null, "shirt": 10, "teamFrom": null, "teamTo": { "id": 1138, "name": "الريان", "image": "https://semedia.filgoal.com/Photos/Team/Medium/1138.png" }, "wage": null } ], "dateOfBirth": "1980-11-19T00:00:00", "image": "https://semedia.filgoal.com/Photos/Person/medium/31817.png", "name": "رودريجو تاباتا", "nationality": "البرازيل", "position": "وسط", "shirt": null, "statistics": { "goals": 0, "yellowCards": 0, "redCards": 0, "played": 0, "minutesPlayed": 0, "playerChampionshipStatistics": [] }, "type": "لاعب", "team": { "id": 1138, "name": "الريان", "image": "https://semedia.filgoal.com/Photos/Team/Medium/1138.png" } }

رودريجو تاباتا

42 عاما

انتقال

السدالريان

2025

تعليقات

{ "id": 23116, "age": 30, "career": [ { "dateFrom": "2023-09-07T00:00:00", "dateTo": null, "duration": null, "id": 459742, "transferType": "انتقال", "renew": false, "position": "وسط", "price": null, "shirt": null, "teamFrom": { "id": 13013, "name": "لاعب حر", "image": "https://semedia.filgoal.com/Photos/Team/Medium/13013.png" }, "teamTo": { "id": 1880, "name": "فاركو", "image": "https://semedia.filgoal.com/Photos/Team/Medium/1880.png" }, "wage": null }, { "dateFrom": "2023-08-23T00:00:00", "dateTo": "2023-09-07T00:00:00", "duration": null, "id": 459741, "transferType": "انتقال", "renew": false, "position": "وسط", "price": null, "shirt": null, "teamFrom": { "id": 451, "name": "الرجاء البيضاوي", "image": "https://semedia.filgoal.com/Photos/Team/Medium/451.png" }, "teamTo": { "id": 13013, "name": "لاعب حر", "image": "https://semedia.filgoal.com/Photos/Team/Medium/13013.png" }, "wage": null }, { "dateFrom": "2023-08-08T00:00:00", "dateTo": "2023-08-20T00:00:00", "duration": 2, "id": 459740, "transferType": "انتقال", "renew": false, "position": "وسط", "price": null, "shirt": null, "teamFrom": { "id": 13013, "name": "لاعب حر", "image": "https://semedia.filgoal.com/Photos/Team/Medium/13013.png" }, "teamTo": { "id": 451, "name": "الرجاء البيضاوي", "image": "https://semedia.filgoal.com/Photos/Team/Medium/451.png" }, "wage": null }, { "dateFrom": "2023-05-26T00:00:00", "dateTo": "2023-08-07T00:00:00", "duration": null, "id": 459739, "transferType": "انتقال", "renew": false, "position": "وسط", "price": null, "shirt": null, "teamFrom": { "id": 1361, "name": "أبولون ليماسول", "image": "https://semedia.filgoal.com/Photos/Team/Medium/1361.png" }, "teamTo": { "id": 13013, "name": "لاعب حر", "image": "https://semedia.filgoal.com/Photos/Team/Medium/13013.png" }, "wage": null }, { "dateFrom": "2022-12-25T00:00:00", "dateTo": "2023-05-25T00:00:00", "duration": 1.5, "id": 459738, "transferType": "انتقال", "renew": false, "position": "وسط", "price": 0, "shirt": null, "teamFrom": { "id": 527, "name": "أنورثوزيس فاماجوستا", "image": "https://semedia.filgoal.com/Photos/Team/Medium/527.png" }, "teamTo": { "id": 1361, "name": "أبولون ليماسول", "image": "https://semedia.filgoal.com/Photos/Team/Medium/1361.png" }, "wage": null }, { "dateFrom": "2021-08-24T00:00:00", "dateTo": "2022-12-24T00:00:00", "duration": null, "id": 459737, "transferType": "انتقال", "renew": false, "position": "وسط", "price": null, "shirt": null, "teamFrom": { "id": 329, "name": "باوك سالونيكي", "image": "https://semedia.filgoal.com/Photos/Team/Medium/329.png" }, "teamTo": { "id": 527, "name": "أنورثوزيس فاماجوستا", "image": "https://semedia.filgoal.com/Photos/Team/Medium/527.png" }, "wage": null }, { "dateFrom": "2020-12-27T00:00:00", "dateTo": "2021-08-22T00:00:00", "duration": 1, "id": 459736, "transferType": "انتهاء إعارة", "renew": false, "position": "وسط مهاجم", "price": null, "shirt": null, "teamFrom": { "id": 12647, "name": "فولوس", "image": "https://semedia.filgoal.com/Photos/Team/Medium/12647.png" }, "teamTo": { "id": 329, "name": "باوك سالونيكي", "image": "https://semedia.filgoal.com/Photos/Team/Medium/329.png" }, "wage": null }, { "dateFrom": "2020-09-18T00:00:00", "dateTo": "2020-12-25T00:00:00", "duration": 1, "id": 459735, "transferType": "إعارة", "renew": false, "position": "وسط", "price": null, "shirt": null, "teamFrom": { "id": 329, "name": "باوك سالونيكي", "image": "https://semedia.filgoal.com/Photos/Team/Medium/329.png" }, "teamTo": { "id": 12647, "name": "فولوس", "image": "https://semedia.filgoal.com/Photos/Team/Medium/12647.png" }, "wage": null }, { "dateFrom": "2020-05-02T00:00:00", "dateTo": "2020-09-16T00:00:00", "duration": null, "id": 459734, "transferType": "انتهاء إعارة", "renew": false, "position": "وسط", "price": null, "shirt": null, "teamFrom": { "id": 786, "name": "لاريسا", "image": "https://semedia.filgoal.com/Photos/Team/Medium/786.png" }, "teamTo": { "id": 329, "name": "باوك سالونيكي", "image": "https://semedia.filgoal.com/Photos/Team/Medium/329.png" }, "wage": null }, { "dateFrom": "2019-08-17T00:00:00", "dateTo": "2020-04-30T00:00:00", "duration": null, "id": 459733, "transferType": "إعارة", "renew": false, "position": "وسط", "price": null, "shirt": null, "teamFrom": { "id": 329, "name": "باوك سالونيكي", "image": "https://semedia.filgoal.com/Photos/Team/Medium/329.png" }, "teamTo": { "id": 786, "name": "لاريسا", "image": "https://semedia.filgoal.com/Photos/Team/Medium/786.png" }, "wage": null }, { "dateFrom": "2019-07-17T00:00:00", "dateTo": "2019-08-16T00:00:00", "duration": null, "id": 459732, "transferType": "انتقال", "renew": false, "position": "وسط", "price": null, "shirt": null, "teamFrom": { "id": 2145, "name": "أتروميتوس", "image": "https://semedia.filgoal.com/Photos/Team/Medium/2145.png" }, "teamTo": { "id": 329, "name": "باوك سالونيكي", "image": "https://semedia.filgoal.com/Photos/Team/Medium/329.png" }, "wage": null }, { "dateFrom": "2019-01-09T00:00:00", "dateTo": "2019-07-16T00:00:00", "duration": null, "id": 459731, "transferType": "انتقال", "renew": false, "position": "وسط", "price": null, "shirt": 10, "teamFrom": { "id": 329, "name": "باوك سالونيكي", "image": "https://semedia.filgoal.com/Photos/Team/Medium/329.png" }, "teamTo": { "id": 2145, "name": "أتروميتوس", "image": "https://semedia.filgoal.com/Photos/Team/Medium/2145.png" }, "wage": null }, { "dateFrom": "2018-07-21T00:00:00", "dateTo": "2019-01-08T00:00:00", "duration": null, "id": 459730, "transferType": "انتقال", "renew": false, "position": "وسط", "price": null, "shirt": 74, "teamFrom": { "id": 2145, "name": "أتروميتوس", "image": "https://semedia.filgoal.com/Photos/Team/Medium/2145.png" }, "teamTo": { "id": 329, "name": "باوك سالونيكي", "image": "https://semedia.filgoal.com/Photos/Team/Medium/329.png" }, "wage": null }, { "dateFrom": "2017-08-09T00:00:00", "dateTo": "2018-07-19T00:00:00", "duration": null, "id": 459729, "transferType": "انتقال", "renew": false, "position": "وسط", "price": null, "shirt": 10, "teamFrom": { "id": 329, "name": "باوك سالونيكي", "image": "https://semedia.filgoal.com/Photos/Team/Medium/329.png" }, "teamTo": { "id": 2145, "name": "أتروميتوس", "image": "https://semedia.filgoal.com/Photos/Team/Medium/2145.png" }, "wage": null }, { "dateFrom": "2017-01-03T00:00:00", "dateTo": "2017-08-08T00:00:00", "duration": null, "id": 459728, "transferType": "انتقال حر", "renew": false, "position": "وسط", "price": null, "shirt": 74, "teamFrom": null, "teamTo": { "id": 329, "name": "باوك سالونيكي", "image": "https://semedia.filgoal.com/Photos/Team/Medium/329.png" }, "wage": null } ], "dateOfBirth": "1993-09-17T00:00:00", "image": "https://semedia.filgoal.com/Photos/Person/medium/23116.png", "name": "عمرو وردة", "nationality": "مصر", "position": "وسط", "shirt": null, "statistics": { "goals": 0, "yellowCards": 0, "redCards": 0, "played": 0, "minutesPlayed": 0, "playerChampionshipStatistics": [] }, "type": "لاعب", "team": { "id": 1880, "name": "فاركو", "image": "https://semedia.filgoal.com/Photos/Team/Medium/1880.png" } }

عمرو وردة

30 عاما

انتقال

لاعب حرفاركو

2023

تعليقات

{ "id": 235546, "age": 18, "career": [ { "dateFrom": "2022-07-01T00:00:00", "dateTo": null, "duration": null, "id": 429911, "transferType": "انتقال حر", "renew": false, "position": "مهاجم", "price": null, "shirt": 37, "teamFrom": null, "teamTo": { "id": 237, "name": "باريس سان جيرمان", "image": "https://semedia.filgoal.com/Photos/Team/Medium/237.png" }, "wage": null } ], "dateOfBirth": "2005-05-14T00:00:00", "image": "https://semedia.filgoal.com/Photos/Person/medium/235546.png", "name": "إلياس حسني", "nationality": "فرنسا", "position": "مهاجم", "shirt": 37, "statistics": { "goals": 0, "yellowCards": 0, "redCards": 0, "played": 0, "minutesPlayed": 0, "playerChampionshipStatistics": [] }, "type": "لاعب", "team": { "id": 237, "name": "باريس سان جيرمان", "image": "https://semedia.filgoal.com/Photos/Team/Medium/237.png" } }

إلياس حسني

18 عاما

انتقال حر

باريس سان جيرمان

2022

تعليقات

{ "id": 26983, "age": 22, "career": [ { "dateFrom": "2023-09-16T00:00:00", "dateTo": null, "duration": null, "id": 456782, "transferType": "انتقال", "renew": false, "position": null, "price": null, "shirt": null, "teamFrom": { "id": 617, "name": "الجونة", "image": "https://semedia.filgoal.com/Photos/Team/Medium/617.png" }, "teamTo": { "id": 13389, "name": "مكادي", "image": "https://semedia.filgoal.com/Photos/Team/Medium/13389.png" }, "wage": null }, { "dateFrom": "2016-09-17T00:00:00", "dateTo": "2023-09-15T00:00:00", "duration": null, "id": 456781, "transferType": "انتقال حر", "renew": false, "position": "وسط", "price": null, "shirt": 7, "teamFrom": null, "teamTo": { "id": 617, "name": "الجونة", "image": "https://semedia.filgoal.com/Photos/Team/Medium/617.png" }, "wage": null } ], "dateOfBirth": "2001-01-01T00:00:00", "image": "https://semedia.filgoal.com/Photos/Person/medium/26983.png", "name": "زياد أحمد الصحيفي", "nationality": "مصر", "position": null, "shirt": null, "statistics": { "goals": 0, "yellowCards": 0, "redCards": 0, "played": 0, "minutesPlayed": 0, "playerChampionshipStatistics": [] }, "type": "لاعب", "team": { "id": 13389, "name": "مكادي", "image": "https://semedia.filgoal.com/Photos/Team/Medium/13389.png" } }

زياد أحمد الصحيفي

22 عاما

انتقال

الجونةمكادي

2023

تعليقات

{ "id": 22554, "age": 38, "career": [ { "dateFrom": "2023-09-16T00:00:00", "dateTo": null, "duration": 3, "id": 456616, "transferType": "انتقال", "renew": false, "position": "مهاجم", "price": null, "shirt": null, "teamFrom": { "id": 12, "name": "القنـــاة", "image": "https://semedia.filgoal.com/Photos/Team/Medium/12.png" }, "teamTo": { "id": 13004, "name": "هلال مطروح", "image": "https://semedia.filgoal.com/Photos/Team/Medium/13004.png" }, "wage": null }, { "dateFrom": "2022-09-30T00:00:00", "dateTo": "2023-09-15T00:00:00", "duration": null, "id": 456615, "transferType": "انتقال", "renew": false, "position": "مهاجم", "price": null, "shirt": null, "teamFrom": { "id": 12898, "name": "بايونيرز", "image": "https://semedia.filgoal.com/Photos/Team/Medium/12898.png" }, "teamTo": { "id": 12, "name": "القنـــاة", "image": "https://semedia.filgoal.com/Photos/Team/Medium/12.png" }, "wage": null }, { "dateFrom": "2021-09-29T00:00:00", "dateTo": "2022-09-28T00:00:00", "duration": null, "id": 456614, "transferType": "انتقال", "renew": false, "position": "مهاجم", "price": null, "shirt": null, "teamFrom": { "id": 6, "name": "الترسانة", "image": "https://semedia.filgoal.com/Photos/Team/Medium/6.png" }, "teamTo": { "id": 12898, "name": "بايونيرز", "image": "https://semedia.filgoal.com/Photos/Team/Medium/12898.png" }, "wage": null }, { "dateFrom": "2020-11-20T00:00:00", "dateTo": "2021-09-27T00:00:00", "duration": null, "id": 456613, "transferType": "انتقال", "renew": false, "position": "مهاجم", "price": null, "shirt": null, "teamFrom": { "id": 304, "name": "طلائع الجيش", "image": "https://semedia.filgoal.com/Photos/Team/Medium/304.png" }, "teamTo": { "id": 6, "name": "الترسانة", "image": "https://semedia.filgoal.com/Photos/Team/Medium/6.png" }, "wage": null }, { "dateFrom": "2019-07-27T00:00:00", "dateTo": "2020-11-18T00:00:00", "duration": null, "id": 456612, "transferType": "انتقال", "renew": false, "position": "مهاجم", "price": null, "shirt": 13, "teamFrom": { "id": 2, "name": "الزمالك", "image": "https://semedia.filgoal.com/Photos/Team/Medium/2.png" }, "teamTo": { "id": 304, "name": "طلائع الجيش", "image": "https://semedia.filgoal.com/Photos/Team/Medium/304.png" }, "wage": null }, { "dateFrom": "2019-07-24T00:00:00", "dateTo": "2019-07-25T00:00:00", "duration": null, "id": 456611, "transferType": "انتقال", "renew": false, "position": "مهاجم", "price": null, "shirt": null, "teamFrom": { "id": 904, "name": "الداخلية", "image": "https://semedia.filgoal.com/Photos/Team/Medium/904.png" }, "teamTo": { "id": 2, "name": "الزمالك", "image": "https://semedia.filgoal.com/Photos/Team/Medium/2.png" }, "wage": null }, { "dateFrom": "2018-07-18T00:00:00", "dateTo": "2019-07-24T00:00:00", "duration": null, "id": 456610, "transferType": "انتقال", "renew": false, "position": "مهاجم", "price": null, "shirt": null, "teamFrom": { "id": 1458, "name": "النجوم", "image": "https://semedia.filgoal.com/Photos/Team/Medium/1458.png" }, "teamTo": { "id": 904, "name": "الداخلية", "image": "https://semedia.filgoal.com/Photos/Team/Medium/904.png" }, "wage": null }, { "dateFrom": "2018-06-10T00:00:00", "dateTo": "2018-07-17T00:00:00", "duration": null, "id": 456609, "transferType": "انتقال", "renew": false, "position": "مهاجم", "price": null, "shirt": null, "teamFrom": { "id": 11, "name": "المقاولون العرب", "image": "https://semedia.filgoal.com/Photos/Team/Medium/11.png" }, "teamTo": { "id": 1458, "name": "النجوم", "image": "https://semedia.filgoal.com/Photos/Team/Medium/1458.png" }, "wage": null }, { "dateFrom": "2017-12-29T00:00:00", "dateTo": "2018-06-09T00:00:00", "duration": null, "id": 456608, "transferType": "انتقال", "renew": false, "position": "مهاجم", "price": null, "shirt": null, "teamFrom": { "id": 13, "name": "الاتحاد السكندري", "image": "https://semedia.filgoal.com/Photos/Team/Medium/13.png" }, "teamTo": { "id": 11, "name": "المقاولون العرب", "image": "https://semedia.filgoal.com/Photos/Team/Medium/11.png" }, "wage": null }, { "dateFrom": "2017-08-06T00:00:00", "dateTo": "2017-12-28T00:00:00", "duration": null, "id": 456607, "transferType": "انتقال", "renew": false, "position": "مهاجم", "price": null, "shirt": null, "teamFrom": { "id": 2, "name": "الزمالك", "image": "https://semedia.filgoal.com/Photos/Team/Medium/2.png" }, "teamTo": { "id": 13, "name": "الاتحاد السكندري", "image": "https://semedia.filgoal.com/Photos/Team/Medium/13.png" }, "wage": null }, { "dateFrom": "2017-01-08T00:00:00", "dateTo": "2017-08-05T00:00:00", "duration": null, "id": 456606, "transferType": "انتقال", "renew": false, "position": "مهاجم", "price": null, "shirt": null, "teamFrom": { "id": 860, "name": "سموحة", "image": "https://semedia.filgoal.com/Photos/Team/Medium/860.png" }, "teamTo": { "id": 2, "name": "الزمالك", "image": "https://semedia.filgoal.com/Photos/Team/Medium/2.png" }, "wage": null }, { "dateFrom": "2015-07-17T00:00:00", "dateTo": "2017-01-08T00:00:00", "duration": null, "id": 456605, "transferType": "انتقال", "renew": false, "position": "مهاجم", "price": null, "shirt": null, "teamFrom": { "id": 904, "name": "الداخلية", "image": "https://semedia.filgoal.com/Photos/Team/Medium/904.png" }, "teamTo": { "id": 860, "name": "سموحة", "image": "https://semedia.filgoal.com/Photos/Team/Medium/860.png" }, "wage": null }, { "dateFrom": "2013-09-20T00:00:00", "dateTo": "2015-07-17T00:00:00", "duration": null, "id": 456604, "transferType": "انتقال حر", "renew": false, "position": "مهاجم", "price": null, "shirt": null, "teamFrom": null, "teamTo": { "id": 904, "name": "الداخلية", "image": "https://semedia.filgoal.com/Photos/Team/Medium/904.png" }, "wage": null } ], "dateOfBirth": "1984-11-15T00:00:00", "image": "https://semedia.filgoal.com/Photos/Person/medium/22554.png", "name": "حسام باولو", "nationality": "مصر", "position": "مهاجم", "shirt": null, "statistics": { "goals": 0, "yellowCards": 0, "redCards": 0, "played": 0, "minutesPlayed": 0, "playerChampionshipStatistics": [] }, "type": "لاعب", "team": { "id": 13004, "name": "هلال مطروح", "image": "https://semedia.filgoal.com/Photos/Team/Medium/13004.png" } }

حسام باولو

38 عاما

انتقال

القنـــاةهلال مطروح

2026

تعليقات

{ "id": 18283, "age": 32, "career": [ { "dateFrom": "2023-09-01T00:00:00", "dateTo": null, "duration": null, "id": 456773, "transferType": "انتقال", "renew": false, "position": "وسط", "price": null, "shirt": null, "teamFrom": { "id": 13013, "name": "لاعب حر", "image": "https://semedia.filgoal.com/Photos/Team/Medium/13013.png" }, "teamTo": { "id": 13389, "name": "مكادي", "image": "https://semedia.filgoal.com/Photos/Team/Medium/13389.png" }, "wage": null }, { "dateFrom": "2023-07-29T00:00:00", "dateTo": "2023-08-14T00:00:00", "duration": null, "id": 456772, "transferType": "انتقال", "renew": false, "position": "وسط", "price": null, "shirt": null, "teamFrom": { "id": 617, "name": "الجونة", "image": "https://semedia.filgoal.com/Photos/Team/Medium/617.png" }, "teamTo": { "id": 13013, "name": "لاعب حر", "image": "https://semedia.filgoal.com/Photos/Team/Medium/13013.png" }, "wage": null }, { "dateFrom": "2019-08-09T00:00:00", "dateTo": "2023-07-29T00:00:00", "duration": null, "id": 456771, "transferType": "انتقال", "renew": false, "position": "وسط", "price": null, "shirt": 17, "teamFrom": { "id": 1, "name": "الأهلي", "image": "https://semedia.filgoal.com/Photos/Team/Medium/1.png" }, "teamTo": { "id": 617, "name": "الجونة", "image": "https://semedia.filgoal.com/Photos/Team/Medium/617.png" }, "wage": null }, { "dateFrom": "2019-07-26T00:00:00", "dateTo": "2019-08-07T00:00:00", "duration": null, "id": 456770, "transferType": "انتهاء إعارة", "renew": false, "position": "وسط", "price": null, "shirt": null, "teamFrom": { "id": 860, "name": "سموحة", "image": "https://semedia.filgoal.com/Photos/Team/Medium/860.png" }, "teamTo": { "id": 1, "name": "الأهلي", "image": "https://semedia.filgoal.com/Photos/Team/Medium/1.png" }, "wage": null }, { "dateFrom": "2019-01-01T00:00:00", "dateTo": "2019-07-26T00:00:00", "duration": null, "id": 456769, "transferType": "إعارة", "renew": false, "position": "وسط", "price": null, "shirt": null, "teamFrom": { "id": 1, "name": "الأهلي", "image": "https://semedia.filgoal.com/Photos/Team/Medium/1.png" }, "teamTo": { "id": 860, "name": "سموحة", "image": "https://semedia.filgoal.com/Photos/Team/Medium/860.png" }, "wage": null }, { "dateFrom": "2018-06-25T00:00:00", "dateTo": "2018-12-31T00:00:00", "duration": null, "id": 456768, "transferType": "انتهاء إعارة", "renew": false, "position": "وسط", "price": null, "shirt": null, "teamFrom": { "id": 180, "name": "الشباب", "image": "https://semedia.filgoal.com/Photos/Team/Medium/180.png" }, "teamTo": { "id": 1, "name": "الأهلي", "image": "https://semedia.filgoal.com/Photos/Team/Medium/1.png" }, "wage": null }, { "dateFrom": "2018-01-23T00:00:00", "dateTo": "2018-06-23T00:00:00", "duration": null, "id": 456767, "transferType": "إعارة", "renew": false, "position": "وسط", "price": null, "shirt": null, "teamFrom": { "id": 1, "name": "الأهلي", "image": "https://semedia.filgoal.com/Photos/Team/Medium/1.png" }, "teamTo": { "id": 180, "name": "الشباب", "image": "https://semedia.filgoal.com/Photos/Team/Medium/180.png" }, "wage": null }, { "dateFrom": "2017-01-09T00:00:00", "dateTo": "2018-01-22T00:00:00", "duration": null, "id": 456766, "transferType": "انتقال", "renew": false, "position": "وسط", "price": null, "shirt": null, "teamFrom": { "id": 1041, "name": "ليرسة", "image": "https://semedia.filgoal.com/Photos/Team/Medium/1041.png" }, "teamTo": { "id": 1, "name": "الأهلي", "image": "https://semedia.filgoal.com/Photos/Team/Medium/1.png" }, "wage": null }, { "dateFrom": "2016-06-20T00:00:00", "dateTo": "2017-01-06T00:00:00", "duration": null, "id": 456765, "transferType": "انتقال", "renew": false, "position": "وسط", "price": null, "shirt": null, "teamFrom": { "id": 923, "name": "مصر للمقاصة", "image": "https://semedia.filgoal.com/Photos/Team/Medium/923.png" }, "teamTo": { "id": 1041, "name": "ليرسة", "image": "https://semedia.filgoal.com/Photos/Team/Medium/1041.png" }, "wage": null }, { "dateFrom": "2013-07-13T00:00:00", "dateTo": "2016-06-20T00:00:00", "duration": null, "id": 456764, "transferType": "انتقال حر", "renew": false, "position": "وسط", "price": null, "shirt": null, "teamFrom": null, "teamTo": { "id": 923, "name": "مصر للمقاصة", "image": "https://semedia.filgoal.com/Photos/Team/Medium/923.png" }, "wage": null } ], "dateOfBirth": "1991-10-01T00:00:00", "image": "https://semedia.filgoal.com/Photos/Person/medium/18283.png", "name": "عمرو بركات", "nationality": "مصر", "position": "وسط", "shirt": null, "statistics": { "goals": 0, "yellowCards": 0, "redCards": 0, "played": 0, "minutesPlayed": 0, "playerChampionshipStatistics": [] }, "type": "لاعب", "team": { "id": 13389, "name": "مكادي", "image": "https://semedia.filgoal.com/Photos/Team/Medium/13389.png" } }

عمرو بركات

32 عاما

انتقال

لاعب حرمكادي

2023

تعليقات

{ "id": 20252, "age": 30, "career": [ { "dateFrom": "2023-09-14T00:00:00", "dateTo": null, "duration": 2, "id": 456374, "transferType": "انتقال", "renew": false, "position": "مهاجم", "price": 0, "shirt": null, "teamFrom": { "id": 13013, "name": "لاعب حر", "image": "https://semedia.filgoal.com/Photos/Team/Medium/13013.png" }, "teamTo": { "id": 13353, "name": "بنديك سبور", "image": "https://semedia.filgoal.com/Photos/Team/Medium/13353.png" }, "wage": null }, { "dateFrom": "2023-09-02T00:00:00", "dateTo": "2023-09-04T00:00:00", "duration": null, "id": 456373, "transferType": "انتهاء إعارة", "renew": false, "position": null, "price": null, "shirt": null, "teamFrom": { "id": 1779, "name": "ألانياسبور", "image": "https://semedia.filgoal.com/Photos/Team/Medium/1779.png" }, "teamTo": { "id": 13013, "name": "لاعب حر", "image": "https://semedia.filgoal.com/Photos/Team/Medium/13013.png" }, "wage": null }, { "dateFrom": "2022-09-07T00:00:00", "dateTo": "2023-08-31T00:00:00", "duration": null, "id": 456372, "transferType": "إعارة", "renew": false, "position": "مهاجم", "price": null, "shirt": null, "teamFrom": { "id": 225, "name": "أولمبياكوس", "image": "https://semedia.filgoal.com/Photos/Team/Medium/225.png" }, "teamTo": { "id": 1779, "name": "ألانياسبور", "image": "https://semedia.filgoal.com/Photos/Team/Medium/1779.png" }, "wage": null }, { "dateFrom": "2022-06-29T00:00:00", "dateTo": "2022-09-05T00:00:00", "duration": null, "id": 456371, "transferType": "انتهاء إعارة", "renew": false, "position": "مهاجم", "price": null, "shirt": 9, "teamFrom": { "id": 358, "name": "كونيا سبور", "image": "https://semedia.filgoal.com/Photos/Team/Medium/358.png" }, "teamTo": { "id": 225, "name": "أولمبياكوس", "image": "https://semedia.filgoal.com/Photos/Team/Medium/225.png" }, "wage": null }, { "dateFrom": "2021-08-25T00:00:00", "dateTo": "2022-06-25T00:00:00", "duration": null, "id": 456370, "transferType": "إعارة", "renew": false, "position": "مهاجم", "price": null, "shirt": null, "teamFrom": { "id": 225, "name": "أولمبياكوس", "image": "https://semedia.filgoal.com/Photos/Team/Medium/225.png" }, "teamTo": { "id": 358, "name": "كونيا سبور", "image": "https://semedia.filgoal.com/Photos/Team/Medium/358.png" }, "wage": null }, { "dateFrom": "2020-01-23T00:00:00", "dateTo": "2021-08-24T00:00:00", "duration": null, "id": 456369, "transferType": "انتقال", "renew": false, "position": "مهاجم", "price": null, "shirt": null, "teamFrom": { "id": 796, "name": "سبورتينج براجا", "image": "https://semedia.filgoal.com/Photos/Team/Medium/796.png" }, "teamTo": { "id": 225, "name": "أولمبياكوس", "image": "https://semedia.filgoal.com/Photos/Team/Medium/225.png" }, "wage": null }, { "dateFrom": "2019-08-01T00:00:00", "dateTo": "2020-01-21T00:00:00", "duration": null, "id": 456368, "transferType": "انتهاء إعارة", "renew": false, "position": "مهاجم", "price": null, "shirt": 9, "teamFrom": { "id": 225, "name": "أولمبياكوس", "image": "https://semedia.filgoal.com/Photos/Team/Medium/225.png" }, "teamTo": { "id": 796, "name": "سبورتينج براجا", "image": "https://semedia.filgoal.com/Photos/Team/Medium/796.png" }, "wage": null }, { "dateFrom": "2018-08-08T00:00:00", "dateTo": "2019-07-30T00:00:00", "duration": null, "id": 456367, "transferType": "إعارة", "renew": false, "position": "مهاجم", "price": null, "shirt": null, "teamFrom": { "id": 796, "name": "سبورتينج براجا", "image": "https://semedia.filgoal.com/Photos/Team/Medium/796.png" }, "teamTo": { "id": 225, "name": "أولمبياكوس", "image": "https://semedia.filgoal.com/Photos/Team/Medium/225.png" }, "wage": null }, { "dateFrom": "2015-06-21T00:00:00", "dateTo": "2018-08-07T00:00:00", "duration": null, "id": 456366, "transferType": "انتقال حر", "renew": false, "position": "مهاجم", "price": null, "shirt": 9, "teamFrom": null, "teamTo": { "id": 796, "name": "سبورتينج براجا", "image": "https://semedia.filgoal.com/Photos/Team/Medium/796.png" }, "wage": null } ], "dateOfBirth": "1993-03-05T00:00:00", "image": "https://semedia.filgoal.com/Photos/Person/medium/20252.png", "name": "أحمد حسن كوكا", "nationality": "مصر", "position": "مهاجم", "shirt": null, "statistics": { "goals": 0, "yellowCards": 0, "redCards": 0, "played": 0, "minutesPlayed": 0, "playerChampionshipStatistics": [] }, "type": "لاعب", "team": { "id": 13353, "name": "بنديك سبور", "image": "https://semedia.filgoal.com/Photos/Team/Medium/13353.png" } }

أحمد حسن كوكا

30 عاما

انتقال

لاعب حربنديك سبور

2025

تعليقات

{ "id": 7373, "age": 33, "career": [ { "dateFrom": "2023-09-15T00:00:00", "dateTo": null, "duration": 1, "id": 456409, "transferType": "انتقال", "renew": false, "position": "مهاجم", "price": 0, "shirt": null, "teamFrom": { "id": 13013, "name": "لاعب حر", "image": "https://semedia.filgoal.com/Photos/Team/Medium/13013.png" }, "teamTo": { "id": 1780, "name": "أضنة سبور", "image": "https://semedia.filgoal.com/Photos/Team/Medium/1780.png" }, "wage": null }, { "dateFrom": "2023-08-31T00:00:00", "dateTo": "2023-09-12T00:00:00", "duration": null, "id": 456408, "transferType": "انتقال", "renew": false, "position": "مهاجم", "price": null, "shirt": null, "teamFrom": { "id": 892, "name": "سيون", "image": "https://semedia.filgoal.com/Photos/Team/Medium/892.png" }, "teamTo": { "id": 13013, "name": "لاعب حر", "image": "https://semedia.filgoal.com/Photos/Team/Medium/13013.png" }, "wage": null }, { "dateFrom": "2022-08-30T00:00:00", "dateTo": "2023-08-30T00:00:00", "duration": 2, "id": 456407, "transferType": "انتقال", "renew": false, "position": "مهاجم", "price": null, "shirt": null, "teamFrom": { "id": 1780, "name": "أضنة سبور", "image": "https://semedia.filgoal.com/Photos/Team/Medium/1780.png" }, "teamTo": { "id": 892, "name": "سيون", "image": "https://semedia.filgoal.com/Photos/Team/Medium/892.png" }, "wage": null }, { "dateFrom": "2021-07-03T00:00:00", "dateTo": "2022-08-27T00:00:00", "duration": null, "id": 456406, "transferType": "انتقال", "renew": false, "position": "مهاجم", "price": null, "shirt": null, "teamFrom": { "id": 12807, "name": "مونزا", "image": "https://semedia.filgoal.com/Photos/Team/Medium/12807.png" }, "teamTo": { "id": 1780, "name": "أضنة سبور", "image": "https://semedia.filgoal.com/Photos/Team/Medium/1780.png" }, "wage": null }, { "dateFrom": "2020-12-01T00:00:00", "dateTo": "2021-06-24T00:00:00", "duration": null, "id": 456405, "transferType": "انتقال", "renew": false, "position": "مهاجم", "price": null, "shirt": null, "teamFrom": { "id": 130, "name": "بريشيا", "image": "https://semedia.filgoal.com/Photos/Team/Medium/130.png" }, "teamTo": { "id": 12807, "name": "مونزا", "image": "https://semedia.filgoal.com/Photos/Team/Medium/12807.png" }, "wage": null }, { "dateFrom": "2019-08-08T00:00:00", "dateTo": "2020-06-24T00:00:00", "duration": null, "id": 456404, "transferType": "انتقال", "renew": false, "position": "مهاجم", "price": null, "shirt": 45, "teamFrom": { "id": 222, "name": "أولمبيك مارسيليا", "image": "https://semedia.filgoal.com/Photos/Team/Medium/222.png" }, "teamTo": { "id": 130, "name": "بريشيا", "image": "https://semedia.filgoal.com/Photos/Team/Medium/130.png" }, "wage": null }, { "dateFrom": "2018-01-11T00:00:00", "dateTo": "2019-06-18T00:00:00", "duration": null, "id": 456403, "transferType": "انتقال", "renew": false, "position": "مهاجم", "price": null, "shirt": null, "teamFrom": { "id": 251, "name": "نيس", "image": "https://semedia.filgoal.com/Photos/Team/Medium/251.png" }, "teamTo": { "id": 222, "name": "أولمبيك مارسيليا", "image": "https://semedia.filgoal.com/Photos/Team/Medium/222.png" }, "wage": null }, { "dateFrom": "2016-06-14T00:00:00", "dateTo": "2018-01-10T00:00:00", "duration": null, "id": 456402, "transferType": "انتقال", "renew": false, "position": "مهاجم", "price": null, "shirt": 45, "teamFrom": { "id": 93, "name": "ليفربول", "image": "https://semedia.filgoal.com/Photos/Team/Medium/93.png" }, "teamTo": { "id": 251, "name": "نيس", "image": "https://semedia.filgoal.com/Photos/Team/Medium/251.png" }, "wage": null }, { "dateFrom": "2015-12-14T00:00:00", "dateTo": "2016-12-10T00:00:00", "duration": null, "id": 456401, "transferType": "انتقال", "renew": false, "position": "مهاجم", "price": null, "shirt": 45, "teamFrom": { "id": 137, "name": "ميلان", "image": "https://semedia.filgoal.com/Photos/Team/Medium/137.png" }, "teamTo": { "id": 93, "name": "ليفربول", "image": "https://semedia.filgoal.com/Photos/Team/Medium/93.png" }, "wage": null }, { "dateFrom": "2013-01-15T00:00:00", "dateTo": "2014-08-09T00:00:00", "duration": null, "id": 456400, "transferType": "انتقال", "renew": false, "position": "مهاجم", "price": null, "shirt": null, "teamFrom": { "id": 94, "name": "مانشستر سيتي", "image": "https://semedia.filgoal.com/Photos/Team/Medium/94.png" }, "teamTo": { "id": 137, "name": "ميلان", "image": "https://semedia.filgoal.com/Photos/Team/Medium/137.png" }, "wage": null }, { "dateFrom": "2010-07-27T00:00:00", "dateTo": "2013-01-15T00:00:00", "duration": null, "id": 456399, "transferType": "انتقال", "renew": false, "position": "مهاجم", "price": null, "shirt": null, "teamFrom": { "id": 134, "name": "إنتر", "image": "https://semedia.filgoal.com/Photos/Team/Medium/134.png" }, "teamTo": { "id": 94, "name": "مانشستر سيتي", "image": "https://semedia.filgoal.com/Photos/Team/Medium/94.png" }, "wage": null }, { "dateFrom": "2007-06-15T00:00:00", "dateTo": "2010-07-27T00:00:00", "duration": null, "id": 456398, "transferType": "انتقال حر", "renew": false, "position": "مهاجم", "price": null, "shirt": null, "teamFrom": null, "teamTo": { "id": 134, "name": "إنتر", "image": "https://semedia.filgoal.com/Photos/Team/Medium/134.png" }, "wage": null } ], "dateOfBirth": "1990-08-12T00:00:00", "image": "https://semedia.filgoal.com/Photos/Person/medium/7373.png", "name": "ماريو بالوتيلي", "nationality": "إيطاليا", "position": "مهاجم", "shirt": null, "statistics": { "goals": 0, "yellowCards": 0, "redCards": 0, "played": 0, "minutesPlayed": 0, "playerChampionshipStatistics": [] }, "type": "لاعب", "team": { "id": 1780, "name": "أضنة سبور", "image": "https://semedia.filgoal.com/Photos/Team/Medium/1780.png" } }

ماريو بالوتيلي

33 عاما

انتقال

لاعب حرأضنة سبور

2024

تعليقات
استطلاع رأي
هل ينتقل صلاح إلى اتحاد جدة؟
عدد الاصوات 464

(23.43 %)

عدد الاصوات 1516

(76.57 %)