ليكيب: باريس سان جيرمان مهتم بضم راشفورد
مصدر الخبر: ليكيب
تاريخ النشر : Thursday, 11 August 2022 - 07:20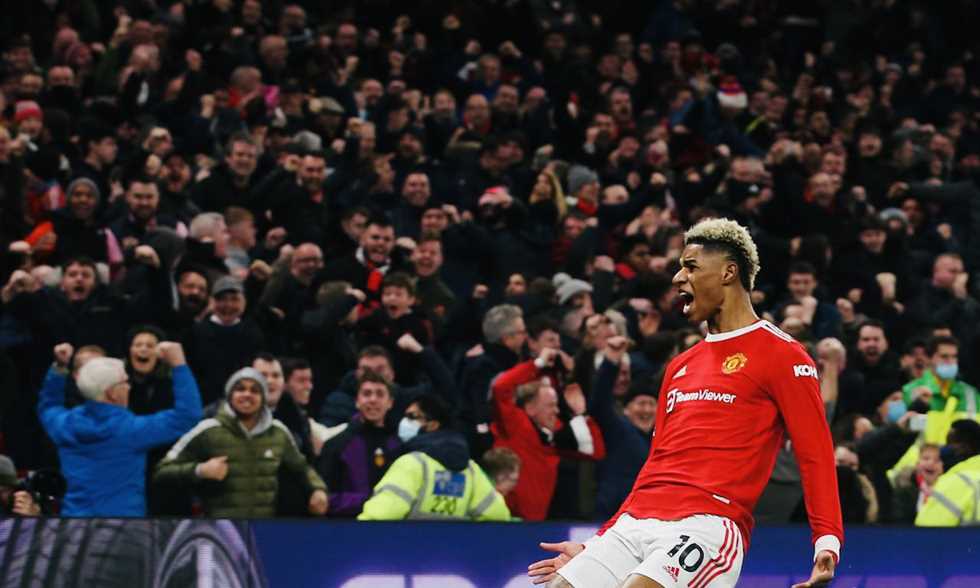 كتب
FilGoal
أظهر نادي باريس سان جيرمان الفرنسي اهتماما بضم ماركوس راشفورد لاعب مانشستر يونايتد الإنجليزي.
وكشفت صحيفة "ليكيب" الفرنسية أن هناك مفاوضات تجري حاشية اللاعب الدولي الإنجليزي.
وأشار التقرير إلى تصريح كريستوف جالتييه المدير الفني لـ باريس سان جيرمان الذي كشف رغبتة في إضافة مهاجم آخر صباح اليوم الخميس ضمن خياراته الهجومية.
وقال جالتييه: "نريد وصول مهاجم جديد. لدينا جدول مزدحم للغاية حتى 13 نوفمبر وكأس العالم. النادي يعمل كثيرا. أنا على اتصال مباشر مع لويس كامبوس في هذا الشأن. لا تكن مخطئا. هل سيصل هذا اللاعب؟ ليس لدينا ضمانات. لا أستطيع أن أؤكد أن المهاجم سيصل لكن النادي يعمل بجد على ذلك".
ورحل أرناود كاليمويندو صوب رين الفرنسي، ويقترب الأرجنتيني ماورو إيكاردي أيضا من الرحيل عن النادي الباريسي.
وبحسب إذاعة "راديو مونت كارلو" الفرنسية فأن رافائيل لياو جناح ميلان الإيطالي أيضا ضمن اهتمامات العملاق الباريسي لكن الأولوية لـ راشفورد.
ويُقدر لويس كامبوس المدير الرياضي لباريس سان جيرمان، البرتغالي الشاب خاصة أنه ضمه لصفوف ليل الفرنسي في وقت سابق قبل الانتقال لميلان.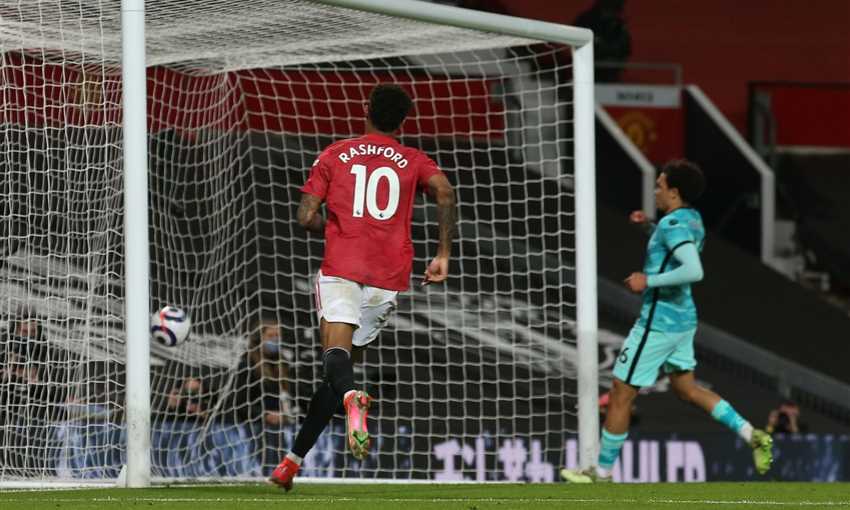 وقال جوليان لاورينس الصحفي بشبكة ESPN: "تأكيد بوجود مفاوضات بين باريس سان جيرمان وماركوس راشفورد، باريس يريد لاعبا يلعب كجناح ومهاجم، راشفورد منفتح بالتحديد الجديد قبل عام واحد على نهاية تعاقده، ولا توجد مفاوضات مع مانشستر يونايتد حتى الآن".
Confirmation of the contacts between PSG and Marcus Rashford, as reported first by L'Equipe. PSG need a player who can play wide or as a 9. Rashford is keen on a new challenge, one year before the end of his contract. No discussions yet with Manchester United. @ESPNFC

— Julien Laurens (@LaurensJulien) August 11, 2022
وقال توم ماكديمورت الصحفي الإنجليزي أن مانشستر يونايتد لا يفكر في بيع جناحه ولا يوجد أي مفاوضات رسمية من أجل تجديد التعاقد الذي ينتهي بنهاية الموسم الجاري في ظل وجود بند يتيح للنادي التجديد لموسم آخر.
Message from #MUFC re Rashford is that he isn't for sale. This may be due to the lack of other forward options at the club. No formal talks regarding a contract extension thus far. Existing deal set to expire June 2023, and there's a one-year option that can be triggered. #PSG pic.twitter.com/WNE6luRXsI

— Tom McDermott (@MrTomMcDermott) August 11, 2022
وبدأ راشفورد الموسم مع مانشستر يونايتد بالخسارة من برايتون إذ شارك أساسيا في اللقاء.
اللاعب البالغ 24 عاما خاض 303 مباراة بقميص الشياطين الحمر في جميع المسابقات سجل 93 هدفا وصنع 57 وتوج بـ 5 ألقاب.
وسبق أن تألق راشفورد ضد باريس سان جيرمان وأقصى الفريق الفرنسي من دوري أبطال أوروبا موسم 2018-19.
إذ سجل هدفا وصنع آخر في الفوز على ملعب حديقة الأمراء قائدا مانشستر يونايتد آنذاك لخطف بطاقة التأهل لربع النهائي بالفوز 3-1 رغم الخسارة ذهابا 2-0.
طالع أيضا
شكوى من المصري ضد طاقم تحكيم مباراته أمام الأهلي
انتقال مرموش إلى إسبانيول يتعقد
رسالة من حسام حسن إلى رئيس الجمهورية
اتحاد الكرة يعدل موعد انطلاق الدوري
أحدث الانتقالات
{ "id": 115894, "age": 28, "career": [ { "dateFrom": "2022-09-29T00:00:00", "dateTo": null, "duration": 3, "id": 422951, "transferType": "انتقال", "renew": false, "position": "وسط", "price": 0, "shirt": null, "teamFrom": { "id": 13013, "name": "لاعب حر", "image": "https://semedia.filgoal.com/Photos/Team/Medium/13013.png" }, "teamTo": { "id": 860, "name": "سموحة", "image": "https://semedia.filgoal.com/Photos/Team/Medium/860.png" }, "wage": null }, { "dateFrom": "2022-09-15T00:00:00", "dateTo": "2022-09-28T00:00:00", "duration": null, "id": 422950, "transferType": "انتقال", "renew": false, "position": "وسط", "price": null, "shirt": null, "teamFrom": { "id": 304, "name": "طلائع الجيش", "image": "https://semedia.filgoal.com/Photos/Team/Medium/304.png" }, "teamTo": { "id": 13013, "name": "لاعب حر", "image": "https://semedia.filgoal.com/Photos/Team/Medium/13013.png" }, "wage": null }, { "dateFrom": "2022-08-31T00:00:00", "dateTo": "2022-09-14T00:00:00", "duration": null, "id": 422949, "transferType": "انتقال", "renew": false, "position": "وسط", "price": null, "shirt": null, "teamFrom": { "id": 653, "name": "بتروجت", "image": "https://semedia.filgoal.com/Photos/Team/Medium/653.png" }, "teamTo": { "id": 304, "name": "طلائع الجيش", "image": "https://semedia.filgoal.com/Photos/Team/Medium/304.png" }, "wage": null }, { "dateFrom": "2019-06-30T00:00:00", "dateTo": "2022-08-30T00:00:00", "duration": null, "id": 422948, "transferType": "انتقال", "renew": false, "position": "وسط", "price": null, "shirt": null, "teamFrom": { "id": 13, "name": "الاتحاد السكندري", "image": "https://semedia.filgoal.com/Photos/Team/Medium/13.png" }, "teamTo": { "id": 653, "name": "بتروجت", "image": "https://semedia.filgoal.com/Photos/Team/Medium/653.png" }, "wage": null }, { "dateFrom": "2017-07-30T00:00:00", "dateTo": "2019-06-28T00:00:00", "duration": null, "id": 422947, "transferType": "انتقال حر", "renew": false, "position": "وسط", "price": null, "shirt": 18, "teamFrom": null, "teamTo": { "id": 13, "name": "الاتحاد السكندري", "image": "https://semedia.filgoal.com/Photos/Team/Medium/13.png" }, "wage": null } ], "dateOfBirth": "1994-08-12T00:00:00", "image": "https://semedia.filgoal.com/Photos/Person/medium/115894.png", "name": "إسلام كانو", "nationality": "مصر", "position": "وسط", "shirt": null, "statistics": { "goals": 0, "yellowCards": 0, "redCards": 0, "played": 0, "minutesPlayed": 0, "playerChampionshipStatistics": [] }, "type": "لاعب", "team": { "id": 860, "name": "سموحة", "image": "https://semedia.filgoal.com/Photos/Team/Medium/860.png" } }

إسلام كانو

28 عاما

انتقال

لاعب حرسموحة

2025

تعليقات

{ "id": 27527, "age": 27, "career": [ { "dateFrom": "2022-09-30T00:00:00", "dateTo": null, "duration": 2, "id": 422855, "transferType": "انتقال", "renew": false, "position": "حارس مرمى", "price": null, "shirt": null, "teamFrom": { "id": 1075, "name": "إيسترن كومباني", "image": "https://semedia.filgoal.com/Photos/Team/Medium/1075.png" }, "teamTo": { "id": 151, "name": "أسـوان", "image": "https://semedia.filgoal.com/Photos/Team/Medium/151.png" }, "wage": null }, { "dateFrom": "2021-09-01T00:00:00", "dateTo": "2022-09-29T00:00:00", "duration": null, "id": 422854, "transferType": "انتقال", "renew": false, "position": "حارس مرمى", "price": null, "shirt": null, "teamFrom": { "id": 150, "name": "إنبـي", "image": "https://semedia.filgoal.com/Photos/Team/Medium/150.png" }, "teamTo": { "id": 1075, "name": "إيسترن كومباني", "image": "https://semedia.filgoal.com/Photos/Team/Medium/1075.png" }, "wage": null }, { "dateFrom": "2018-06-30T00:00:00", "dateTo": "2021-08-30T00:00:00", "duration": null, "id": 422853, "transferType": "انتقال", "renew": false, "position": "حارس مرمى", "price": null, "shirt": 16, "teamFrom": { "id": 653, "name": "بتروجت", "image": "https://semedia.filgoal.com/Photos/Team/Medium/653.png" }, "teamTo": { "id": 150, "name": "إنبـي", "image": "https://semedia.filgoal.com/Photos/Team/Medium/150.png" }, "wage": null }, { "dateFrom": "2016-07-22T00:00:00", "dateTo": "2018-06-28T00:00:00", "duration": null, "id": 422852, "transferType": "انتقال", "renew": false, "position": "حارس مرمى", "price": null, "shirt": 99, "teamFrom": { "id": 699, "name": "اتحاد الشرطة", "image": "https://semedia.filgoal.com/Photos/Team/Medium/699.png" }, "teamTo": { "id": 653, "name": "بتروجت", "image": "https://semedia.filgoal.com/Photos/Team/Medium/653.png" }, "wage": null }, { "dateFrom": "2015-07-23T00:00:00", "dateTo": "2016-07-23T00:00:00", "duration": null, "id": 422851, "transferType": "انتقال حر", "renew": false, "position": "حارس مرمى", "price": null, "shirt": null, "teamFrom": null, "teamTo": { "id": 699, "name": "اتحاد الشرطة", "image": "https://semedia.filgoal.com/Photos/Team/Medium/699.png" }, "wage": null } ], "dateOfBirth": "1995-01-01T00:00:00", "image": "https://semedia.filgoal.com/Photos/Person/medium/27527.png", "name": "عمرو حسام", "nationality": "مصر", "position": "حارس مرمى", "shirt": null, "statistics": { "goals": 0, "yellowCards": 0, "redCards": 0, "played": 0, "minutesPlayed": 0, "playerChampionshipStatistics": [] }, "type": "لاعب", "team": { "id": 151, "name": "أسـوان", "image": "https://semedia.filgoal.com/Photos/Team/Medium/151.png" } }

عمرو حسام

27 عاما

انتقال

إيسترن كومبانيأسـوان

2024

تعليقات

{ "id": 6858, "age": 39, "career": [ { "dateFrom": "2022-09-30T00:00:00", "dateTo": null, "duration": 1, "id": 422876, "transferType": "انتقال", "renew": false, "position": "مدافع", "price": null, "shirt": null, "teamFrom": { "id": 13013, "name": "لاعب حر", "image": "https://semedia.filgoal.com/Photos/Team/Medium/13013.png" }, "teamTo": { "id": 904, "name": "الداخلية", "image": "https://semedia.filgoal.com/Photos/Team/Medium/904.png" }, "wage": null }, { "dateFrom": "2022-08-31T00:00:00", "dateTo": "2022-09-29T00:00:00", "duration": null, "id": 422875, "transferType": "انتقال", "renew": false, "position": "مدافع", "price": null, "shirt": null, "teamFrom": { "id": 617, "name": "الجونة", "image": "https://semedia.filgoal.com/Photos/Team/Medium/617.png" }, "teamTo": { "id": 13013, "name": "لاعب حر", "image": "https://semedia.filgoal.com/Photos/Team/Medium/13013.png" }, "wage": null }, { "dateFrom": "2019-07-28T00:00:00", "dateTo": "2022-08-31T00:00:00", "duration": null, "id": 422874, "transferType": "انتقال", "renew": false, "position": "مدافع", "price": null, "shirt": 24, "teamFrom": { "id": 1, "name": "الأهلي", "image": "https://semedia.filgoal.com/Photos/Team/Medium/1.png" }, "teamTo": { "id": 617, "name": "الجونة", "image": "https://semedia.filgoal.com/Photos/Team/Medium/617.png" }, "wage": null }, { "dateFrom": "2011-06-18T00:00:00", "dateTo": "2019-07-23T00:00:00", "duration": null, "id": 422873, "transferType": "انتقال", "renew": false, "position": "مدافع", "price": 0.6, "shirt": 23, "teamFrom": { "id": 699, "name": "اتحاد الشرطة", "image": "https://semedia.filgoal.com/Photos/Team/Medium/699.png" }, "teamTo": { "id": 1, "name": "الأهلي", "image": "https://semedia.filgoal.com/Photos/Team/Medium/1.png" }, "wage": null }, { "dateFrom": "2008-12-17T00:00:00", "dateTo": "2011-06-16T00:00:00", "duration": null, "id": 422872, "transferType": "انتقال", "renew": false, "position": "مدافع", "price": null, "shirt": null, "teamFrom": { "id": 10, "name": "بلدية المحلة", "image": "https://semedia.filgoal.com/Photos/Team/Medium/10.png" }, "teamTo": { "id": 699, "name": "اتحاد الشرطة", "image": "https://semedia.filgoal.com/Photos/Team/Medium/699.png" }, "wage": null }, { "dateFrom": "2008-01-17T00:00:00", "dateTo": "2008-12-17T00:00:00", "duration": null, "id": 422871, "transferType": "انتقال", "renew": false, "position": "مدافع", "price": null, "shirt": null, "teamFrom": { "id": 13, "name": "الاتحاد السكندري", "image": "https://semedia.filgoal.com/Photos/Team/Medium/13.png" }, "teamTo": { "id": 10, "name": "بلدية المحلة", "image": "https://semedia.filgoal.com/Photos/Team/Medium/10.png" }, "wage": null }, { "dateFrom": "2007-01-18T00:00:00", "dateTo": "2008-01-18T00:00:00", "duration": null, "id": 422870, "transferType": "انتقال حر", "renew": false, "position": "مدافع", "price": null, "shirt": null, "teamFrom": null, "teamTo": { "id": 13, "name": "الاتحاد السكندري", "image": "https://semedia.filgoal.com/Photos/Team/Medium/13.png" }, "wage": null } ], "dateOfBirth": "1983-01-31T00:00:00", "image": "https://semedia.filgoal.com/Photos/Person/medium/6858.png", "name": "محمد نجيب", "nationality": "مصر", "position": "مدافع", "shirt": null, "statistics": { "goals": 0, "yellowCards": 0, "redCards": 0, "played": 0, "minutesPlayed": 0, "playerChampionshipStatistics": [] }, "type": "لاعب", "team": { "id": 904, "name": "الداخلية", "image": "https://semedia.filgoal.com/Photos/Team/Medium/904.png" } }

محمد نجيب

39 عاما

انتقال

لاعب حرالداخلية

2023

تعليقات

{ "id": 21444, "age": 34, "career": [ { "dateFrom": "2022-09-30T00:00:00", "dateTo": null, "duration": 2, "id": 422850, "transferType": "انتقال", "renew": false, "position": "مهاجم", "price": null, "shirt": null, "teamFrom": { "id": 13, "name": "الاتحاد السكندري", "image": "https://semedia.filgoal.com/Photos/Team/Medium/13.png" }, "teamTo": { "id": 290, "name": "الزوراء", "image": "https://semedia.filgoal.com/Photos/Team/Medium/290.png" }, "wage": null }, { "dateFrom": "2019-07-31T00:00:00", "dateTo": "2022-01-01T00:00:00", "duration": null, "id": 422849, "transferType": "انتقال", "renew": false, "position": "مهاجم", "price": null, "shirt": 27, "teamFrom": { "id": 461, "name": "سيمبا", "image": "https://semedia.filgoal.com/Photos/Team/Medium/461.png" }, "teamTo": { "id": 13, "name": "الاتحاد السكندري", "image": "https://semedia.filgoal.com/Photos/Team/Medium/13.png" }, "wage": null }, { "dateFrom": "2018-02-19T00:00:00", "dateTo": "2019-07-28T00:00:00", "duration": null, "id": 422848, "transferType": "انتقال حر", "renew": false, "position": "مهاجم", "price": null, "shirt": 7, "teamFrom": null, "teamTo": { "id": 461, "name": "سيمبا", "image": "https://semedia.filgoal.com/Photos/Team/Medium/461.png" }, "wage": null } ], "dateOfBirth": "1988-05-13T00:00:00", "image": "https://semedia.filgoal.com/Photos/Person/medium/21444.png", "name": "إيمانويل أوكوي", "nationality": "اوغندا", "position": "مهاجم", "shirt": null, "statistics": { "goals": 0, "yellowCards": 0, "redCards": 0, "played": 0, "minutesPlayed": 0, "playerChampionshipStatistics": [] }, "type": "لاعب", "team": { "id": 290, "name": "الزوراء", "image": "https://semedia.filgoal.com/Photos/Team/Medium/290.png" } }

إيمانويل أوكوي

34 عاما

انتقال

الاتحاد السكندريالزوراء

2024

تعليقات

{ "id": 27498, "age": 32, "career": [ { "dateFrom": "2022-09-29T00:00:00", "dateTo": null, "duration": 1, "id": 422794, "transferType": "إعارة", "renew": false, "position": "مدافع", "price": null, "shirt": null, "teamFrom": { "id": 617, "name": "الجونة", "image": "https://semedia.filgoal.com/Photos/Team/Medium/617.png" }, "teamTo": { "id": 151, "name": "أسـوان", "image": "https://semedia.filgoal.com/Photos/Team/Medium/151.png" }, "wage": null }, { "dateFrom": "2020-12-31T00:00:00", "dateTo": "2022-09-28T00:00:00", "duration": null, "id": 422793, "transferType": "انتقال", "renew": false, "position": "مدافع", "price": null, "shirt": null, "teamFrom": { "id": 13, "name": "الاتحاد السكندري", "image": "https://semedia.filgoal.com/Photos/Team/Medium/13.png" }, "teamTo": { "id": 617, "name": "الجونة", "image": "https://semedia.filgoal.com/Photos/Team/Medium/617.png" }, "wage": null }, { "dateFrom": "2020-11-28T00:00:00", "dateTo": "2020-12-31T00:00:00", "duration": null, "id": 422792, "transferType": "انتقال", "renew": false, "position": "مدافع", "price": null, "shirt": null, "teamFrom": { "id": 1451, "name": "بيراميدز", "image": "https://semedia.filgoal.com/Photos/Team/Medium/1451.png" }, "teamTo": { "id": 13, "name": "الاتحاد السكندري", "image": "https://semedia.filgoal.com/Photos/Team/Medium/13.png" }, "wage": null }, { "dateFrom": "2019-07-27T00:00:00", "dateTo": "2020-11-27T00:00:00", "duration": null, "id": 422791, "transferType": "انتقال", "renew": false, "position": "مدافع", "price": null, "shirt": 20, "teamFrom": { "id": 184, "name": "الرائد", "image": "https://semedia.filgoal.com/Photos/Team/Medium/184.png" }, "teamTo": { "id": 1451, "name": "بيراميدز", "image": "https://semedia.filgoal.com/Photos/Team/Medium/1451.png" }, "wage": null }, { "dateFrom": "2018-01-24T00:00:00", "dateTo": "2019-07-25T00:00:00", "duration": null, "id": 422790, "transferType": "انتقال", "renew": false, "position": "مدافع", "price": null, "shirt": null, "teamFrom": { "id": 13, "name": "الاتحاد السكندري", "image": "https://semedia.filgoal.com/Photos/Team/Medium/13.png" }, "teamTo": { "id": 184, "name": "الرائد", "image": "https://semedia.filgoal.com/Photos/Team/Medium/184.png" }, "wage": null }, { "dateFrom": "2016-07-25T00:00:00", "dateTo": "2018-01-22T00:00:00", "duration": null, "id": 422789, "transferType": "انتقال", "renew": false, "position": "مدافع", "price": null, "shirt": 6, "teamFrom": { "id": 923, "name": "مصر للمقاصة", "image": "https://semedia.filgoal.com/Photos/Team/Medium/923.png" }, "teamTo": { "id": 13, "name": "الاتحاد السكندري", "image": "https://semedia.filgoal.com/Photos/Team/Medium/13.png" }, "wage": null }, { "dateFrom": "2015-07-28T00:00:00", "dateTo": "2016-07-24T00:00:00", "duration": null, "id": 422788, "transferType": "انتقال حر", "renew": false, "position": "مدافع", "price": null, "shirt": null, "teamFrom": null, "teamTo": { "id": 923, "name": "مصر للمقاصة", "image": "https://semedia.filgoal.com/Photos/Team/Medium/923.png" }, "wage": null } ], "dateOfBirth": "1990-07-15T00:00:00", "image": "https://semedia.filgoal.com/Photos/Person/medium/27498.png", "name": "محمد عطوة", "nationality": "مصر", "position": "مدافع", "shirt": null, "statistics": { "goals": 0, "yellowCards": 0, "redCards": 0, "played": 0, "minutesPlayed": 0, "playerChampionshipStatistics": [] }, "type": "لاعب", "team": { "id": 151, "name": "أسـوان", "image": "https://semedia.filgoal.com/Photos/Team/Medium/151.png" } }

محمد عطوة

32 عاما

إعارة

الجونةأسـوان

2023

تعليقات

{ "id": 220515, "age": 23, "career": [ { "dateFrom": "2022-09-27T00:00:00", "dateTo": null, "duration": 2, "id": 422869, "transferType": "انتقال", "renew": false, "position": "مهاجم", "price": null, "shirt": null, "teamFrom": { "id": 1451, "name": "بيراميدز", "image": "https://semedia.filgoal.com/Photos/Team/Medium/1451.png" }, "teamTo": { "id": 904, "name": "الداخلية", "image": "https://semedia.filgoal.com/Photos/Team/Medium/904.png" }, "wage": null }, { "dateFrom": "2022-08-28T00:00:00", "dateTo": "2022-09-25T00:00:00", "duration": null, "id": 422868, "transferType": "انتهاء إعارة", "renew": false, "position": "مهاجم", "price": null, "shirt": null, "teamFrom": { "id": 151, "name": "أسـوان", "image": "https://semedia.filgoal.com/Photos/Team/Medium/151.png" }, "teamTo": { "id": 1451, "name": "بيراميدز", "image": "https://semedia.filgoal.com/Photos/Team/Medium/1451.png" }, "wage": null }, { "dateFrom": "2020-12-29T00:00:00", "dateTo": "2022-08-28T00:00:00", "duration": null, "id": 422867, "transferType": "إعارة", "renew": false, "position": "مهاجم", "price": null, "shirt": 37, "teamFrom": { "id": 1451, "name": "بيراميدز", "image": "https://semedia.filgoal.com/Photos/Team/Medium/1451.png" }, "teamTo": { "id": 151, "name": "أسـوان", "image": "https://semedia.filgoal.com/Photos/Team/Medium/151.png" }, "wage": null }, { "dateFrom": "2019-12-29T00:00:00", "dateTo": "2020-12-29T00:00:00", "duration": null, "id": 422866, "transferType": "انتقال حر", "renew": false, "position": "مهاجم", "price": null, "shirt": null, "teamFrom": null, "teamTo": { "id": 1451, "name": "بيراميدز", "image": "https://semedia.filgoal.com/Photos/Team/Medium/1451.png" }, "wage": null } ], "dateOfBirth": "1999-01-01T00:00:00", "image": "https://semedia.filgoal.com/Photos/Person/medium/220515.png", "name": "صلاح يحيى", "nationality": "مصر", "position": "مهاجم", "shirt": null, "statistics": { "goals": 0, "yellowCards": 0, "redCards": 0, "played": 0, "minutesPlayed": 0, "playerChampionshipStatistics": [] }, "type": "لاعب", "team": { "id": 904, "name": "الداخلية", "image": "https://semedia.filgoal.com/Photos/Team/Medium/904.png" } }

صلاح يحيى

23 عاما

انتقال

بيراميدزالداخلية

2024

تعليقات

{ "id": 18103, "age": 29, "career": [ { "dateFrom": "2022-09-28T00:00:00", "dateTo": null, "duration": 2, "id": 422745, "transferType": "انتقال", "renew": false, "position": "حارس مرمى", "price": null, "shirt": null, "teamFrom": { "id": 13013, "name": "لاعب حر", "image": "https://semedia.filgoal.com/Photos/Team/Medium/13013.png" }, "teamTo": { "id": 1075, "name": "إيسترن كومباني", "image": "https://semedia.filgoal.com/Photos/Team/Medium/1075.png" }, "wage": null }, { "dateFrom": "2022-09-01T00:00:00", "dateTo": "2022-09-27T00:00:00", "duration": null, "id": 422744, "transferType": "انتقال", "renew": false, "position": "حارس مرمى", "price": null, "shirt": null, "teamFrom": { "id": 1016, "name": "وادي دجلة", "image": "https://semedia.filgoal.com/Photos/Team/Medium/1016.png" }, "teamTo": { "id": 13013, "name": "لاعب حر", "image": "https://semedia.filgoal.com/Photos/Team/Medium/13013.png" }, "wage": null }, { "dateFrom": "2020-10-27T00:00:00", "dateTo": "2022-08-30T00:00:00", "duration": null, "id": 422743, "transferType": "انتقال", "renew": false, "position": "حارس مرمى", "price": null, "shirt": null, "teamFrom": { "id": 151, "name": "أسـوان", "image": "https://semedia.filgoal.com/Photos/Team/Medium/151.png" }, "teamTo": { "id": 1016, "name": "وادي دجلة", "image": "https://semedia.filgoal.com/Photos/Team/Medium/1016.png" }, "wage": null }, { "dateFrom": "2019-07-26T00:00:00", "dateTo": "2020-10-26T00:00:00", "duration": null, "id": 422742, "transferType": "انتقال", "renew": false, "position": "حارس مرمى", "price": null, "shirt": 29, "teamFrom": { "id": 149, "name": "حرس الحدود", "image": "https://semedia.filgoal.com/Photos/Team/Medium/149.png" }, "teamTo": { "id": 151, "name": "أسـوان", "image": "https://semedia.filgoal.com/Photos/Team/Medium/151.png" }, "wage": null }, { "dateFrom": "2018-07-16T00:00:00", "dateTo": "2019-07-24T00:00:00", "duration": null, "id": 422741, "transferType": "انتقال", "renew": false, "position": "حارس مرمى", "price": null, "shirt": null, "teamFrom": { "id": 860, "name": "سموحة", "image": "https://semedia.filgoal.com/Photos/Team/Medium/860.png" }, "teamTo": { "id": 149, "name": "حرس الحدود", "image": "https://semedia.filgoal.com/Photos/Team/Medium/149.png" }, "wage": null }, { "dateFrom": "2018-06-21T00:00:00", "dateTo": "2018-07-15T00:00:00", "duration": null, "id": 422740, "transferType": "انتهاء إعارة", "renew": false, "position": "حارس مرمى", "price": null, "shirt": null, "teamFrom": { "id": 304, "name": "طلائع الجيش", "image": "https://semedia.filgoal.com/Photos/Team/Medium/304.png" }, "teamTo": { "id": 860, "name": "سموحة", "image": "https://semedia.filgoal.com/Photos/Team/Medium/860.png" }, "wage": null }, { "dateFrom": "2018-01-03T00:00:00", "dateTo": "2018-06-21T00:00:00", "duration": null, "id": 422739, "transferType": "إعارة", "renew": false, "position": "حارس مرمى", "price": null, "shirt": 1, "teamFrom": { "id": 860, "name": "سموحة", "image": "https://semedia.filgoal.com/Photos/Team/Medium/860.png" }, "teamTo": { "id": 304, "name": "طلائع الجيش", "image": "https://semedia.filgoal.com/Photos/Team/Medium/304.png" }, "wage": null }, { "dateFrom": "2017-07-08T00:00:00", "dateTo": "2018-01-03T00:00:00", "duration": null, "id": 422738, "transferType": "انتقال", "renew": false, "position": "حارس مرمى", "price": null, "shirt": 16, "teamFrom": { "id": 1, "name": "الأهلي", "image": "https://semedia.filgoal.com/Photos/Team/Medium/1.png" }, "teamTo": { "id": 860, "name": "سموحة", "image": "https://semedia.filgoal.com/Photos/Team/Medium/860.png" }, "wage": null }, { "dateFrom": "2013-06-22T00:00:00", "dateTo": "2017-07-08T00:00:00", "duration": null, "id": 422737, "transferType": "انتقال", "renew": false, "position": "حارس مرمى", "price": null, "shirt": null, "teamFrom": { "id": 5, "name": "الإسماعيلي", "image": "https://semedia.filgoal.com/Photos/Team/Medium/5.png" }, "teamTo": { "id": 1, "name": "الأهلي", "image": "https://semedia.filgoal.com/Photos/Team/Medium/1.png" }, "wage": null }, { "dateFrom": "2012-06-23T00:00:00", "dateTo": "2013-06-23T00:00:00", "duration": null, "id": 422736, "transferType": "انتقال حر", "renew": false, "position": "حارس مرمى", "price": null, "shirt": null, "teamFrom": null, "teamTo": { "id": 5, "name": "الإسماعيلي", "image": "https://semedia.filgoal.com/Photos/Team/Medium/5.png" }, "wage": null } ], "dateOfBirth": "1993-01-15T00:00:00", "image": "https://semedia.filgoal.com/Photos/Person/medium/18103.png", "name": "مسعد عوض", "nationality": "مصر", "position": "حارس مرمى", "shirt": null, "statistics": { "goals": 0, "yellowCards": 0, "redCards": 0, "played": 0, "minutesPlayed": 0, "playerChampionshipStatistics": [] }, "type": "لاعب", "team": { "id": 1075, "name": "إيسترن كومباني", "image": "https://semedia.filgoal.com/Photos/Team/Medium/1075.png" } }

مسعد عوض

29 عاما

انتقال

لاعب حرإيسترن كومباني

2024

تعليقات

{ "id": 26904, "age": 27, "career": [ { "dateFrom": "2022-09-28T00:00:00", "dateTo": null, "duration": 2, "id": 422735, "transferType": "انتقال", "renew": false, "position": "مدافع", "price": null, "shirt": null, "teamFrom": { "id": 13013, "name": "لاعب حر", "image": "https://semedia.filgoal.com/Photos/Team/Medium/13013.png" }, "teamTo": { "id": 2025, "name": "شباب الأهلي دبي", "image": "https://semedia.filgoal.com/Photos/Team/Medium/2025.png" }, "wage": null }, { "dateFrom": "2022-06-28T00:00:00", "dateTo": "2022-09-27T00:00:00", "duration": null, "id": 422734, "transferType": "انتقال", "renew": false, "position": "مدافع", "price": null, "shirt": null, "teamFrom": { "id": 211, "name": "أولمبيك ليون", "image": "https://semedia.filgoal.com/Photos/Team/Medium/211.png" }, "teamTo": { "id": 13013, "name": "لاعب حر", "image": "https://semedia.filgoal.com/Photos/Team/Medium/13013.png" }, "wage": null }, { "dateFrom": "2018-06-25T00:00:00", "dateTo": "2022-06-27T00:00:00", "duration": null, "id": 422733, "transferType": "انتقال", "renew": false, "position": "مدافع", "price": 11, "shirt": 5, "teamFrom": { "id": 94, "name": "مانشستر سيتي", "image": "https://semedia.filgoal.com/Photos/Team/Medium/94.png" }, "teamTo": { "id": 211, "name": "أولمبيك ليون", "image": "https://semedia.filgoal.com/Photos/Team/Medium/211.png" }, "wage": null }, { "dateFrom": "2018-06-23T00:00:00", "dateTo": "2018-06-25T00:00:00", "duration": null, "id": 422732, "transferType": "انتقال", "renew": false, "position": "مدافع", "price": null, "shirt": 28, "teamFrom": { "id": 100, "name": "سندرلاند", "image": "https://semedia.filgoal.com/Photos/Team/Medium/100.png" }, "teamTo": { "id": 94, "name": "مانشستر سيتي", "image": "https://semedia.filgoal.com/Photos/Team/Medium/94.png" }, "wage": null }, { "dateFrom": "2016-07-19T00:00:00", "dateTo": "2018-06-19T00:00:00", "duration": null, "id": 422731, "transferType": "انتهاء إعارة", "renew": false, "position": "مدافع", "price": null, "shirt": 28, "teamFrom": { "id": 217, "name": "جالاتا سراي", "image": "https://semedia.filgoal.com/Photos/Team/Medium/217.png" }, "teamTo": { "id": 100, "name": "سندرلاند", "image": "https://semedia.filgoal.com/Photos/Team/Medium/100.png" }, "wage": null }, { "dateFrom": "2013-12-19T00:00:00", "dateTo": "2015-12-19T00:00:00", "duration": 2, "id": 422730, "transferType": "إعارة", "renew": false, "position": "مدافع", "price": 0.55, "shirt": 64, "teamFrom": { "id": 94, "name": "مانشستر سيتي", "image": "https://semedia.filgoal.com/Photos/Team/Medium/94.png" }, "teamTo": { "id": 217, "name": "جالاتا سراي", "image": "https://semedia.filgoal.com/Photos/Team/Medium/217.png" }, "wage": null }, { "dateFrom": "1999-12-18T00:00:00", "dateTo": "2011-08-17T00:00:00", "duration": null, "id": 422729, "transferType": "انتقال حر", "renew": false, "position": "مدافع", "price": null, "shirt": 28, "teamFrom": null, "teamTo": { "id": 94, "name": "مانشستر سيتي", "image": "https://semedia.filgoal.com/Photos/Team/Medium/94.png" }, "wage": null } ], "dateOfBirth": "1995-06-28T00:00:00", "image": "https://semedia.filgoal.com/Photos/Person/medium/26904.png", "name": "جايسون ديناير", "nationality": "بلجيكا", "position": "مدافع", "shirt": null, "statistics": { "goals": 0, "yellowCards": 0, "redCards": 0, "played": 0, "minutesPlayed": 0, "playerChampionshipStatistics": [] }, "type": "لاعب", "team": { "id": 2025, "name": "شباب الأهلي دبي", "image": "https://semedia.filgoal.com/Photos/Team/Medium/2025.png" } }

جايسون ديناير

27 عاما

انتقال

لاعب حرشباب الأهلي دبي

2024

تعليقات
استطلاع رأي
أفضل فريق أبرم صفقات للموسم المقبل هو؟