رومانو: تشيلسي يتمم اتفاقه مع كوكوريا.. وتفاصيل التعاقد
مصدر الخبر: سكاي
تاريخ النشر : Wednesday, 3 August 2022 - 08:52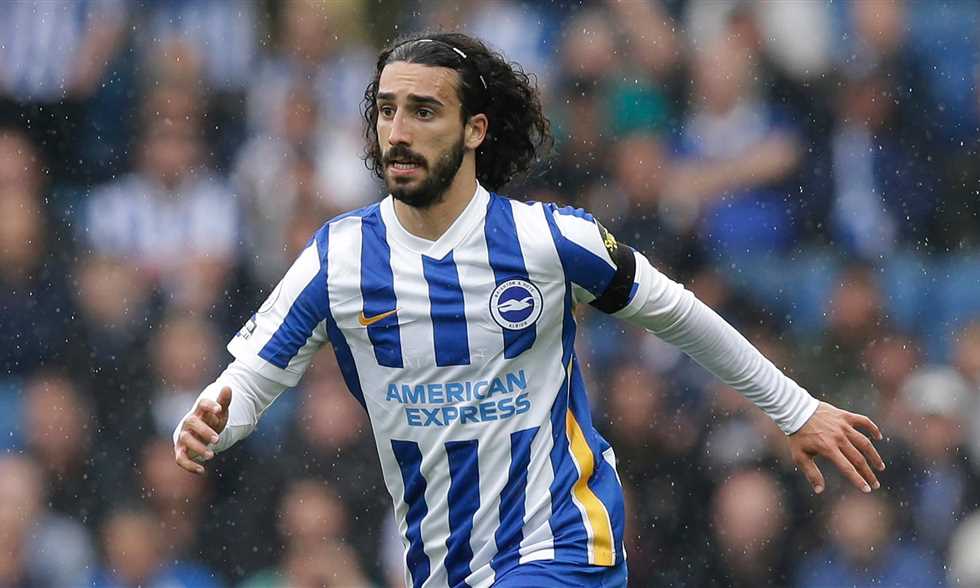 كتب
FilGoal
أتم مارك كوكوريا مدافع برايتون اتفاقه مع تشيلسي خلال سوق الانتقالات الصيفية الجارية بحسب فابرزيو رومانو.
وأشار رومانو إلى أن كوكوريا اتفق على البنود الشخصية مع البلوز الاثنين الماضي وسيمضي عقدا مدته 6 سنوات بقيمة 52.5 مليون يورو.
وأضاف أنّ اللاعب سيصل غدا -الخميس- إلى لندن من أجل الكشف الطبي.
Marc Cucurella will be in London on Thursday morning together with his agents: Chelsea have already booked medical tests then contract until June 2028 will be signed. 🚨🔵 #CFC

Fee will be £52.5m for Cucurella and then Brighton will buy Levi Colwill in a separated deal. pic.twitter.com/3Hy1lhG3k7

— Fabrizio Romano (@FabrizioRomano) August 3, 2022
وكان كوكوريا -24 عاما- هدفا لفريق مانشستر سيتي حامل لقب الدوري الإنجليزي خلال هذا الصيف.
لكن ما أوقف هذه الصفقة هو غلق باب المفاوضات من جانب برايتون، الذي لن يبيع اللاعب إلى سيتي حتى يعرض السعر المطلوب، وهو 50 مليون جنيه استرليني.
كوكوريا (24 عاما) خريج أكاديمية لاماسيا في برشلونة والتي نجح جوارديولا في إخراج العديد من اللاعبين من خلالها والذين أصبحوا نجوما خلال فترة تدريبه للفريق الإسباني.
وشارك كوكوريا خلال الموسم المنصرم مع برايتون في 38 مباراة وتمكن خلالها من تسجيل هدف وحيد وصناعة هدفين.
اقرأ أيضا
السعودية تقدم طلبا لاستضافة دورة الألعاب الآسيوية 2029
حوار شيق مع سهيلة وفيق وزينة العلمي
أحدث الانتقالات
{ "id": 198631, "age": 19, "career": [ { "dateFrom": "2022-10-09T00:00:00", "dateTo": null, "duration": null, "id": 427924, "transferType": "انتقال", "renew": false, "position": "مهاجم", "price": null, "shirt": null, "teamFrom": { "id": 1016, "name": "وادي دجلة", "image": "https://semedia.filgoal.com/Photos/Team/Medium/1016.png" }, "teamTo": { "id": 2, "name": "الزمالك", "image": "https://semedia.filgoal.com/Photos/Team/Medium/2.png" }, "wage": null }, { "dateFrom": "2021-10-04T00:00:00", "dateTo": "2022-10-08T00:00:00", "duration": null, "id": 427923, "transferType": "انتقال", "renew": false, "position": "مهاجم", "price": null, "shirt": null, "teamFrom": { "id": 11, "name": "المقاولون العرب", "image": "https://semedia.filgoal.com/Photos/Team/Medium/11.png" }, "teamTo": { "id": 1016, "name": "وادي دجلة", "image": "https://semedia.filgoal.com/Photos/Team/Medium/1016.png" }, "wage": null }, { "dateFrom": "2019-07-27T00:00:00", "dateTo": "2021-09-26T00:00:00", "duration": null, "id": 427922, "transferType": "انتقال حر", "renew": false, "position": "مهاجم", "price": null, "shirt": 33, "teamFrom": null, "teamTo": { "id": 11, "name": "المقاولون العرب", "image": "https://semedia.filgoal.com/Photos/Team/Medium/11.png" }, "wage": null } ], "dateOfBirth": "2003-01-01T00:00:00", "image": "https://semedia.filgoal.com/Photos/Person/medium/198631.png", "name": "يوسف حسن", "nationality": "مصر", "position": "مهاجم", "shirt": null, "statistics": { "goals": 0, "yellowCards": 0, "redCards": 0, "played": 0, "minutesPlayed": 0, "playerChampionshipStatistics": [] }, "type": "لاعب", "team": { "id": 2, "name": "الزمالك", "image": "https://semedia.filgoal.com/Photos/Team/Medium/2.png" } }

يوسف حسن

19 عاما

انتقال

وادي دجلةالزمالك

2022

تعليقات

{ "id": 115840, "age": 31, "career": [ { "dateFrom": "2022-10-12T00:00:00", "dateTo": null, "duration": null, "id": 424012, "transferType": "إعارة", "renew": false, "position": "حارس مرمى", "price": null, "shirt": null, "teamFrom": { "id": 12723, "name": "سيراميكا كليوباترا", "image": "https://semedia.filgoal.com/Photos/Team/Medium/12723.png" }, "teamTo": { "id": 5, "name": "الإسماعيلي", "image": "https://semedia.filgoal.com/Photos/Team/Medium/5.png" }, "wage": null }, { "dateFrom": "2021-09-12T00:00:00", "dateTo": "2022-10-10T00:00:00", "duration": null, "id": 424011, "transferType": "انتقال", "renew": false, "position": "حارس مرمى", "price": null, "shirt": null, "teamFrom": { "id": 923, "name": "مصر للمقاصة", "image": "https://semedia.filgoal.com/Photos/Team/Medium/923.png" }, "teamTo": { "id": 12723, "name": "سيراميكا كليوباترا", "image": "https://semedia.filgoal.com/Photos/Team/Medium/12723.png" }, "wage": null }, { "dateFrom": "2016-04-27T00:00:00", "dateTo": "2021-09-11T00:00:00", "duration": null, "id": 424010, "transferType": "انتقال حر", "renew": false, "position": "حارس مرمى", "price": null, "shirt": 25, "teamFrom": null, "teamTo": { "id": 923, "name": "مصر للمقاصة", "image": "https://semedia.filgoal.com/Photos/Team/Medium/923.png" }, "wage": null } ], "dateOfBirth": "1991-01-01T00:00:00", "image": "https://semedia.filgoal.com/Photos/Person/medium/115840.png", "name": "محمد كوكو", "nationality": "مصر", "position": "حارس مرمى", "shirt": null, "statistics": { "goals": 0, "yellowCards": 0, "redCards": 0, "played": 0, "minutesPlayed": 0, "playerChampionshipStatistics": [] }, "type": "لاعب", "team": { "id": 5, "name": "الإسماعيلي", "image": "https://semedia.filgoal.com/Photos/Team/Medium/5.png" } }

محمد كوكو

31 عاما

إعارة

سيراميكا كليوباتراالإسماعيلي

2022

تعليقات

{ "id": 19506, "age": 30, "career": [ { "dateFrom": "2022-10-12T00:00:00", "dateTo": null, "duration": 1, "id": 423989, "transferType": "انتقال", "renew": false, "position": "وسط", "price": 0, "shirt": null, "teamFrom": { "id": 13013, "name": "لاعب حر", "image": "https://semedia.filgoal.com/Photos/Team/Medium/13013.png" }, "teamTo": { "id": 248, "name": "أجاكسيو", "image": "https://semedia.filgoal.com/Photos/Team/Medium/248.png" }, "wage": null }, { "dateFrom": "2022-09-29T00:00:00", "dateTo": "2022-10-11T00:00:00", "duration": null, "id": 423988, "transferType": "انتقال", "renew": false, "position": "وسط", "price": null, "shirt": null, "teamFrom": { "id": 1037, "name": "ستاد بريست 29", "image": "https://semedia.filgoal.com/Photos/Team/Medium/1037.png" }, "teamTo": { "id": 13013, "name": "لاعب حر", "image": "https://semedia.filgoal.com/Photos/Team/Medium/13013.png" }, "wage": null }, { "dateFrom": "2022-01-30T00:00:00", "dateTo": "2022-09-28T00:00:00", "duration": null, "id": 423987, "transferType": "انتقال", "renew": false, "position": "وسط", "price": null, "shirt": null, "teamFrom": { "id": 1140, "name": "نادي قطر", "image": "https://semedia.filgoal.com/Photos/Team/Medium/1140.png" }, "teamTo": { "id": 1037, "name": "ستاد بريست 29", "image": "https://semedia.filgoal.com/Photos/Team/Medium/1037.png" }, "wage": null }, { "dateFrom": "2020-11-04T00:00:00", "dateTo": "2021-12-14T00:00:00", "duration": 2, "id": 423986, "transferType": "انتقال", "renew": false, "position": "وسط", "price": null, "shirt": 10, "teamFrom": { "id": 270, "name": "الأهلي", "image": "https://semedia.filgoal.com/Photos/Team/Medium/270.png" }, "teamTo": { "id": 1140, "name": "نادي قطر", "image": "https://semedia.filgoal.com/Photos/Team/Medium/1140.png" }, "wage": null }, { "dateFrom": "2019-08-21T00:00:00", "dateTo": "2020-09-23T00:00:00", "duration": null, "id": 423985, "transferType": "انتقال", "renew": false, "position": "وسط", "price": 3.56, "shirt": null, "teamFrom": { "id": 254, "name": "الترجي", "image": "https://semedia.filgoal.com/Photos/Team/Medium/254.png" }, "teamTo": { "id": 270, "name": "الأهلي", "image": "https://semedia.filgoal.com/Photos/Team/Medium/270.png" }, "wage": null }, { "dateFrom": "2018-01-16T00:00:00", "dateTo": "2019-08-19T00:00:00", "duration": null, "id": 423984, "transferType": "انتقال", "renew": false, "position": "وسط", "price": null, "shirt": 10, "teamFrom": { "id": 1542, "name": "أنجيه", "image": "https://semedia.filgoal.com/Photos/Team/Medium/1542.png" }, "teamTo": { "id": 254, "name": "الترجي", "image": "https://semedia.filgoal.com/Photos/Team/Medium/254.png" }, "wage": null }, { "dateFrom": "2017-01-18T00:00:00", "dateTo": "2017-12-20T00:00:00", "duration": null, "id": 423983, "transferType": "انتقال حر", "renew": false, "position": "وسط", "price": null, "shirt": 31, "teamFrom": null, "teamTo": { "id": 1542, "name": "أنجيه", "image": "https://semedia.filgoal.com/Photos/Team/Medium/1542.png" }, "wage": null } ], "dateOfBirth": "1992-03-14T00:00:00", "image": "https://semedia.filgoal.com/Photos/Person/medium/19506.png", "name": "يوسف بلايلي", "nationality": "الجزائر", "position": "وسط", "shirt": null, "statistics": { "goals": 0, "yellowCards": 0, "redCards": 0, "played": 0, "minutesPlayed": 0, "playerChampionshipStatistics": [] }, "type": "لاعب", "team": { "id": 248, "name": "أجاكسيو", "image": "https://semedia.filgoal.com/Photos/Team/Medium/248.png" } }

يوسف بلايلي

30 عاما

انتقال

لاعب حرأجاكسيو

2023

تعليقات

{ "id": 222796, "age": 23, "career": [ { "dateFrom": "2022-10-13T00:00:00", "dateTo": null, "duration": null, "id": 424038, "transferType": "إعارة", "renew": false, "position": "مدافع", "price": null, "shirt": null, "teamFrom": { "id": 2, "name": "الزمالك", "image": "https://semedia.filgoal.com/Photos/Team/Medium/2.png" }, "teamTo": { "id": 1683, "name": "نادي زد", "image": "https://semedia.filgoal.com/Photos/Team/Medium/1683.png" }, "wage": null }, { "dateFrom": "2021-06-30T00:00:00", "dateTo": "2022-10-12T00:00:00", "duration": null, "id": 424037, "transferType": "انتقال حر", "renew": false, "position": "مدافع", "price": null, "shirt": 38, "teamFrom": null, "teamTo": { "id": 2, "name": "الزمالك", "image": "https://semedia.filgoal.com/Photos/Team/Medium/2.png" }, "wage": null } ], "dateOfBirth": "1999-02-04T00:00:00", "image": "https://semedia.filgoal.com/Photos/Person/medium/222796.png", "name": "أحمد زكي", "nationality": "مصر", "position": "مدافع", "shirt": null, "statistics": { "goals": 0, "yellowCards": 0, "redCards": 0, "played": 0, "minutesPlayed": 0, "playerChampionshipStatistics": [] }, "type": "لاعب", "team": { "id": 1683, "name": "نادي زد", "image": "https://semedia.filgoal.com/Photos/Team/Medium/1683.png" } }

أحمد زكي

23 عاما

إعارة

الزمالكنادي زد

2022

تعليقات

{ "id": 102806, "age": 26, "career": [ { "dateFrom": "2022-10-01T00:00:00", "dateTo": null, "duration": 2, "id": 424120, "transferType": "انتقال", "renew": false, "position": "مدافع", "price": null, "shirt": null, "teamFrom": { "id": 12723, "name": "سيراميكا كليوباترا", "image": "https://semedia.filgoal.com/Photos/Team/Medium/12723.png" }, "teamTo": { "id": 653, "name": "بتروجت", "image": "https://semedia.filgoal.com/Photos/Team/Medium/653.png" }, "wage": null }, { "dateFrom": "2022-01-29T00:00:00", "dateTo": "2022-08-30T00:00:00", "duration": 1, "id": 424119, "transferType": "انتقال", "renew": false, "position": "مدافع", "price": null, "shirt": null, "teamFrom": { "id": 8, "name": "المصري", "image": "https://semedia.filgoal.com/Photos/Team/Medium/8.png" }, "teamTo": { "id": 12723, "name": "سيراميكا كليوباترا", "image": "https://semedia.filgoal.com/Photos/Team/Medium/12723.png" }, "wage": null }, { "dateFrom": "2020-09-28T00:00:00", "dateTo": "2022-01-27T00:00:00", "duration": null, "id": 424118, "transferType": "انتقال", "renew": false, "position": "مدافع", "price": null, "shirt": 2, "teamFrom": { "id": 1683, "name": "نادي زد", "image": "https://semedia.filgoal.com/Photos/Team/Medium/1683.png" }, "teamTo": { "id": 8, "name": "المصري", "image": "https://semedia.filgoal.com/Photos/Team/Medium/8.png" }, "wage": null }, { "dateFrom": "2019-08-27T00:00:00", "dateTo": "2020-09-26T00:00:00", "duration": null, "id": 424117, "transferType": "انتقال حر", "renew": false, "position": "مدافع", "price": null, "shirt": 2, "teamFrom": null, "teamTo": { "id": 1683, "name": "نادي زد", "image": "https://semedia.filgoal.com/Photos/Team/Medium/1683.png" }, "wage": null } ], "dateOfBirth": "1996-01-01T00:00:00", "image": "https://semedia.filgoal.com/Photos/Person/medium/102806.png", "name": "علاء عطا", "nationality": "مصر", "position": "مدافع", "shirt": null, "statistics": { "goals": 0, "yellowCards": 0, "redCards": 0, "played": 0, "minutesPlayed": 0, "playerChampionshipStatistics": [] }, "type": "لاعب", "team": { "id": 653, "name": "بتروجت", "image": "https://semedia.filgoal.com/Photos/Team/Medium/653.png" } }

علاء عطا

26 عاما

انتقال

سيراميكا كليوباترابتروجت

2024

تعليقات

{ "id": 223881, "age": 19, "career": [ { "dateFrom": "2022-10-10T00:00:00", "dateTo": null, "duration": null, "id": 423891, "transferType": "انتقال", "renew": false, "position": "مدافع", "price": null, "shirt": null, "teamFrom": { "id": 611, "name": "النصر", "image": "https://semedia.filgoal.com/Photos/Team/Medium/611.png" }, "teamTo": { "id": 1451, "name": "بيراميدز", "image": "https://semedia.filgoal.com/Photos/Team/Medium/1451.png" }, "wage": null }, { "dateFrom": "2021-06-30T00:00:00", "dateTo": "2022-10-09T00:00:00", "duration": null, "id": 423890, "transferType": "انتقال حر", "renew": false, "position": "مدافع", "price": null, "shirt": 13, "teamFrom": null, "teamTo": { "id": 611, "name": "النصر", "image": "https://semedia.filgoal.com/Photos/Team/Medium/611.png" }, "wage": null } ], "dateOfBirth": "2003-01-01T00:00:00", "image": "https://semedia.filgoal.com/Photos/Person/medium/223881.png", "name": "عبد الرحمن جودة", "nationality": "مصر", "position": "مدافع", "shirt": null, "statistics": { "goals": 0, "yellowCards": 0, "redCards": 0, "played": 0, "minutesPlayed": 0, "playerChampionshipStatistics": [] }, "type": "لاعب", "team": { "id": 1451, "name": "بيراميدز", "image": "https://semedia.filgoal.com/Photos/Team/Medium/1451.png" } }

عبد الرحمن جودة

19 عاما

انتقال

النصربيراميدز

2022

تعليقات

{ "id": 16479, "age": 33, "career": [ { "dateFrom": "2022-09-12T00:00:00", "dateTo": null, "duration": null, "id": 423787, "transferType": "انتقال", "renew": false, "position": "مدافع", "price": null, "shirt": null, "teamFrom": { "id": 13013, "name": "لاعب حر", "image": "https://semedia.filgoal.com/Photos/Team/Medium/13013.png" }, "teamTo": { "id": 151, "name": "أسـوان", "image": "https://semedia.filgoal.com/Photos/Team/Medium/151.png" }, "wage": null }, { "dateFrom": "2022-08-31T00:00:00", "dateTo": "2022-09-12T00:00:00", "duration": null, "id": 423786, "transferType": "انتقال", "renew": false, "position": "مدافع", "price": null, "shirt": null, "teamFrom": { "id": 8, "name": "المصري", "image": "https://semedia.filgoal.com/Photos/Team/Medium/8.png" }, "teamTo": { "id": 13013, "name": "لاعب حر", "image": "https://semedia.filgoal.com/Photos/Team/Medium/13013.png" }, "wage": null }, { "dateFrom": "2021-09-09T00:00:00", "dateTo": "2022-08-31T00:00:00", "duration": null, "id": 423785, "transferType": "انتقال", "renew": false, "position": "مدافع", "price": null, "shirt": null, "teamFrom": { "id": 304, "name": "طلائع الجيش", "image": "https://semedia.filgoal.com/Photos/Team/Medium/304.png" }, "teamTo": { "id": 8, "name": "المصري", "image": "https://semedia.filgoal.com/Photos/Team/Medium/8.png" }, "wage": null }, { "dateFrom": "2020-11-09T00:00:00", "dateTo": "2021-09-08T00:00:00", "duration": null, "id": 423784, "transferType": "انتقال", "renew": false, "position": "مدافع", "price": null, "shirt": null, "teamFrom": { "id": 13, "name": "الاتحاد السكندري", "image": "https://semedia.filgoal.com/Photos/Team/Medium/13.png" }, "teamTo": { "id": 304, "name": "طلائع الجيش", "image": "https://semedia.filgoal.com/Photos/Team/Medium/304.png" }, "wage": null }, { "dateFrom": "2019-07-14T00:00:00", "dateTo": "2020-11-08T00:00:00", "duration": null, "id": 423783, "transferType": "انتقال", "renew": false, "position": "مدافع", "price": null, "shirt": 5, "teamFrom": { "id": 2, "name": "الزمالك", "image": "https://semedia.filgoal.com/Photos/Team/Medium/2.png" }, "teamTo": { "id": 13, "name": "الاتحاد السكندري", "image": "https://semedia.filgoal.com/Photos/Team/Medium/13.png" }, "wage": null }, { "dateFrom": "2019-06-26T00:00:00", "dateTo": "2019-07-12T00:00:00", "duration": null, "id": 423782, "transferType": "انتقال", "renew": false, "position": "مدافع", "price": null, "shirt": null, "teamFrom": { "id": 304, "name": "طلائع الجيش", "image": "https://semedia.filgoal.com/Photos/Team/Medium/304.png" }, "teamTo": { "id": 2, "name": "الزمالك", "image": "https://semedia.filgoal.com/Photos/Team/Medium/2.png" }, "wage": null }, { "dateFrom": "2018-07-09T00:00:00", "dateTo": "2019-06-26T00:00:00", "duration": null, "id": 423781, "transferType": "انتقال", "renew": false, "position": "مدافع", "price": null, "shirt": null, "teamFrom": { "id": 2, "name": "الزمالك", "image": "https://semedia.filgoal.com/Photos/Team/Medium/2.png" }, "teamTo": { "id": 304, "name": "طلائع الجيش", "image": "https://semedia.filgoal.com/Photos/Team/Medium/304.png" }, "wage": null }, { "dateFrom": "2018-01-18T00:00:00", "dateTo": "2018-07-08T00:00:00", "duration": null, "id": 423780, "transferType": "انتقال", "renew": false, "position": "مدافع", "price": null, "shirt": 5, "teamFrom": { "id": 653, "name": "بتروجت", "image": "https://semedia.filgoal.com/Photos/Team/Medium/653.png" }, "teamTo": { "id": 2, "name": "الزمالك", "image": "https://semedia.filgoal.com/Photos/Team/Medium/2.png" }, "wage": null }, { "dateFrom": "2017-08-12T00:00:00", "dateTo": "2018-01-17T00:00:00", "duration": null, "id": 423779, "transferType": "انتقال", "renew": false, "position": "مدافع", "price": null, "shirt": 21, "teamFrom": { "id": 2, "name": "الزمالك", "image": "https://semedia.filgoal.com/Photos/Team/Medium/2.png" }, "teamTo": { "id": 653, "name": "بتروجت", "image": "https://semedia.filgoal.com/Photos/Team/Medium/653.png" }, "wage": null }, { "dateFrom": "2016-06-20T00:00:00", "dateTo": "2017-08-10T00:00:00", "duration": null, "id": 423778, "transferType": "انتقال", "renew": false, "position": "مدافع", "price": null, "shirt": null, "teamFrom": { "id": 5, "name": "الإسماعيلي", "image": "https://semedia.filgoal.com/Photos/Team/Medium/5.png" }, "teamTo": { "id": 2, "name": "الزمالك", "image": "https://semedia.filgoal.com/Photos/Team/Medium/2.png" }, "wage": null }, { "dateFrom": "2015-12-26T00:00:00", "dateTo": "2016-06-20T00:00:00", "duration": null, "id": 423777, "transferType": "انتقال", "renew": false, "position": "مدافع", "price": null, "shirt": null, "teamFrom": { "id": 2, "name": "الزمالك", "image": "https://semedia.filgoal.com/Photos/Team/Medium/2.png" }, "teamTo": { "id": 5, "name": "الإسماعيلي", "image": "https://semedia.filgoal.com/Photos/Team/Medium/5.png" }, "wage": null }, { "dateFrom": "2014-08-11T00:00:00", "dateTo": "2015-12-26T00:00:00", "duration": null, "id": 423776, "transferType": "انتقال حر", "renew": false, "position": "وسط", "price": null, "shirt": null, "teamFrom": null, "teamTo": { "id": 2, "name": "الزمالك", "image": "https://semedia.filgoal.com/Photos/Team/Medium/2.png" }, "wage": null } ], "dateOfBirth": "1989-03-01T00:00:00", "image": "https://semedia.filgoal.com/Photos/Person/medium/16479.png", "name": "إسلام جمال", "nationality": "مصر", "position": "مدافع", "shirt": null, "statistics": { "goals": 0, "yellowCards": 0, "redCards": 0, "played": 0, "minutesPlayed": 0, "playerChampionshipStatistics": [] }, "type": "لاعب", "team": { "id": 151, "name": "أسـوان", "image": "https://semedia.filgoal.com/Photos/Team/Medium/151.png" } }

إسلام جمال

33 عاما

انتقال

لاعب حرأسـوان

2022

تعليقات

{ "id": 234251, "age": 21, "career": [ { "dateFrom": "2022-08-06T00:00:00", "dateTo": null, "duration": null, "id": 425100, "transferType": "انتقال", "renew": false, "position": "مدافع", "price": null, "shirt": null, "teamFrom": { "id": 12723, "name": "سيراميكا كليوباترا", "image": "https://semedia.filgoal.com/Photos/Team/Medium/12723.png" }, "teamTo": { "id": 7, "name": "غزل المحلة", "image": "https://semedia.filgoal.com/Photos/Team/Medium/7.png" }, "wage": null }, { "dateFrom": "2020-12-28T00:00:00", "dateTo": "2022-08-04T00:00:00", "duration": null, "id": 425099, "transferType": "انتقال حر", "renew": false, "position": "مدافع", "price": null, "shirt": null, "teamFrom": null, "teamTo": { "id": 12723, "name": "سيراميكا كليوباترا", "image": "https://semedia.filgoal.com/Photos/Team/Medium/12723.png" }, "wage": null } ], "dateOfBirth": "2001-01-01T00:00:00", "image": "https://semedia.filgoal.com/Photos/Person/medium/234251.png", "name": "محمود صابر", "nationality": "مصر", "position": "مدافع", "shirt": null, "statistics": { "goals": 0, "yellowCards": 0, "redCards": 0, "played": 0, "minutesPlayed": 0, "playerChampionshipStatistics": [] }, "type": "لاعب", "team": { "id": 7, "name": "غزل المحلة", "image": "https://semedia.filgoal.com/Photos/Team/Medium/7.png" } }

محمود صابر

21 عاما

انتقال

سيراميكا كليوباتراغزل المحلة

2022

تعليقات

{ "id": 22461, "age": 31, "career": [ { "dateFrom": "2022-09-22T00:00:00", "dateTo": null, "duration": null, "id": 425086, "transferType": "انتقال", "renew": false, "position": "وسط", "price": null, "shirt": null, "teamFrom": { "id": 13013, "name": "لاعب حر", "image": "https://semedia.filgoal.com/Photos/Team/Medium/13013.png" }, "teamTo": { "id": 7, "name": "غزل المحلة", "image": "https://semedia.filgoal.com/Photos/Team/Medium/7.png" }, "wage": null }, { "dateFrom": "2022-08-30T00:00:00", "dateTo": "2022-10-22T00:00:00", "duration": null, "id": 425085, "transferType": "انتقال", "renew": false, "position": "وسط", "price": null, "shirt": null, "teamFrom": { "id": 150, "name": "إنبـي", "image": "https://semedia.filgoal.com/Photos/Team/Medium/150.png" }, "teamTo": { "id": 13013, "name": "لاعب حر", "image": "https://semedia.filgoal.com/Photos/Team/Medium/13013.png" }, "wage": null }, { "dateFrom": "2020-11-16T00:00:00", "dateTo": "2022-09-28T00:00:00", "duration": null, "id": 425084, "transferType": "انتقال", "renew": false, "position": "وسط", "price": null, "shirt": null, "teamFrom": { "id": 923, "name": "مصر للمقاصة", "image": "https://semedia.filgoal.com/Photos/Team/Medium/923.png" }, "teamTo": { "id": 150, "name": "إنبـي", "image": "https://semedia.filgoal.com/Photos/Team/Medium/150.png" }, "wage": null }, { "dateFrom": "2017-08-13T00:00:00", "dateTo": "2020-11-14T00:00:00", "duration": null, "id": 425083, "transferType": "انتقال", "renew": false, "position": null, "price": null, "shirt": null, "teamFrom": { "id": 2, "name": "الزمالك", "image": "https://semedia.filgoal.com/Photos/Team/Medium/2.png" }, "teamTo": { "id": 923, "name": "مصر للمقاصة", "image": "https://semedia.filgoal.com/Photos/Team/Medium/923.png" }, "wage": null }, { "dateFrom": "2016-08-12T00:00:00", "dateTo": "2017-08-12T00:00:00", "duration": null, "id": 425082, "transferType": "انتقال", "renew": false, "position": null, "price": null, "shirt": null, "teamFrom": { "id": 699, "name": "اتحاد الشرطة", "image": "https://semedia.filgoal.com/Photos/Team/Medium/699.png" }, "teamTo": { "id": 2, "name": "الزمالك", "image": "https://semedia.filgoal.com/Photos/Team/Medium/2.png" }, "wage": null }, { "dateFrom": "2012-07-27T00:00:00", "dateTo": "2016-07-27T00:00:00", "duration": null, "id": 425081, "transferType": "انتقال حر", "renew": false, "position": null, "price": null, "shirt": null, "teamFrom": null, "teamTo": { "id": 699, "name": "اتحاد الشرطة", "image": "https://semedia.filgoal.com/Photos/Team/Medium/699.png" }, "wage": null } ], "dateOfBirth": "1991-02-06T00:00:00", "image": "https://semedia.filgoal.com/Photos/Person/medium/22461.png", "name": "صلاح ريكو", "nationality": "مصر", "position": "وسط", "shirt": null, "statistics": { "goals": 0, "yellowCards": 0, "redCards": 0, "played": 0, "minutesPlayed": 0, "playerChampionshipStatistics": [] }, "type": "لاعب", "team": { "id": 7, "name": "غزل المحلة", "image": "https://semedia.filgoal.com/Photos/Team/Medium/7.png" } }

صلاح ريكو

31 عاما

انتقال

لاعب حرغزل المحلة

2022

تعليقات

{ "id": 25039, "age": 28, "career": [ { "dateFrom": "2022-10-11T00:00:00", "dateTo": null, "duration": null, "id": 423439, "transferType": "انتقال", "renew": false, "position": "وسط", "price": null, "shirt": null, "teamFrom": { "id": 304, "name": "طلائع الجيش", "image": "https://semedia.filgoal.com/Photos/Team/Medium/304.png" }, "teamTo": { "id": 2, "name": "الزمالك", "image": "https://semedia.filgoal.com/Photos/Team/Medium/2.png" }, "wage": null }, { "dateFrom": "2019-06-30T00:00:00", "dateTo": "2022-10-10T00:00:00", "duration": null, "id": 423438, "transferType": "انتقال", "renew": false, "position": "وسط", "price": null, "shirt": 7, "teamFrom": { "id": 1458, "name": "النجوم", "image": "https://semedia.filgoal.com/Photos/Team/Medium/1458.png" }, "teamTo": { "id": 304, "name": "طلائع الجيش", "image": "https://semedia.filgoal.com/Photos/Team/Medium/304.png" }, "wage": null }, { "dateFrom": "2017-06-27T00:00:00", "dateTo": "2019-06-26T00:00:00", "duration": null, "id": 423437, "transferType": "انتقال حر", "renew": false, "position": "وسط", "price": null, "shirt": 8, "teamFrom": null, "teamTo": { "id": 1458, "name": "النجوم", "image": "https://semedia.filgoal.com/Photos/Team/Medium/1458.png" }, "wage": null } ], "dateOfBirth": "1994-05-18T00:00:00", "image": "https://semedia.filgoal.com/Photos/Person/medium/25039.png", "name": "عمرو السيسي", "nationality": "مصر", "position": "وسط", "shirt": null, "statistics": { "goals": 0, "yellowCards": 0, "redCards": 0, "played": 0, "minutesPlayed": 0, "playerChampionshipStatistics": [] }, "type": "لاعب", "team": { "id": 2, "name": "الزمالك", "image": "https://semedia.filgoal.com/Photos/Team/Medium/2.png" } }

عمرو السيسي

28 عاما

انتقال

طلائع الجيشالزمالك

2022

تعليقات
استطلاع رأي
أفضل فريق أبرم صفقات للموسم المقبل هو؟
عدد الاصوات 764

(41.95 %)

عدد الاصوات 565

(31.03 %)

عدد الاصوات 184

(10.10 %)