برايتون ينفي توصله إلى اتفاق مع أي ناد من أجل كوكوريا
مصدر الخبر: النادي
تاريخ النشر : Wednesday, 3 August 2022 - 10:19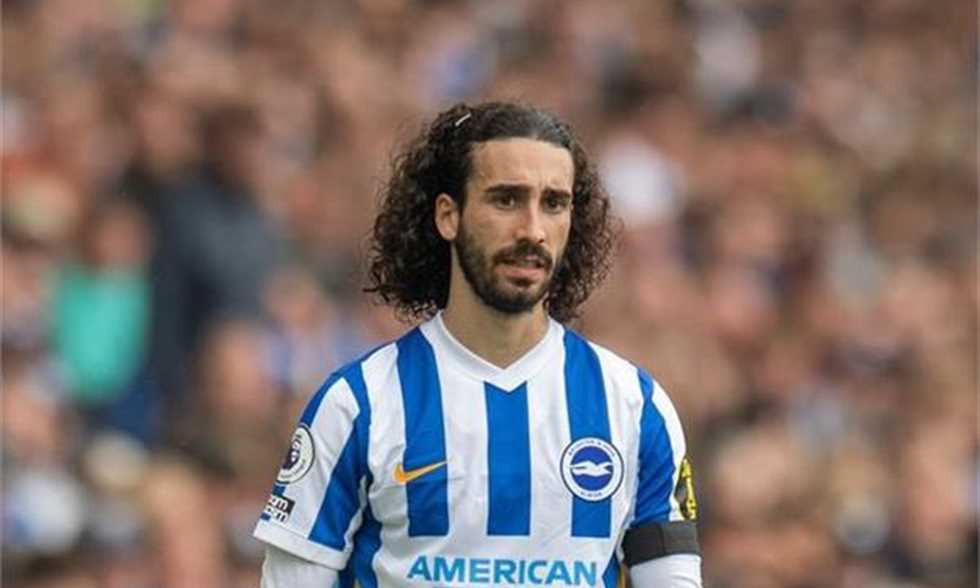 كتب
FilGoal
نفى نادي برايتون توصله إلى أي اتفاق مع أي ناد لضم مارك كوكوريا مدافع الفريق خلال سوق الانتقالات الصيفية الجارية.
ونشر النادي بيانا عبر "تويتر"، جاء كالآتي: "على عكس التقارير غير الدقيقة من العديد من وسائل الإعلام هذا المساء، لم يتم التوصل إلى اتفاق مع أي ناد لبيع مارك كوكوريا".
CLUB STATEMENT: MARC CUCURELLA.

Contrary to inaccurate reports from numerous media outlets this evening, no agreement has been reached with any club to sell Marc Cucurella.

— Brighton & Hove Albion (@OfficialBHAFC) August 3, 2022
وكان فابرزيو رومانو صحفي "سكاي" أشار إلى أنّ كوكوريا اتفق على البنود الشخصية مع البلوز الاثنين الماضي وسيمضي عقدا مدته 6 سنوات بقيمة 52.5 مليون يورو.
وأضاف أنّ اللاعب سيصل غدا -الخميس- إلى لندن من أجل الكشف الطبي.
وكان كوكوريا هدفا لفريق مانشستر سيتي حامل لقب الدوري الإنجليزي خلال هذا الصيف.
لكن ما أوقف هذه الصفقة هو غلق باب المفاوضات من جانب برايتون، الذي لن يبيع اللاعب إلى سيتي حتى يعرض السعر المطلوب، وهو 50 مليون جنيه استرليني.
كوكوريا (24 عاما) خريج أكاديمية لاماسيا في برشلونة والتي نجح جوارديولا في إخراج العديد من اللاعبين من خلالها والذين أصبحوا نجوما خلال فترة تدريبه للفريق الإسباني.
وشارك كوكوريا خلال الموسم المنصرم مع برايتون في 38 مباراة وتمكن خلالها من تسجيل هدف وحيد وصناعة هدفين.
اقرأ أيضا
السعودية تقدم طلبا لاستضافة دورة الألعاب الآسيوية 2029
حوار شيق مع سهيلة وفيق وزينة العلمي
أحدث الانتقالات
{ "id": 115894, "age": 28, "career": [ { "dateFrom": "2022-09-29T00:00:00", "dateTo": null, "duration": 3, "id": 422951, "transferType": "انتقال", "renew": false, "position": "وسط", "price": 0, "shirt": null, "teamFrom": { "id": 13013, "name": "لاعب حر", "image": "https://semedia.filgoal.com/Photos/Team/Medium/13013.png" }, "teamTo": { "id": 860, "name": "سموحة", "image": "https://semedia.filgoal.com/Photos/Team/Medium/860.png" }, "wage": null }, { "dateFrom": "2022-09-15T00:00:00", "dateTo": "2022-09-28T00:00:00", "duration": null, "id": 422950, "transferType": "انتقال", "renew": false, "position": "وسط", "price": null, "shirt": null, "teamFrom": { "id": 304, "name": "طلائع الجيش", "image": "https://semedia.filgoal.com/Photos/Team/Medium/304.png" }, "teamTo": { "id": 13013, "name": "لاعب حر", "image": "https://semedia.filgoal.com/Photos/Team/Medium/13013.png" }, "wage": null }, { "dateFrom": "2022-08-31T00:00:00", "dateTo": "2022-09-14T00:00:00", "duration": null, "id": 422949, "transferType": "انتقال", "renew": false, "position": "وسط", "price": null, "shirt": null, "teamFrom": { "id": 653, "name": "بتروجت", "image": "https://semedia.filgoal.com/Photos/Team/Medium/653.png" }, "teamTo": { "id": 304, "name": "طلائع الجيش", "image": "https://semedia.filgoal.com/Photos/Team/Medium/304.png" }, "wage": null }, { "dateFrom": "2019-06-30T00:00:00", "dateTo": "2022-08-30T00:00:00", "duration": null, "id": 422948, "transferType": "انتقال", "renew": false, "position": "وسط", "price": null, "shirt": null, "teamFrom": { "id": 13, "name": "الاتحاد السكندري", "image": "https://semedia.filgoal.com/Photos/Team/Medium/13.png" }, "teamTo": { "id": 653, "name": "بتروجت", "image": "https://semedia.filgoal.com/Photos/Team/Medium/653.png" }, "wage": null }, { "dateFrom": "2017-07-30T00:00:00", "dateTo": "2019-06-28T00:00:00", "duration": null, "id": 422947, "transferType": "انتقال حر", "renew": false, "position": "وسط", "price": null, "shirt": 18, "teamFrom": null, "teamTo": { "id": 13, "name": "الاتحاد السكندري", "image": "https://semedia.filgoal.com/Photos/Team/Medium/13.png" }, "wage": null } ], "dateOfBirth": "1994-08-12T00:00:00", "image": "https://semedia.filgoal.com/Photos/Person/medium/115894.png", "name": "إسلام كانو", "nationality": "مصر", "position": "وسط", "shirt": null, "statistics": { "goals": 0, "yellowCards": 0, "redCards": 0, "played": 0, "minutesPlayed": 0, "playerChampionshipStatistics": [] }, "type": "لاعب", "team": { "id": 860, "name": "سموحة", "image": "https://semedia.filgoal.com/Photos/Team/Medium/860.png" } }

إسلام كانو

28 عاما

انتقال

لاعب حرسموحة

2025

تعليقات

{ "id": 27527, "age": 27, "career": [ { "dateFrom": "2022-09-30T00:00:00", "dateTo": null, "duration": 2, "id": 422855, "transferType": "انتقال", "renew": false, "position": "حارس مرمى", "price": null, "shirt": null, "teamFrom": { "id": 1075, "name": "إيسترن كومباني", "image": "https://semedia.filgoal.com/Photos/Team/Medium/1075.png" }, "teamTo": { "id": 151, "name": "أسـوان", "image": "https://semedia.filgoal.com/Photos/Team/Medium/151.png" }, "wage": null }, { "dateFrom": "2021-09-01T00:00:00", "dateTo": "2022-09-29T00:00:00", "duration": null, "id": 422854, "transferType": "انتقال", "renew": false, "position": "حارس مرمى", "price": null, "shirt": null, "teamFrom": { "id": 150, "name": "إنبـي", "image": "https://semedia.filgoal.com/Photos/Team/Medium/150.png" }, "teamTo": { "id": 1075, "name": "إيسترن كومباني", "image": "https://semedia.filgoal.com/Photos/Team/Medium/1075.png" }, "wage": null }, { "dateFrom": "2018-06-30T00:00:00", "dateTo": "2021-08-30T00:00:00", "duration": null, "id": 422853, "transferType": "انتقال", "renew": false, "position": "حارس مرمى", "price": null, "shirt": 16, "teamFrom": { "id": 653, "name": "بتروجت", "image": "https://semedia.filgoal.com/Photos/Team/Medium/653.png" }, "teamTo": { "id": 150, "name": "إنبـي", "image": "https://semedia.filgoal.com/Photos/Team/Medium/150.png" }, "wage": null }, { "dateFrom": "2016-07-22T00:00:00", "dateTo": "2018-06-28T00:00:00", "duration": null, "id": 422852, "transferType": "انتقال", "renew": false, "position": "حارس مرمى", "price": null, "shirt": 99, "teamFrom": { "id": 699, "name": "اتحاد الشرطة", "image": "https://semedia.filgoal.com/Photos/Team/Medium/699.png" }, "teamTo": { "id": 653, "name": "بتروجت", "image": "https://semedia.filgoal.com/Photos/Team/Medium/653.png" }, "wage": null }, { "dateFrom": "2015-07-23T00:00:00", "dateTo": "2016-07-23T00:00:00", "duration": null, "id": 422851, "transferType": "انتقال حر", "renew": false, "position": "حارس مرمى", "price": null, "shirt": null, "teamFrom": null, "teamTo": { "id": 699, "name": "اتحاد الشرطة", "image": "https://semedia.filgoal.com/Photos/Team/Medium/699.png" }, "wage": null } ], "dateOfBirth": "1995-01-01T00:00:00", "image": "https://semedia.filgoal.com/Photos/Person/medium/27527.png", "name": "عمرو حسام", "nationality": "مصر", "position": "حارس مرمى", "shirt": null, "statistics": { "goals": 0, "yellowCards": 0, "redCards": 0, "played": 0, "minutesPlayed": 0, "playerChampionshipStatistics": [] }, "type": "لاعب", "team": { "id": 151, "name": "أسـوان", "image": "https://semedia.filgoal.com/Photos/Team/Medium/151.png" } }

عمرو حسام

27 عاما

انتقال

إيسترن كومبانيأسـوان

2024

تعليقات

{ "id": 6858, "age": 39, "career": [ { "dateFrom": "2022-09-30T00:00:00", "dateTo": null, "duration": 1, "id": 422876, "transferType": "انتقال", "renew": false, "position": "مدافع", "price": null, "shirt": null, "teamFrom": { "id": 13013, "name": "لاعب حر", "image": "https://semedia.filgoal.com/Photos/Team/Medium/13013.png" }, "teamTo": { "id": 904, "name": "الداخلية", "image": "https://semedia.filgoal.com/Photos/Team/Medium/904.png" }, "wage": null }, { "dateFrom": "2022-08-31T00:00:00", "dateTo": "2022-09-29T00:00:00", "duration": null, "id": 422875, "transferType": "انتقال", "renew": false, "position": "مدافع", "price": null, "shirt": null, "teamFrom": { "id": 617, "name": "الجونة", "image": "https://semedia.filgoal.com/Photos/Team/Medium/617.png" }, "teamTo": { "id": 13013, "name": "لاعب حر", "image": "https://semedia.filgoal.com/Photos/Team/Medium/13013.png" }, "wage": null }, { "dateFrom": "2019-07-28T00:00:00", "dateTo": "2022-08-31T00:00:00", "duration": null, "id": 422874, "transferType": "انتقال", "renew": false, "position": "مدافع", "price": null, "shirt": 24, "teamFrom": { "id": 1, "name": "الأهلي", "image": "https://semedia.filgoal.com/Photos/Team/Medium/1.png" }, "teamTo": { "id": 617, "name": "الجونة", "image": "https://semedia.filgoal.com/Photos/Team/Medium/617.png" }, "wage": null }, { "dateFrom": "2011-06-18T00:00:00", "dateTo": "2019-07-23T00:00:00", "duration": null, "id": 422873, "transferType": "انتقال", "renew": false, "position": "مدافع", "price": 0.6, "shirt": 23, "teamFrom": { "id": 699, "name": "اتحاد الشرطة", "image": "https://semedia.filgoal.com/Photos/Team/Medium/699.png" }, "teamTo": { "id": 1, "name": "الأهلي", "image": "https://semedia.filgoal.com/Photos/Team/Medium/1.png" }, "wage": null }, { "dateFrom": "2008-12-17T00:00:00", "dateTo": "2011-06-16T00:00:00", "duration": null, "id": 422872, "transferType": "انتقال", "renew": false, "position": "مدافع", "price": null, "shirt": null, "teamFrom": { "id": 10, "name": "بلدية المحلة", "image": "https://semedia.filgoal.com/Photos/Team/Medium/10.png" }, "teamTo": { "id": 699, "name": "اتحاد الشرطة", "image": "https://semedia.filgoal.com/Photos/Team/Medium/699.png" }, "wage": null }, { "dateFrom": "2008-01-17T00:00:00", "dateTo": "2008-12-17T00:00:00", "duration": null, "id": 422871, "transferType": "انتقال", "renew": false, "position": "مدافع", "price": null, "shirt": null, "teamFrom": { "id": 13, "name": "الاتحاد السكندري", "image": "https://semedia.filgoal.com/Photos/Team/Medium/13.png" }, "teamTo": { "id": 10, "name": "بلدية المحلة", "image": "https://semedia.filgoal.com/Photos/Team/Medium/10.png" }, "wage": null }, { "dateFrom": "2007-01-18T00:00:00", "dateTo": "2008-01-18T00:00:00", "duration": null, "id": 422870, "transferType": "انتقال حر", "renew": false, "position": "مدافع", "price": null, "shirt": null, "teamFrom": null, "teamTo": { "id": 13, "name": "الاتحاد السكندري", "image": "https://semedia.filgoal.com/Photos/Team/Medium/13.png" }, "wage": null } ], "dateOfBirth": "1983-01-31T00:00:00", "image": "https://semedia.filgoal.com/Photos/Person/medium/6858.png", "name": "محمد نجيب", "nationality": "مصر", "position": "مدافع", "shirt": null, "statistics": { "goals": 0, "yellowCards": 0, "redCards": 0, "played": 0, "minutesPlayed": 0, "playerChampionshipStatistics": [] }, "type": "لاعب", "team": { "id": 904, "name": "الداخلية", "image": "https://semedia.filgoal.com/Photos/Team/Medium/904.png" } }

محمد نجيب

39 عاما

انتقال

لاعب حرالداخلية

2023

تعليقات

{ "id": 21444, "age": 34, "career": [ { "dateFrom": "2022-09-30T00:00:00", "dateTo": null, "duration": 2, "id": 422850, "transferType": "انتقال", "renew": false, "position": "مهاجم", "price": null, "shirt": null, "teamFrom": { "id": 13, "name": "الاتحاد السكندري", "image": "https://semedia.filgoal.com/Photos/Team/Medium/13.png" }, "teamTo": { "id": 290, "name": "الزوراء", "image": "https://semedia.filgoal.com/Photos/Team/Medium/290.png" }, "wage": null }, { "dateFrom": "2019-07-31T00:00:00", "dateTo": "2022-01-01T00:00:00", "duration": null, "id": 422849, "transferType": "انتقال", "renew": false, "position": "مهاجم", "price": null, "shirt": 27, "teamFrom": { "id": 461, "name": "سيمبا", "image": "https://semedia.filgoal.com/Photos/Team/Medium/461.png" }, "teamTo": { "id": 13, "name": "الاتحاد السكندري", "image": "https://semedia.filgoal.com/Photos/Team/Medium/13.png" }, "wage": null }, { "dateFrom": "2018-02-19T00:00:00", "dateTo": "2019-07-28T00:00:00", "duration": null, "id": 422848, "transferType": "انتقال حر", "renew": false, "position": "مهاجم", "price": null, "shirt": 7, "teamFrom": null, "teamTo": { "id": 461, "name": "سيمبا", "image": "https://semedia.filgoal.com/Photos/Team/Medium/461.png" }, "wage": null } ], "dateOfBirth": "1988-05-13T00:00:00", "image": "https://semedia.filgoal.com/Photos/Person/medium/21444.png", "name": "إيمانويل أوكوي", "nationality": "اوغندا", "position": "مهاجم", "shirt": null, "statistics": { "goals": 0, "yellowCards": 0, "redCards": 0, "played": 0, "minutesPlayed": 0, "playerChampionshipStatistics": [] }, "type": "لاعب", "team": { "id": 290, "name": "الزوراء", "image": "https://semedia.filgoal.com/Photos/Team/Medium/290.png" } }

إيمانويل أوكوي

34 عاما

انتقال

الاتحاد السكندريالزوراء

2024

تعليقات

{ "id": 27498, "age": 32, "career": [ { "dateFrom": "2022-09-29T00:00:00", "dateTo": null, "duration": 1, "id": 422794, "transferType": "إعارة", "renew": false, "position": "مدافع", "price": null, "shirt": null, "teamFrom": { "id": 617, "name": "الجونة", "image": "https://semedia.filgoal.com/Photos/Team/Medium/617.png" }, "teamTo": { "id": 151, "name": "أسـوان", "image": "https://semedia.filgoal.com/Photos/Team/Medium/151.png" }, "wage": null }, { "dateFrom": "2020-12-31T00:00:00", "dateTo": "2022-09-28T00:00:00", "duration": null, "id": 422793, "transferType": "انتقال", "renew": false, "position": "مدافع", "price": null, "shirt": null, "teamFrom": { "id": 13, "name": "الاتحاد السكندري", "image": "https://semedia.filgoal.com/Photos/Team/Medium/13.png" }, "teamTo": { "id": 617, "name": "الجونة", "image": "https://semedia.filgoal.com/Photos/Team/Medium/617.png" }, "wage": null }, { "dateFrom": "2020-11-28T00:00:00", "dateTo": "2020-12-31T00:00:00", "duration": null, "id": 422792, "transferType": "انتقال", "renew": false, "position": "مدافع", "price": null, "shirt": null, "teamFrom": { "id": 1451, "name": "بيراميدز", "image": "https://semedia.filgoal.com/Photos/Team/Medium/1451.png" }, "teamTo": { "id": 13, "name": "الاتحاد السكندري", "image": "https://semedia.filgoal.com/Photos/Team/Medium/13.png" }, "wage": null }, { "dateFrom": "2019-07-27T00:00:00", "dateTo": "2020-11-27T00:00:00", "duration": null, "id": 422791, "transferType": "انتقال", "renew": false, "position": "مدافع", "price": null, "shirt": 20, "teamFrom": { "id": 184, "name": "الرائد", "image": "https://semedia.filgoal.com/Photos/Team/Medium/184.png" }, "teamTo": { "id": 1451, "name": "بيراميدز", "image": "https://semedia.filgoal.com/Photos/Team/Medium/1451.png" }, "wage": null }, { "dateFrom": "2018-01-24T00:00:00", "dateTo": "2019-07-25T00:00:00", "duration": null, "id": 422790, "transferType": "انتقال", "renew": false, "position": "مدافع", "price": null, "shirt": null, "teamFrom": { "id": 13, "name": "الاتحاد السكندري", "image": "https://semedia.filgoal.com/Photos/Team/Medium/13.png" }, "teamTo": { "id": 184, "name": "الرائد", "image": "https://semedia.filgoal.com/Photos/Team/Medium/184.png" }, "wage": null }, { "dateFrom": "2016-07-25T00:00:00", "dateTo": "2018-01-22T00:00:00", "duration": null, "id": 422789, "transferType": "انتقال", "renew": false, "position": "مدافع", "price": null, "shirt": 6, "teamFrom": { "id": 923, "name": "مصر للمقاصة", "image": "https://semedia.filgoal.com/Photos/Team/Medium/923.png" }, "teamTo": { "id": 13, "name": "الاتحاد السكندري", "image": "https://semedia.filgoal.com/Photos/Team/Medium/13.png" }, "wage": null }, { "dateFrom": "2015-07-28T00:00:00", "dateTo": "2016-07-24T00:00:00", "duration": null, "id": 422788, "transferType": "انتقال حر", "renew": false, "position": "مدافع", "price": null, "shirt": null, "teamFrom": null, "teamTo": { "id": 923, "name": "مصر للمقاصة", "image": "https://semedia.filgoal.com/Photos/Team/Medium/923.png" }, "wage": null } ], "dateOfBirth": "1990-07-15T00:00:00", "image": "https://semedia.filgoal.com/Photos/Person/medium/27498.png", "name": "محمد عطوة", "nationality": "مصر", "position": "مدافع", "shirt": null, "statistics": { "goals": 0, "yellowCards": 0, "redCards": 0, "played": 0, "minutesPlayed": 0, "playerChampionshipStatistics": [] }, "type": "لاعب", "team": { "id": 151, "name": "أسـوان", "image": "https://semedia.filgoal.com/Photos/Team/Medium/151.png" } }

محمد عطوة

32 عاما

إعارة

الجونةأسـوان

2023

تعليقات

{ "id": 220515, "age": 23, "career": [ { "dateFrom": "2022-09-27T00:00:00", "dateTo": null, "duration": 2, "id": 422869, "transferType": "انتقال", "renew": false, "position": "مهاجم", "price": null, "shirt": null, "teamFrom": { "id": 1451, "name": "بيراميدز", "image": "https://semedia.filgoal.com/Photos/Team/Medium/1451.png" }, "teamTo": { "id": 904, "name": "الداخلية", "image": "https://semedia.filgoal.com/Photos/Team/Medium/904.png" }, "wage": null }, { "dateFrom": "2022-08-28T00:00:00", "dateTo": "2022-09-25T00:00:00", "duration": null, "id": 422868, "transferType": "انتهاء إعارة", "renew": false, "position": "مهاجم", "price": null, "shirt": null, "teamFrom": { "id": 151, "name": "أسـوان", "image": "https://semedia.filgoal.com/Photos/Team/Medium/151.png" }, "teamTo": { "id": 1451, "name": "بيراميدز", "image": "https://semedia.filgoal.com/Photos/Team/Medium/1451.png" }, "wage": null }, { "dateFrom": "2020-12-29T00:00:00", "dateTo": "2022-08-28T00:00:00", "duration": null, "id": 422867, "transferType": "إعارة", "renew": false, "position": "مهاجم", "price": null, "shirt": 37, "teamFrom": { "id": 1451, "name": "بيراميدز", "image": "https://semedia.filgoal.com/Photos/Team/Medium/1451.png" }, "teamTo": { "id": 151, "name": "أسـوان", "image": "https://semedia.filgoal.com/Photos/Team/Medium/151.png" }, "wage": null }, { "dateFrom": "2019-12-29T00:00:00", "dateTo": "2020-12-29T00:00:00", "duration": null, "id": 422866, "transferType": "انتقال حر", "renew": false, "position": "مهاجم", "price": null, "shirt": null, "teamFrom": null, "teamTo": { "id": 1451, "name": "بيراميدز", "image": "https://semedia.filgoal.com/Photos/Team/Medium/1451.png" }, "wage": null } ], "dateOfBirth": "1999-01-01T00:00:00", "image": "https://semedia.filgoal.com/Photos/Person/medium/220515.png", "name": "صلاح يحيى", "nationality": "مصر", "position": "مهاجم", "shirt": null, "statistics": { "goals": 0, "yellowCards": 0, "redCards": 0, "played": 0, "minutesPlayed": 0, "playerChampionshipStatistics": [] }, "type": "لاعب", "team": { "id": 904, "name": "الداخلية", "image": "https://semedia.filgoal.com/Photos/Team/Medium/904.png" } }

صلاح يحيى

23 عاما

انتقال

بيراميدزالداخلية

2024

تعليقات

{ "id": 18103, "age": 29, "career": [ { "dateFrom": "2022-09-28T00:00:00", "dateTo": null, "duration": 2, "id": 422745, "transferType": "انتقال", "renew": false, "position": "حارس مرمى", "price": null, "shirt": null, "teamFrom": { "id": 13013, "name": "لاعب حر", "image": "https://semedia.filgoal.com/Photos/Team/Medium/13013.png" }, "teamTo": { "id": 1075, "name": "إيسترن كومباني", "image": "https://semedia.filgoal.com/Photos/Team/Medium/1075.png" }, "wage": null }, { "dateFrom": "2022-09-01T00:00:00", "dateTo": "2022-09-27T00:00:00", "duration": null, "id": 422744, "transferType": "انتقال", "renew": false, "position": "حارس مرمى", "price": null, "shirt": null, "teamFrom": { "id": 1016, "name": "وادي دجلة", "image": "https://semedia.filgoal.com/Photos/Team/Medium/1016.png" }, "teamTo": { "id": 13013, "name": "لاعب حر", "image": "https://semedia.filgoal.com/Photos/Team/Medium/13013.png" }, "wage": null }, { "dateFrom": "2020-10-27T00:00:00", "dateTo": "2022-08-30T00:00:00", "duration": null, "id": 422743, "transferType": "انتقال", "renew": false, "position": "حارس مرمى", "price": null, "shirt": null, "teamFrom": { "id": 151, "name": "أسـوان", "image": "https://semedia.filgoal.com/Photos/Team/Medium/151.png" }, "teamTo": { "id": 1016, "name": "وادي دجلة", "image": "https://semedia.filgoal.com/Photos/Team/Medium/1016.png" }, "wage": null }, { "dateFrom": "2019-07-26T00:00:00", "dateTo": "2020-10-26T00:00:00", "duration": null, "id": 422742, "transferType": "انتقال", "renew": false, "position": "حارس مرمى", "price": null, "shirt": 29, "teamFrom": { "id": 149, "name": "حرس الحدود", "image": "https://semedia.filgoal.com/Photos/Team/Medium/149.png" }, "teamTo": { "id": 151, "name": "أسـوان", "image": "https://semedia.filgoal.com/Photos/Team/Medium/151.png" }, "wage": null }, { "dateFrom": "2018-07-16T00:00:00", "dateTo": "2019-07-24T00:00:00", "duration": null, "id": 422741, "transferType": "انتقال", "renew": false, "position": "حارس مرمى", "price": null, "shirt": null, "teamFrom": { "id": 860, "name": "سموحة", "image": "https://semedia.filgoal.com/Photos/Team/Medium/860.png" }, "teamTo": { "id": 149, "name": "حرس الحدود", "image": "https://semedia.filgoal.com/Photos/Team/Medium/149.png" }, "wage": null }, { "dateFrom": "2018-06-21T00:00:00", "dateTo": "2018-07-15T00:00:00", "duration": null, "id": 422740, "transferType": "انتهاء إعارة", "renew": false, "position": "حارس مرمى", "price": null, "shirt": null, "teamFrom": { "id": 304, "name": "طلائع الجيش", "image": "https://semedia.filgoal.com/Photos/Team/Medium/304.png" }, "teamTo": { "id": 860, "name": "سموحة", "image": "https://semedia.filgoal.com/Photos/Team/Medium/860.png" }, "wage": null }, { "dateFrom": "2018-01-03T00:00:00", "dateTo": "2018-06-21T00:00:00", "duration": null, "id": 422739, "transferType": "إعارة", "renew": false, "position": "حارس مرمى", "price": null, "shirt": 1, "teamFrom": { "id": 860, "name": "سموحة", "image": "https://semedia.filgoal.com/Photos/Team/Medium/860.png" }, "teamTo": { "id": 304, "name": "طلائع الجيش", "image": "https://semedia.filgoal.com/Photos/Team/Medium/304.png" }, "wage": null }, { "dateFrom": "2017-07-08T00:00:00", "dateTo": "2018-01-03T00:00:00", "duration": null, "id": 422738, "transferType": "انتقال", "renew": false, "position": "حارس مرمى", "price": null, "shirt": 16, "teamFrom": { "id": 1, "name": "الأهلي", "image": "https://semedia.filgoal.com/Photos/Team/Medium/1.png" }, "teamTo": { "id": 860, "name": "سموحة", "image": "https://semedia.filgoal.com/Photos/Team/Medium/860.png" }, "wage": null }, { "dateFrom": "2013-06-22T00:00:00", "dateTo": "2017-07-08T00:00:00", "duration": null, "id": 422737, "transferType": "انتقال", "renew": false, "position": "حارس مرمى", "price": null, "shirt": null, "teamFrom": { "id": 5, "name": "الإسماعيلي", "image": "https://semedia.filgoal.com/Photos/Team/Medium/5.png" }, "teamTo": { "id": 1, "name": "الأهلي", "image": "https://semedia.filgoal.com/Photos/Team/Medium/1.png" }, "wage": null }, { "dateFrom": "2012-06-23T00:00:00", "dateTo": "2013-06-23T00:00:00", "duration": null, "id": 422736, "transferType": "انتقال حر", "renew": false, "position": "حارس مرمى", "price": null, "shirt": null, "teamFrom": null, "teamTo": { "id": 5, "name": "الإسماعيلي", "image": "https://semedia.filgoal.com/Photos/Team/Medium/5.png" }, "wage": null } ], "dateOfBirth": "1993-01-15T00:00:00", "image": "https://semedia.filgoal.com/Photos/Person/medium/18103.png", "name": "مسعد عوض", "nationality": "مصر", "position": "حارس مرمى", "shirt": null, "statistics": { "goals": 0, "yellowCards": 0, "redCards": 0, "played": 0, "minutesPlayed": 0, "playerChampionshipStatistics": [] }, "type": "لاعب", "team": { "id": 1075, "name": "إيسترن كومباني", "image": "https://semedia.filgoal.com/Photos/Team/Medium/1075.png" } }

مسعد عوض

29 عاما

انتقال

لاعب حرإيسترن كومباني

2024

تعليقات

{ "id": 26904, "age": 27, "career": [ { "dateFrom": "2022-09-28T00:00:00", "dateTo": null, "duration": 2, "id": 422735, "transferType": "انتقال", "renew": false, "position": "مدافع", "price": null, "shirt": null, "teamFrom": { "id": 13013, "name": "لاعب حر", "image": "https://semedia.filgoal.com/Photos/Team/Medium/13013.png" }, "teamTo": { "id": 2025, "name": "شباب الأهلي دبي", "image": "https://semedia.filgoal.com/Photos/Team/Medium/2025.png" }, "wage": null }, { "dateFrom": "2022-06-28T00:00:00", "dateTo": "2022-09-27T00:00:00", "duration": null, "id": 422734, "transferType": "انتقال", "renew": false, "position": "مدافع", "price": null, "shirt": null, "teamFrom": { "id": 211, "name": "أولمبيك ليون", "image": "https://semedia.filgoal.com/Photos/Team/Medium/211.png" }, "teamTo": { "id": 13013, "name": "لاعب حر", "image": "https://semedia.filgoal.com/Photos/Team/Medium/13013.png" }, "wage": null }, { "dateFrom": "2018-06-25T00:00:00", "dateTo": "2022-06-27T00:00:00", "duration": null, "id": 422733, "transferType": "انتقال", "renew": false, "position": "مدافع", "price": 11, "shirt": 5, "teamFrom": { "id": 94, "name": "مانشستر سيتي", "image": "https://semedia.filgoal.com/Photos/Team/Medium/94.png" }, "teamTo": { "id": 211, "name": "أولمبيك ليون", "image": "https://semedia.filgoal.com/Photos/Team/Medium/211.png" }, "wage": null }, { "dateFrom": "2018-06-23T00:00:00", "dateTo": "2018-06-25T00:00:00", "duration": null, "id": 422732, "transferType": "انتقال", "renew": false, "position": "مدافع", "price": null, "shirt": 28, "teamFrom": { "id": 100, "name": "سندرلاند", "image": "https://semedia.filgoal.com/Photos/Team/Medium/100.png" }, "teamTo": { "id": 94, "name": "مانشستر سيتي", "image": "https://semedia.filgoal.com/Photos/Team/Medium/94.png" }, "wage": null }, { "dateFrom": "2016-07-19T00:00:00", "dateTo": "2018-06-19T00:00:00", "duration": null, "id": 422731, "transferType": "انتهاء إعارة", "renew": false, "position": "مدافع", "price": null, "shirt": 28, "teamFrom": { "id": 217, "name": "جالاتا سراي", "image": "https://semedia.filgoal.com/Photos/Team/Medium/217.png" }, "teamTo": { "id": 100, "name": "سندرلاند", "image": "https://semedia.filgoal.com/Photos/Team/Medium/100.png" }, "wage": null }, { "dateFrom": "2013-12-19T00:00:00", "dateTo": "2015-12-19T00:00:00", "duration": 2, "id": 422730, "transferType": "إعارة", "renew": false, "position": "مدافع", "price": 0.55, "shirt": 64, "teamFrom": { "id": 94, "name": "مانشستر سيتي", "image": "https://semedia.filgoal.com/Photos/Team/Medium/94.png" }, "teamTo": { "id": 217, "name": "جالاتا سراي", "image": "https://semedia.filgoal.com/Photos/Team/Medium/217.png" }, "wage": null }, { "dateFrom": "1999-12-18T00:00:00", "dateTo": "2011-08-17T00:00:00", "duration": null, "id": 422729, "transferType": "انتقال حر", "renew": false, "position": "مدافع", "price": null, "shirt": 28, "teamFrom": null, "teamTo": { "id": 94, "name": "مانشستر سيتي", "image": "https://semedia.filgoal.com/Photos/Team/Medium/94.png" }, "wage": null } ], "dateOfBirth": "1995-06-28T00:00:00", "image": "https://semedia.filgoal.com/Photos/Person/medium/26904.png", "name": "جايسون ديناير", "nationality": "بلجيكا", "position": "مدافع", "shirt": null, "statistics": { "goals": 0, "yellowCards": 0, "redCards": 0, "played": 0, "minutesPlayed": 0, "playerChampionshipStatistics": [] }, "type": "لاعب", "team": { "id": 2025, "name": "شباب الأهلي دبي", "image": "https://semedia.filgoal.com/Photos/Team/Medium/2025.png" } }

جايسون ديناير

27 عاما

انتقال

لاعب حرشباب الأهلي دبي

2024

تعليقات
استطلاع رأي
أفضل فريق أبرم صفقات للموسم المقبل هو؟